Man United's Louis van Gaal: We must play 'our football' against Chelsea
Louis van Gaal has challenged his Manchester United players to play "our football" against Chelsea on Monday as he fights to save his job.
Following the 2-0 defeat to Stoke on Boxing Day, United have lost four consecutive games in all competitions and have not won in seven, and Van Gaal suggested after the game that he could quit.
Monday's meeting with Guus Hiddink's Chelsea could prove decisive and the former Ajax, Barcelona and Bayern Munich boss said he wants to see bravery from his players as they look to return to winning ways.

Manchester United

Chelsea
Game Details
"You can say we can quickly get over this defeat by playing against Chelsea but, in the time in between, you have to recover because the players have given everything," he told MUTV.
"Then you have to manage that you are very confident to start the Chelsea game, and that you dare to play football -- our football! It is very difficult to do that in just two days but we shall try."
Michael Carrick said victory against Chelsea could have a huge impact on United, who are currently sixth in the table, nine points behind leaders Leicester but just three behind fourth-placed Tottenham.
"Football can change quickly," Carrick told MUTV. "At the moment it is tough to take and it is going to hurt for a couple of days.
"So we have to get our heads right for Monday. It can turn around quickly and if we get a good win then the feeling comes back. Hopefully we will be able to kick on from that."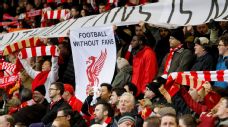 Carrick, who joined United in 2006 and has won five Premier League titles, told Sky Sports after the Stoke game that the current slump had been painful but everyone at Old Trafford must stick together.
"As a club, as a group of players, the staff and the manager, everyone is in this together," he said.
"We have to stick together and win football matches. We all have to take responsibility for that, we are all in it together.
"We are on a horrible run, it's a horrible feeling, it hurts a lot and it's hard to take. We are not playing well enough as a squad -- we take responsibility for that, it has to be a lot better. When you are on a bad run, it's tough, it's hard to take.
"This is Manchester United we are playing for, it's a special club and it's a privilege to play here -- we need to do better, it's as simple as that."
He added: "For me I look at myself and say that I can do better. It starts from within; everyone must do that, we need to stick together and we need a win.
"You can single anybody out when you are in these situations, but the only way to get through this is to work hard, stick together and keep believing it will turn for us, and it has to turn for us in the next game."