Louis van Gaal: Staff key to success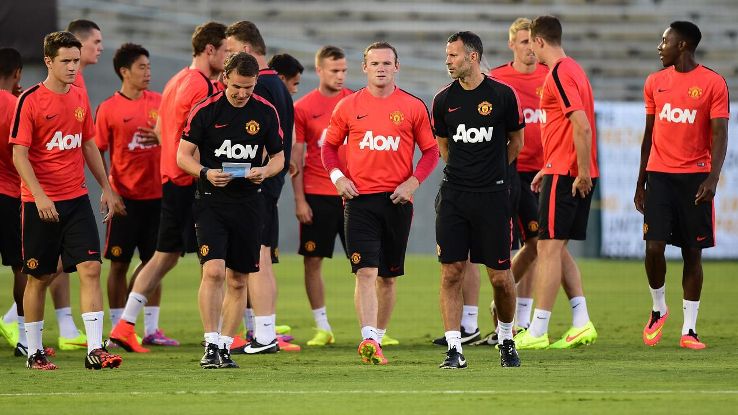 Louis van Gaal has told MUTV he has been highly impressed with new assistant Ryan Giggs and said: "The staff are more important than the players."
- Okwonga: Which players must impress LVG?
- Van Gaal unhappy with U.S. trip
Van Gaal has brought in Albert Stuivenberg, Frans Hoek and Marcel Bout to work on his coaching team but has retained Giggs, who had acted as Manchester United's interim manager following the dismissal of David Moyes last season.
The former Netherlands boss said Giggs was playing a valuable role in helping to preserve the culture of the club and stressed that his coaches would be the key to the club's success as they are responsible for implementing his philosophy.
"First of all, we have my assistant manager Ryan Giggs and I'm very pleased with him," he said. "I talked with him before I signed. Your first impression is always important and that was very good, and now the impression is still improving because I know him better.
"Also, he's working very hard, as are all my assistants. It's important that they don't have a job that's 9-5. You have to work very hard when you're my assistant -- it's not always a pleasant job -- but he's doing very well and I'm happy he's on my staff.
"I'm used to keeping one member from the previous staff of the club because I want to know the culture and he can advise me. I want to know the players and he can advise me. I want to know the talent of the youth players and he can advise me.
"So I always pick up trainer-coaches from the last season -- at Barcelona I did that with Jose Mourinho, at Bayern I did it with Hermann Gerland and now it's Ryan Giggs. Therefore, I'm very pleased because he knows everybody, he knows the culture better than anyone working at Manchester United, I believe, so I'm very pleased he is in my staff."
He added: "The staff are more important than the players. It's unfortunate for the players that I say that but you have to implement a philosophy and therefore you need staff who can give me the confidence that they're doing the things I require."
Robin van Persie said in May that Van Gaal runs "incredibly intense" double training sessions, and the United players have been adapting to the new methods during their preseason preparations.
Van Gaal said he was satisfied to see that his players were "hard-working" and added: "They are focused and that's very important to me. I enjoy working with them and that's much more important than you can imagine.
"When I see them doing the exercises that I and my staff require, they respond very well and they're disciplined, and I like that because we need discipline on the pitch when we play a match.
"It might not be what they're used to but double sessions are normal for me. I have the impression that, for some players, it's very difficult. We have different players now because we have played with non-World Cup players for two weeks and now we have the World Cup players, from England for example. They have to adapt to the level of what is required now."