Manuel Pellegrini: Kevin De Bruyne injury won't force City into transfers
MANCHESTER -- Manchester City will not jump into the transfer market before the January window closes despite Kevin De Bruyne being ruled out with a long-term knee injury.
Manuel Pellegrini described De Bruyne's injury as an "important" loss after the Belgium international revealed he was ruled out for up to 10 weeks with ligament damage.
The City boss hopes De Bruyne could be back sooner from the injury he suffered in the final moments of Wednesday night's victory over Everton as City secured a place in the Capital One Cup final.
Pellegrini told a news conference: "He will not be out for the whole season because it's not a cruciate ligament but we knew it was important damage. We hope he can return before but the first diagnostic is that he will be out for eight to 10 weeks.
"It's very important for the club not to play with Kevin but we've had very important players that can't play through the whole season for different reasons -- David Silva, Sergio Aguero, Vincent Kompany.
"We must continue playing with the whole squad if we want to be a competitive team. It is one important player less but we must continue with the same optimism and more responsibility for the rest of the squad."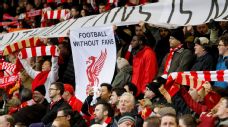 There are just three days of the transfer window remaining but Pellegrini believes he has the depth and quality in the squad to cope with De Bruyne's absence.
"It is not our intention to bring anyone in," he added. "The squad is doing very well so far and I repeat in some moments we couldn't play with Silva and Aguero.
"Now we are going to play without Kevin but I continue trusting in our squad and I am sure we will continue being a competitive team."
Jonathan is ESPN FC's Manchester City correspondent. Follow him on Twitter: @jonnysmiffy.