W2W4: Vela chooses LAFC over Mexico; Rooney beats the heat to Texas
After saying "No, gracias" to Mexico's Gold Cup squad, Carlos Vela faces FC Dallas with LAFC for the second time in four days. Also on Sunday, the struggling LA Galaxy look to get back to winning ways against Colorado. Elsewhere, Wayne Rooney makes his first visit to Texas when D.C. United faces Houston on Saturday.
Carlos stays home
One would be hard-pressed to think of a more mercurial relationship between a national team and player than Mexico and Carlos Vela. The Cancun-born striker has had a roller-coaster relationship with El Tri, providing some great moments, while at the same time turning down call-ups at various stages of his career. The latest "No, gracias" comes this week with his refusal to join Mexico's Gold Cup squad. While this is not good news for Mexico fans, LAFC backers certainly won't mind.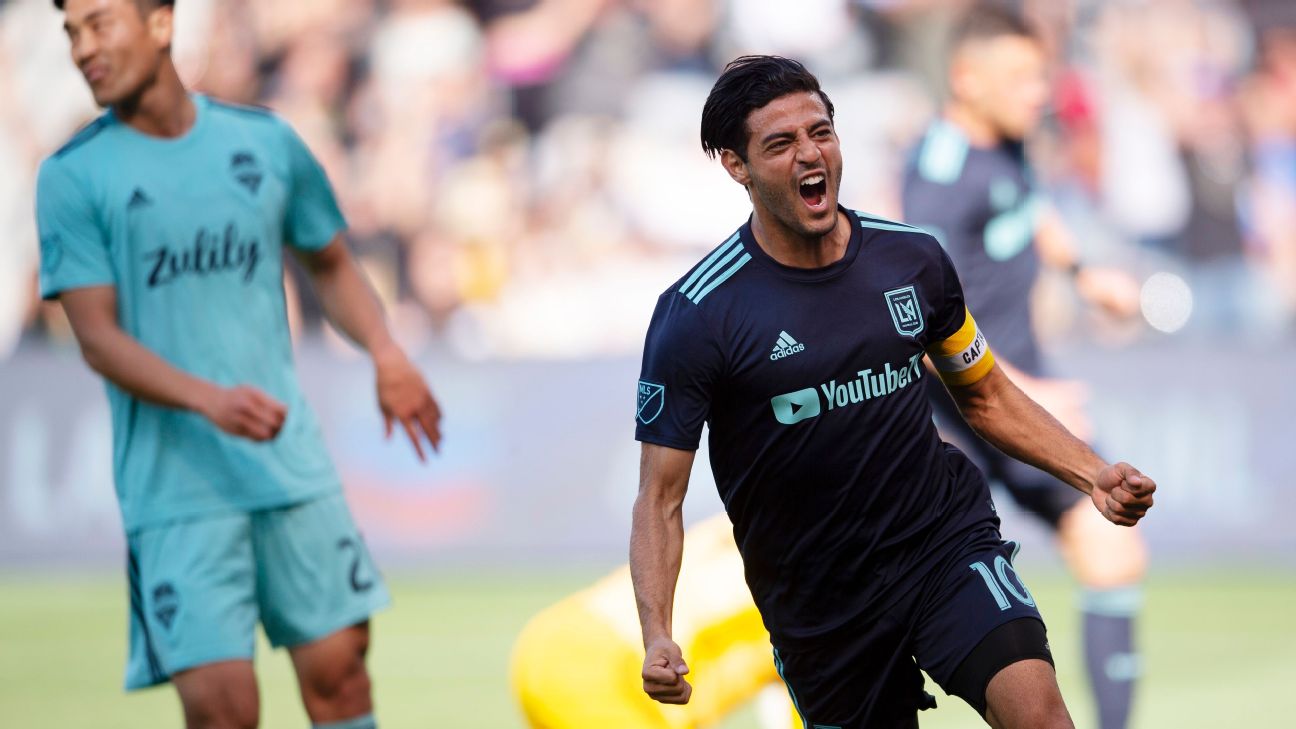 Whether it's the surfside living in Southern California or being on a good team where he scores lots of goals in front of an adoring fan base -- or probably both -- at age 30 it appears Vela has said enough when it comes to international commitments and just wants to stay put. So be it.
The Mexico striker is on a blistering scoring pace this season, with 13 goals through 13 games, and seven assists to boot. Days after beating FC Dallas 2-0, Vela and LAFC will hit the road to North Texas (Sunday, 7:30 p.m. ET; ESPN+) in what certainly could be a postseason matchup in the Western Conference come November.
Rooney rested and ready for Houston
It's that point in the season where midweek games really start to throw a wrench in the preparation plans of teams, but all things considered for D.C. United, Wednesday's 0-0 draw in Toronto was a near-best-case scenario.
Wayne Rooney, Luciano Acosta and Paul Arriola all took the first half off before coming on as a second-half substitutes, meaning they helped secure a road result and should be rested for Saturday's visit to Houston to face the Dynamo (8:30 p.m. ET, ESPN+).
It will be Rooney's first MLS match in Texas, and he's visiting at a good time. It is still early enough in the year that it won't feel like a sauna at BBVA Compass Stadium at kickoff; that experience will come on July 4 in Dallas. Hydrate now, Wayne.
- Bell: Meet U.S. Under-20 star -- and Game of Thrones fans -- Paxton Pomykal
- Carlisle: Arena can revive New England, if the Revs buy into his vision
- N. Davis: Hwang is fast becoming an icon in Vancouver's Korean community
Meanwhile, the Dynamo continue to fly under the radar, which suits them just fine. As always, Houston is strong at home and have five wins and two draws in seven games in front of their own fans. Alberth Elis and Mauro Manotas are an unheralded duo capable of putting any defense to the sword. With Rooney and Acosta on one side and Elis and Manotas on the other, there will be a lot of attacking swagger on show in this one.
Galaxy look to bounce back vs. Colorado
After starting the season in bright fashion, the LA Galaxy have reverted to 2017-18 form in recent weeks with three straight losses. The worst one came last weekend at home against New York City FC in a 2-0 final.
And it appears they won't catch a break, after Zlatan Ibrahimovic grabbed NYCFC goalkeeper Sean Johnson by the neck in a late second-half skirmish, sources tell ESPN FC that the Swede will be suspended for two games.
The Galaxy's worries aren't just limited to Ibrahimovic, though. Jonathan dos Santos' absence for the past two matches has been felt, and a defense that gave up only eight goals in the first nine games has suddenly coughed up eight in the past three.
But for any team looking to get back on the right track, the Colorado Rapids seem to provide an outlet, and that's who the Galaxy will face on Sunday (8 p.m. ET, ESPN+). Still winless after 11 games and with only two points in the bank, the Rapids are absolutely dreadful, which is why it would be the most MLS thing ever for them to leave California with a win.