W2W4: Pity ready for River return as awful Atlanta hosts fellow bottom feeders Colorado
Scorching hot Carlos Vela and LAFC will tangle with the Seattle Sounders for the second time in a week on Sunday (3:30 p.m. ET, ESPN), while later in the day goal-scoring force Zlatan Ibrahimovic and the LA Galaxy host Real Salt Lake (8:00 p.m. ET, ESPN+), plus cellar-dwellers Atlanta United and Colorado Rapids do battle on Saturday (6:00 p.m. ET, ESPN+).
Bottom feeders gather in Atlanta
It feels weird typing out the words "last-place Atlanta United," but here we are after last week's 2-1 loss to FC Dallas. Unlike some of its early-season clunkers, Atlanta wasn't half bad against the Texans. Ezequiel Barco was unlucky in hitting the woodwork twice, and there was the solace that Josef Martinez scored.
Still though, the boo birds were back out in force at Mercedes-Benz Stadium, and head coach Frank de Boer's post-match comment that if United play like they played on Saturday they would win "28 of their last 30 games" isn't going to be well received by fans, who at this rate would settle for a modest two- or three-match winning streak.
There is also the Pity Martinez question. After sustaining an injury on national team duty for Argentina, Martinez has been reduced to coming on as a substitute in the past two matches. His first few months in MLS have been rough, and now there are even rumors that River Plate are trying to bring Martinez back back to Buenos Aires.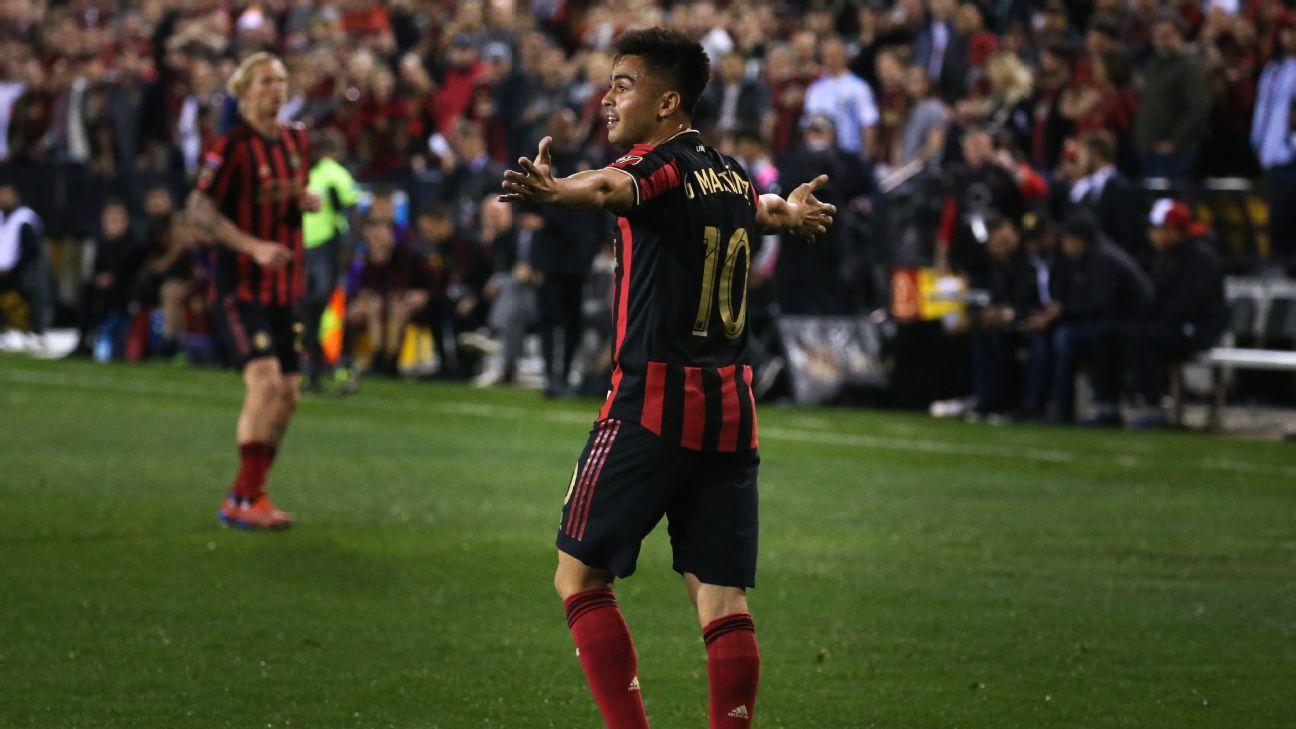 As poor as Atlanta has been this season, Saturday's opponent, the Colorado Rapids, have been worse, with zero wins out of eight and 23 goals conceded. This is not the swan song that goalkeeper Tim Howard was hoping for and there is nothing to suggest that Colorado isn't headed for another bottom-of-the-table finish.
Deja Vela all over again?
For the second time in a week, Carlos Vela and LAFC will square off against the Seattle Sounders, this time with the two going at it in Seattle's CenturyLink Field. Last time out, Vela had a brace in leading Los Angeles to a pretty decisive 4-1 win.
We are watching some pretty amazing stuff from Vela. Bob Bradley has LAFC humming nicely and Vela is flourishing under the former U.S. national team boss. The Mexican forward has a jaw-dropping 10 goals in nine games, matching the feat of Chris Wondolowski in 2012 and Roy Lassiter in 1999.
But ESPN's own Herculez Gomez raised a point recently that Vela has basically been on cruise control so far this season. It's a fair argument. For a guy who was one of the best forwards in La Liga, facing some of these defenses in MLS has to feel like a field day.
The Sounders didn't look so sharp themselves last week, but much of that had to do with Chad Marshall's absence. Roman Torres was off his game -- to put it kindly -- and Seattle suffered as a result. The good news for Sounders fans is that Marshall was back in the lineup for Wednesday's 2-2 draw with San Jose, meaning he should be good to go for Sunday. If anything, Marshall's presence at least gives Seattle the chance to hold Vela a little more in check.
Zlatan giving us all the feels
It's been another eventful week for Zlatan Ibrahimovic. The Swedish striker, who has seven goals in six games after adding another score last week against Houston, is an early candidate to break Josef Martinez's single-season scoring record.
But it was Ibrahimovic's human side that got the headlines with his calming words for a nervous ball kid prior to the Dynamo game. The fact that MLS' most recognizable superstar and one of its best players just so happens to have a great personality is a boon for the league. It makes his open disdain for a teammate's failure to give him the ball or his dismissal of an opponent's defensive performance a non story.
Next up for Ibrahimovic and the Galaxy is a home date with Real Salt Lake on Sunday, and it was in this fixture last season that Ibrahimovic put RSL to the sword with two goals via header. After being held goalless on Wednesday at Minnesota for the first time in four games, Ibrahimovic is a good bet to return to the score sheet.