MLS cult heroes: The players who stood out for reasons other than soccer
In its 24th season, Major League Soccer is a relatively young league. It lacks the history of its contemporaries in Europe and South America, or even its rival sports in North America.
Yet in that span of time, there have been a handful of players who have transcended the league's limitations, players whose reputations have been woven into the fabric of MLS folklore. ESPN FC asked its contributors which players never quite established themselves as superstars on the pitch, but whose personalities made them cult heroes to all who watched them.
Fredy Montero | Forward | 2009-2014, 2017, 2019-
Why he's a cult hero: Seattle's first MLS icon
MLS clubs played for: Seattle Sounders, Vancouver Whitecaps
Seattle was a soccer-crazy town, searching for a cult hero. Fredy Montero arrived on loan in 2009 and immediately took up the mantle.
He thrived in the dark, rainy, cold climate, very different from his native Colombia. Finding the back of the net translates across borders. Montero scored nine goals in his first nine preseason games, then tallied the first and third goals in the club's MLS franchise history and won the league's Player of the Week for his efforts in the debut and Player of the Month for the inaugural month of the campaign. In total, he'd score 47 goals in four seasons for the Sounders, still atop the team's MLS goals chart.
He did little things, too, such as honoring Venezuelan Felix Hernandez's perfect game during a goal celebration in August 2012. Montero's uneven play and long, drawn-out loan and transfer saga hurt his standing some, but once a cult hero, always a cult hero. He bounced around after leaving Seattle -- Colombia to Portugal to China. Now, of course, the three-time MLS All-Star is back in MLS, playing for the loathed Vancouver Whitecaps. As if the Cascadia Cup needed any more drama.
-- Noah Davis (@noahedavis)
Why he's a cult hero: The homegrown Zlatan
MLS clubs played for: LA Galaxy, Chivas USA, Toronto FC, San Jose Earthquakes, Colorado Rapids, Chicago Fire
There's a little bit of Zlatan Ibrahimovic in Alan Gordon. The height's about the same, as are the free-flowing locks. Both players produced goals upon goals upon goals; Zlatan's 500-plus far outpacing Gordon's 76, obviously, but if your Major League Soccer team needed a last-ditch tally, the target man from Long Beach, Calif. was your guy for a decade and a half. (He was also an underrated passer, his deft touch to Eddie Johnson that produced a game winner in Jamaica and helped the United States qualify for the 2014 World Cup serving as a shining example.) And they both found team success, Gordon winning MLS Cups with the LA Galaxy in 2005 and 2014, a Canadian Championship with Toronto FC in 2011, and the Supporters' Shield in 2012 with the San Jose Earthquakes.
But the closest similarity is the joy with which they played and the fun they had, on and off the field. Soccer is a serious business, a high-pressure job. It's also a game. Gordon recognized these competing realities, delivering between the lines, appreciating the success the former sixth-round pick made through his effort, desire, heart, and skill, and letting fans enjoy the ride along with him.
For proof, look no further back than 2015 when Gordon, along with Dan Gargan, starred in a web series in which they, among other things, hung out in a hot tub and got Sebastian Lletget to teach them how to take a selfie. Perhaps in retirement he can bring the show back, starting with a certain Galaxy star from Sweden?
-- Noah Davis (@noahedavis)
Steven Lenhart | Forward | 2008-2016
Why he's a cult hero: The blue-collar Bash Brother
MLS clubs played for: Columbus Crew, San Jose Earthquakes
One half of the San Jose Earthquakes forward duo known as the "Bash Brothers," Lenhart was the kind of player who drove opponents absolutely nuts with play that straddled the line between physical and dirty. Former LA Galaxy and current Atlas defender Omar Gonzalez said of Lenhart, "You just get checked by Lenhart or something. It's just dumb s--- like that happens every time, and that's not the way the game should be played." Another rival manager once derisively referred to Lenhart as "the checking line."
But Lenhart was adored in San Jose, with his blue-collar ethos meshing perfectly with the fans that occupied Buck Shaw Stadium, the team's amenity-free home at the time. This was especially true during the magical Supporters' Shield-winning season in 2012 when Lenhart, fellow Bash Brother Alan Gordon, and that year's league MVP Chris Wondolowski, led the Quakes to an astonishing 72 goals. Lenhart's style was no frills, pure physicality, with his prowess in the air helping him score 10 goals that season. More importantly, he created loads of space for the stealthy Wondolowski.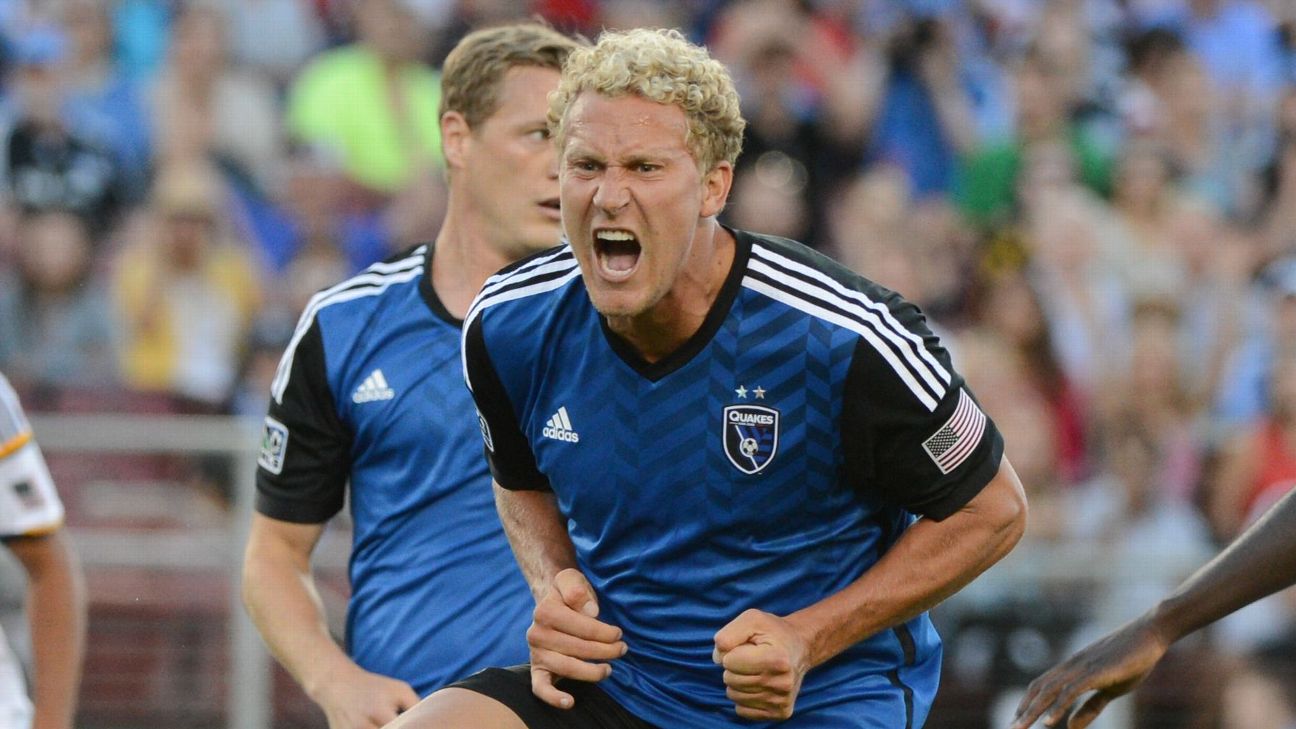 That year witnessed Lenhart at his peak, with injuries limiting him to 35 league appearances across the next two seasons, and no appearances at all in the two years that followed. But San Jose fans will long have warm memories of a player who sparked the Quakes to a brief revival.
-- Jeff Carlisle (@JeffreyCarlisle)
Clint Mathis | Forward | 1998-2003, 2005-2010
Why he's a cult hero: The swashbuckling Southerner
MLS clubs played for: LA Galaxy, New York/New Jersey MetroStars, Real Salt Lake, Colorado Rapids, New York Red Bulls
After "Waldo," and before "Deuce," there was "Cletus."
Clint Mathis arrived on the MLS scene in 1998 when he was drafted by the LA Galaxy, where his Southern drawl from his Georgia upbringing saw teammates hang the nickname "Cletus" on him. He was a rising talent when a midseason trade to the MetroStars in 2000 -- so that the Galaxy could get their hands on Mexico international Luis Hernandez -- put Mathis' career into overdrive, and revealed a player that American fans hadn't often seen.
He was a brash, swashbuckling, fiercely competitive performer who scored some jaw-dropping goals, including a half-field slalom through the Dallas Burn defense in 2001 that earned him that season's Goal of the Year award. He was quintessentially American in a manner similar to what Eric Wynalda provided in the preceding decade, someone who could deliver the unexpected and then tell everyone about it.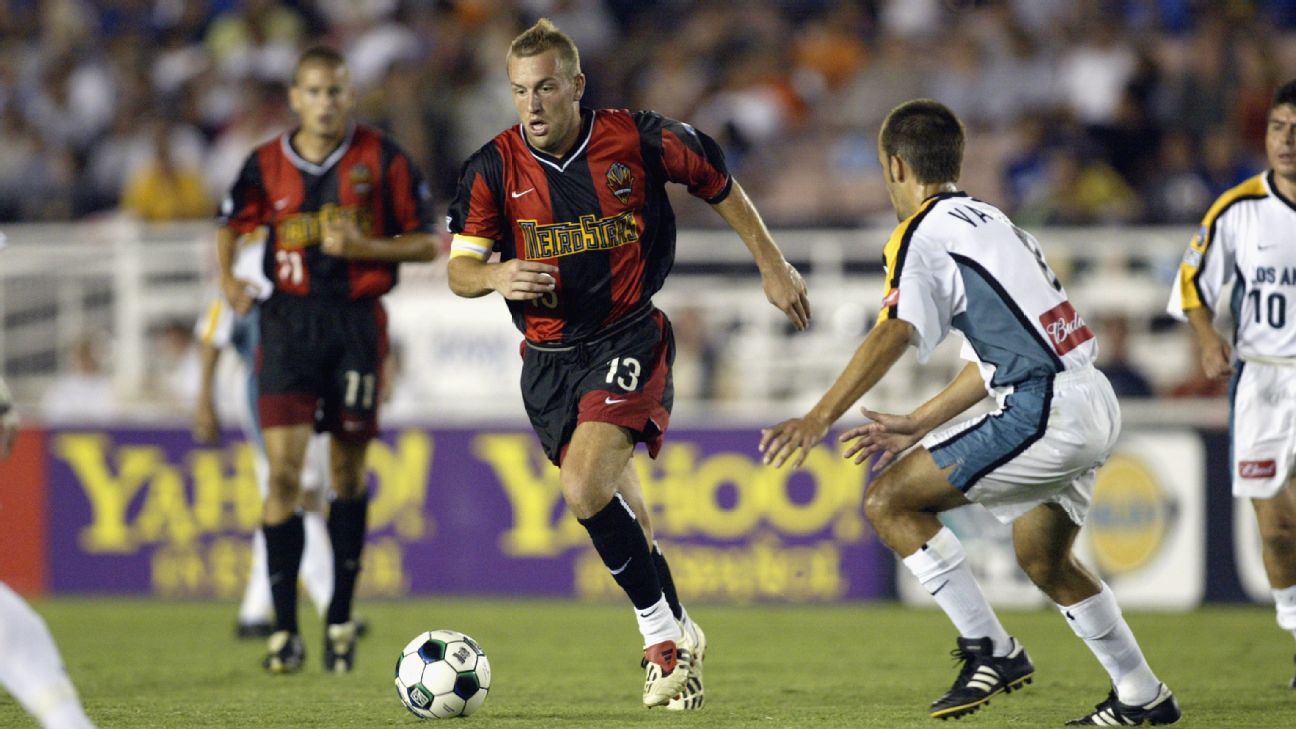 Mathis was never quite the same player after tearing his ACL in 2001, but he still managed to provide some magical moments, ones that were later replicated by Clint Dempsey. There was the goal that the Mohawk-adorned Mathis scored in the 2002 World Cup in a 1-1 tie against hosts South Korea, a result that helped the U.S. progress to the knockout stages.
Later, during a stint with German club Hannover 96 came the most "Cletus" moment of all. Upset that he hadn't started a match against Schalke, Mathis came off the bench and scored, and then ran over to manager Ewald Lienen and pointed at an imaginary watch on his wrist, as if to say, "You should have put me in the match long ago."
Mathis bounced around MLS in his later years, although he was part of Real Salt Lake's MLS Cup-winning side in 2009. Yet his style and personality, for both club and country, made him beloved everywhere he went.
-- Jeff Carlisle (@JeffreyCarlisle)
Roger Levesque | Forward | 2003-2005, 2009-2012
Why he's a cult hero: Scrapping his way into Seattle lore
MLS clubs played for: San Jose Earthquakes, Seattle Sounders
Levesque managed a feat very few players have over the course of modern MLS history: He made the move up with a lower-division club who jumped to MLS, then stuck around for more than brief cameo. Levesque earned the love of Sounders fans as a reminder of where the team came from and because of his knack for scoring goals in big moments. Despite never being a regular with the club post-MLS move, or even being sure of a contract from year to year, Levesque scrapped his way to a place in Sounders lore.
Levesque scored against Portland -- often enough to elevate a player into the Seattle sports pantheon -- and made his goals count with inventive celebrations that will long outlive the man. Levesque's "tree chop" celebration (assisted by Nate Jaqua) after scoring 48 seconds into a 2009 U.S. Open Cup match against the Timbers in Portland is one of the most epic trolls in the rivalry's history. His "scuba diver" celebration against the Red Bulls, in the only multi-goal game of Levesque's MLS career, got international run.
Levesque played the game with an infectious joy. His success at the second-division level prior to the Sounders' MLS move meant he might have extended his career, and scored more goals, if he left Seattle. But he stayed, taking the role offered, and made the most of it. There's nothing fans love more than a player who shows a love of the club and leaves it all on the field. That was Levesque.
-- Jason Davis (@davisjsn)
Tommy McNamara | Midfielder | 2014-
Why he's a cult hero: Unconventionally flashy
MLS clubs played for: Chivas USA, New York City FC, Houston Dynamo
The Legend of Tommy Mac began at Chivas USA, a team that drifts further and further into American soccer mythdom with each passing year. In a team wheezing its way toward an ignominious death, McNamara was a bright spot that burned white hot: unconventional, flashy, with a haircut more typically seen on aging '80s rockers than modern soccer players, McNamara provided a few moments of creative magic before a knee injury ended his season after just six appearances.
McNamara's status as a cult hero followed him to New York City FC after Chivas USA's dissolution. McNamara is a New York kid and fit in perfectly with the idea of the new MLS club as the team of the blue-collar Bronx. Even when McNamara cut off his trademark mullet, he remained a beloved figure that fans pushed to get more time.
McNamara's status as one of the last two original NYCFC players (the other being David Villa) when he was let go last year will keep him in the hearts of New York fans even as he now plays for Houston. The magic of McNamara is his skill level is just high enough to charm the fans, while not crossing over into full-blown must-start stardom and the demands that status brings. It's a good gig if you can get it, and is the sweet spot where cult heroes live.
-- Jason Davis (@davisjsn)
Juan Toja | Midfielder | 2007-2008, 2012-2013
Why he's a cult hero: The magical mullet
MLS clubs played for: FC Dallas, New England Revolution
The mullet. It evokes memories of the 1970s through the '90s, especially in the world of soccer. But after Y2K, the mullet was mostly just a memory, exorcised by buzz cuts and ponytails. Yet one man had the courage to bring it back, and he did so in glorious style in 2007 in MLS.
All hail Colombian midfielder Juan Toja, whose season and a half at FC Dallas is still fondly remembered by the Texas faithful. A player who looked straight out of a 1989 North Texas mall dressed in a denim jacket bearing a Metallica patch on the back, the follically endowed Toja inspired Juan Toja Wig Night, plus a good amount of ribbing from teammates in the training session prior.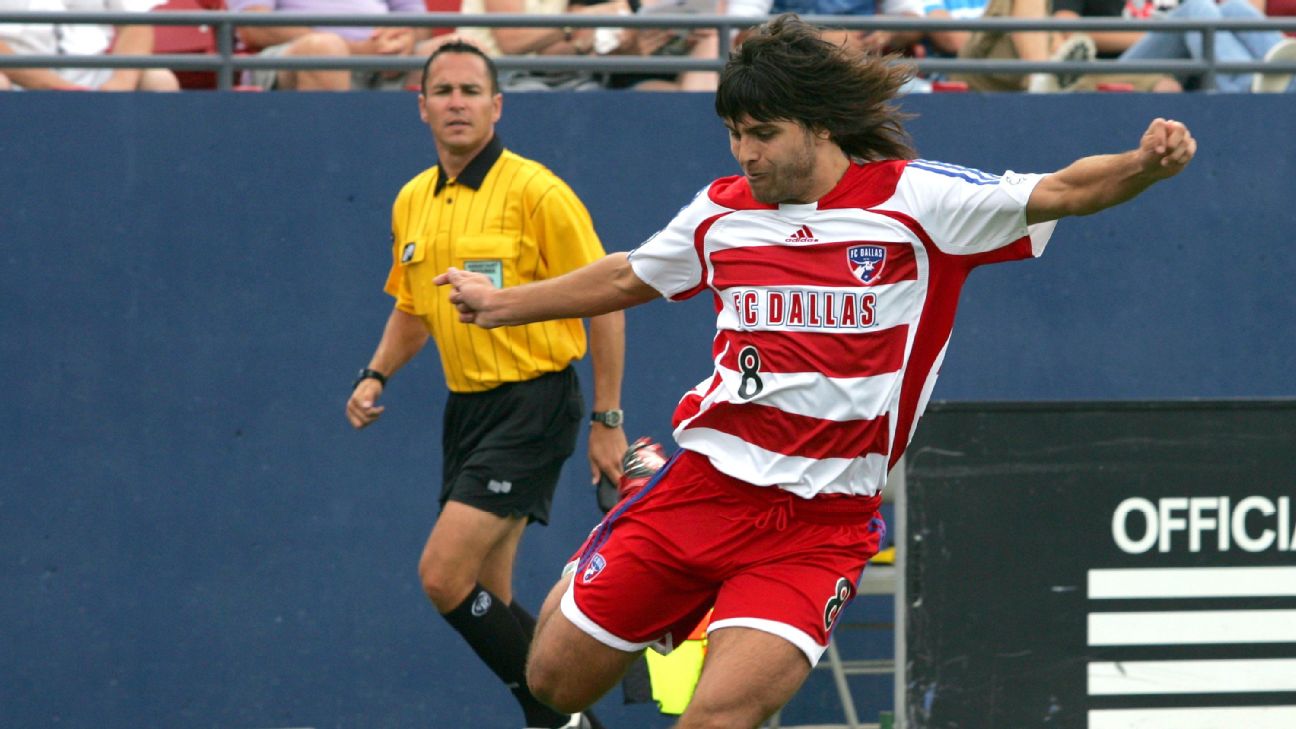 He was also a really good player, known to get physical, while also playing inch-perfect passes on the field. A two-time All-Star in 2007 and 2008, Toja had eight goals and three assists in 43 games with Dallas, before returning to the league in 2012 with the New England Revolution, with whom he played 23 games.
Yet while the hair was flashy and its style matched the panache of his soccer, his personality was much more understated and modest, thus endearing himself to others even more, giving him MLS cult-hero status.
-- Arch Bell (@ArchBell)
Digital Takawira | Forward | 1996-2000
Why he's a cult hero: Capturing the innocence of MLS' early years
MLS clubs played for: Kansas City Wizards
It is only fitting that one of MLS' early cult heroes was a man whose name was synonymous with the year. The Digital Revolution began to take hold in 1996, and so it was only natural that the first-year league boasted a player by that name: Digital Takawira of the Kansas City Wizards.
However, the Zimbabwean striker hardly played at the 28.8K dial-up speed that was typical of the time. His quick movement and reactions in front of goal made him the perfect poacher in four seasons with the Wizards. He suited up in the franchise's first game back on April 13, 1996, and scored its first ever goal, which would be followed by another 29 over the course of 100 regular season and playoff matches.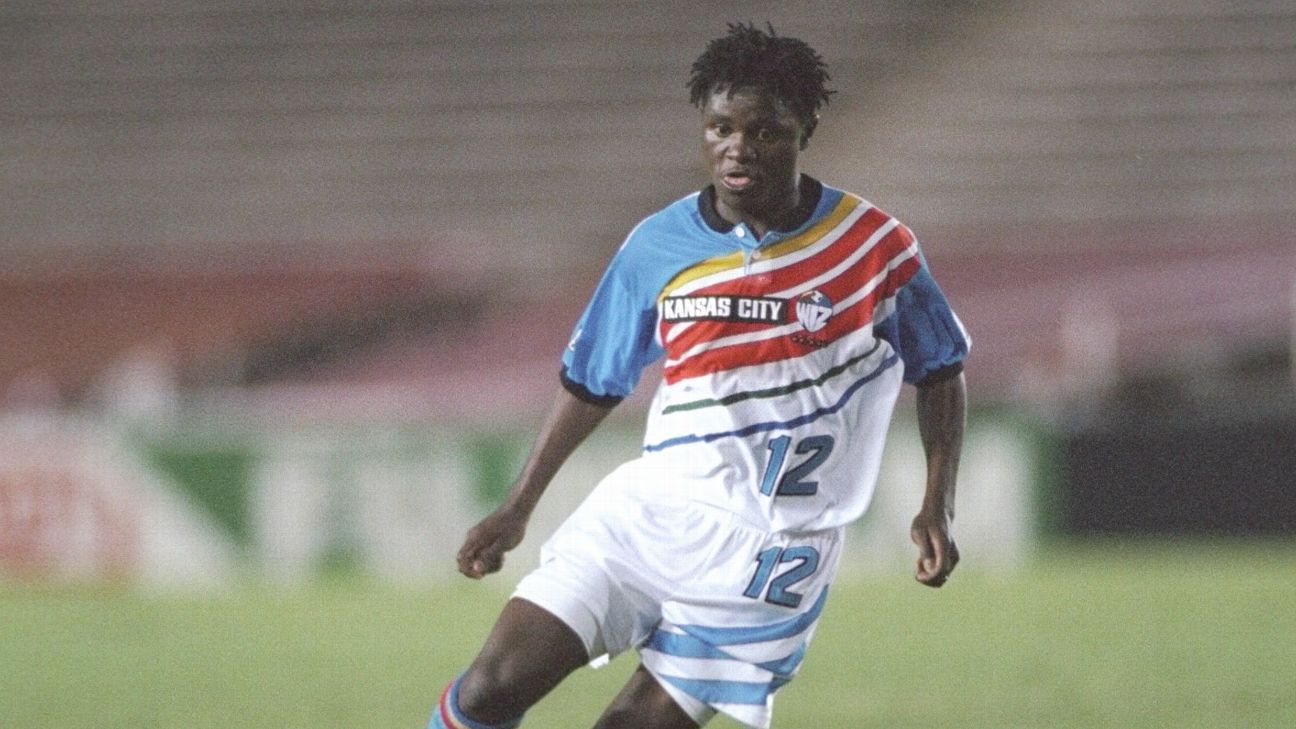 Most memorable, though, was his goal-scoring celebration, the "Digital Crawl." After scoring, Takawira would get on all fours and start walking as teammates joined in, grabbing Takawira's ankles and forming a human caterpillar.
While opponents and rival fans didn't take kindly to it -- he claimed that Algeria fans hurled cans at him during an international match -- it was just the type of fodder that embodied the awkward yet innocently fun early days of MLS.
-- Arch Bell (@ArchBell)