Orlando hosts expansion 'cousin' NYCFC; Seattle in 'must-win' territory
Major League Soccer is in full swing. Jason Davis highlights the matches you can't miss as the season rolls into Week 12.
Toronto heads to New Jersey nearing history
Toronto FC is without Sebastian Giovinco for a few more weeks after the star striker picked up a quad injury. Nick Hagglund will be missing for at least two months, and possibly three. That, combined with a packed schedule, has forced the Reds to reach for every bit of their depth.
And yet, Toronto has won six straight games and is on the verge of breaking into a special class of MLS clubs. The modern version of the league simply hasn't seen many streaks like the one TFC has put together. Winning a seventh game in a row would put the Reds two short of the post-shootout era record set by the team formally known as the Kansas City Wizards, a streak that spanned two seasons.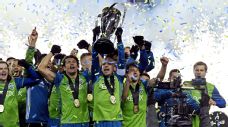 Subscribe to MLS LIVE today!
- MLS LIVE is back with an all-new platform for 2017
- Get the most matches ever, LIVE and ON DEMAND
- Packages start at only $14.99 a month
- Watch MLS on your phone, computer or TV
- Subscribe today at live.mlssoccer.com
Toronto is riding the hot hand of Tosaint Ricketts, a super-sub of late who will likely get the start in the absence of Giovinco. Ricketts has scored three goals over two games, one a late winner and all key contributions to the winning streak.
TFC has an in-form Jozy Altidore and the aforementioned depth to lean upon. They'll need it in New York, where the Red Bulls will have an eye on restarting their home dominance after losing to the LA Galaxy in embarrassing fashion last week. In addition to the end of their home unbeaten run of 19 games, the loss to LA brought their losing streak to three games.
Jesse Marsch will be looking for tweaks to his lineup that will get his lead creator -- midfielder Sacha Kljestan -- on the ball in dangerous areas higher up the field.
2015 expansion 'cousins' meet in Orlando
Two teams who entered the league together as expansion teams face off in Orlando on Sunday night. Orlando City SC saw its home winning streak come to an end against Sporting Kansas City last week, but still have an unbeaten record at Orlando City Stadium on the line against Patrick Vieira's New York City FC.
The host will be coming off a long road trip to the West Coast, where it drew 1-1 with the San Jose Earthquakes. Head coach Jason Kreis rotated his squad, with both Carlos Rivas and Kaka coming off the bench with a half hour to go. That pair connected for the Lions' goal and Kreis will be hoping they can keep up the magic -- likely as starters -- back in Florida.
NYCFC are on a road trip that takes them from Utah back to the East Coast. Viera's club fell to Real Salt Lake on Wednesday night, a game that had him doing rotating of his own. David Villa and Jack Harrison both came off the bench, while Andrea Pirlo started for the first time in three weeks.
Will Vieira deploy Pirlo in central midfield again? The star looked like he might be out of the starting lineup for good, only to be given a chance due to a packed schedule and the departure of Yangel Herrera to South Korea for Under-20 World Cup duty with Venezuela.
Seattle faces early "must win" vs. RSL
It's still too early to write off the Sounders, especially with the lesson of 2016 sitting in their trophy case. But no one is happy in the Pacific Northwest, and Saturday's match against Real Salt Lake will have an air of "must-win" despite the season still being young.
The Sounders were blanked 3-0 in Kansas City on Wednesday night in a game indicative of so much of their struggles thus far. Seattle dominated possession and controlled the game in the first half, only to see Sporting explode through a Gerso Fernandes hat trick in the second half. The trip to the Midwest came with some shifting of the lineup, as Osvaldo Alonso, Clint Dempsey and Joevin Jones all rested.
Before Wednesday, and RSL's win over NYCFC, the club from Utah looked like a good opponent for Seattle to right its ship against. But Mike Petke's team arrive in Washington with a renewed sense of confidence after breaking a four-game losing streak with an impressive win. Key figure Albert Rusnak popped up with a goal and an assist and will be a player the Sounders will need to account for on their own bid for an important win.
RSL is still coping with a personnel crisis that comes down to injuries and international duty for a host of U20 players. That issue didn't magically solve itself based on a single win, but that doesn't mean they aren't dangerous or that Seattle can take them lightly.
Jason Davis covers Major League Soccer and the United States national team for ESPN FC. Twitter: @davisjsn.