Six wins in three weeks for Toronto; Sounders up against the wall again
With another round of Major League Soccer in the books, here's who fired and who failed this weekend:
Heroes
Stand up and take notice of Toronto FC's six-game winning streak, achieved in a total of 22 days. The latest win for the Reds came in 3-2 comeback against Minnesota at BMO Field on Saturday. Whether it lasts another game, what Toronto has done during a packed part of their schedule in modern MLS is remarkable. This TFC team is turning into something pretty special, and they're doing during the best era for quality in league history.
You can only double your win total with a single performance once -- when you have just win to your name. The Philadelphia Union not only achieved that feat with a 4-0 romp over D.C. United on Saturday, they also scored their first road win of the season and established their first winning streak.Whether it means the Union are capable of growing into a playoff-caliber team this year remains to be seen, but it does take some heat off of Jim Curtin for the moment. It was a special night for Oguchi Onyewu, who scored the second Philly goal and made sure to shout-out all of those around the league who doubted his ability to contribute at the age of 35.
Is it possible for a lion to roar quietly? Justin Meram -- christened the "Lion of Mesopotamia" by the Crew broadcast team -- scored a hat trick and helped his side to a comeback 3-2 win on the road in Montreal on Saturday. Meram now has seven goals and four assists on the season, serving as the leading figure for Columbus' attack.
Dom Dwyer's suspension put Sporting Kansas City a difficult spot heading into a difficult match in Orlando. OCSC was undefeated in their new building, and it was certain Sporting would need goals to leave Florida with any points. The hero in Dwyer's stead was 20-year-old Latif Blessing, who made his first start and scored both of SKC's goals in entertaining 2-2 draw.
Finally, a real hero who returned to the field on Sunday night: FC Dallas' Ryan Hollingshead, who suffered three broken vertebrae when he was hit by a car while helping a stranded motorist, made his first appearances of 2017 as a substitute.
Villains
Blessing gets mention as a hero, but he was also something of a villain. After scoring twice, the striker tried to con the referee on a pair of occasions, even earning a yellow card for an egregious dive just before he was substituted. The question is whether Blessing left the game because of fatigue (he'd played just 36 minutes all season) or embarrassment.
There's a familiar feeling setting in for the Seattle Sounders after another loss has added to their early season woes. After collapsing in the second half to a 4-1 loss in Bridgeview, the champions have just 10 points through 10 matches. That's three points worse than the terrible start to the 2016 that eventually led to big changes. Of course, 2016 ended in a championship. Is history repeating itself? Or is this bad start going to linger long enough keep the Sounders from defending their title?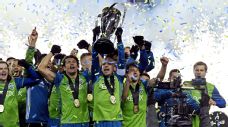 Subscribe to MLS LIVE today!
- MLS LIVE is back with an all-new platform for 2017
- Get the most matches ever, LIVE and ON DEMAND
- Packages start at only $14.99 a month
- Watch MLS on your phone, computer or TV
- Subscribe today at live.mlssoccer.com
Mike Petke's positivity is part of the reason he was tapped to take over at Real Salt Lake, but it has to be wearing thin after an embarrassing 4-0 defeat to the Revolution this weekend. All four New England goals came before halftime, and it was only the Revs' taking their foot off the gas that saved RSL from an even more humiliating defeat. It's tough to pin much of RSL's struggles on Petke, since the club had a slew of injuries and absences to deal with. Petke gave three midfielders their first start of the season and handed an MLS debut to Reagan Dunk at right-back.
The New York Red Bulls' effort was so poor in a 3-1 home loss to the Galaxy that Jesse Marsch was spotted holding a team meeting on the field at Red Bull Arena well after the final whistle. The defeat was surprising not only because LA entered the game on a poor run of form while dealing with injuries and leadership issues, but because New York hadn't lost in their own building in 19 matches.
Sunday was not a good day for Major League Soccer's supposed focus on concussions. Atlanta's Yamil Asad took a ball to the head and crumpled to the turf in his team's 1-1 draw with Portland but returned to the field only moments after the incident. In FC Dallas's 1-1 draw with NYCFC in the final game of the weekend, Matt Hedges and Kellyn Acosta inadvertently clashed heads. Hedges was bloodied and Acosta stayed down on the turf for several minutes, but neither player appeared to go through the proper check for a head injury.
Jason Davis covers Major League Soccer and the United States national team for ESPN FC. Twitter: @davisjsn.