Galaxy-Red Bulls not the glamour match of old; Pareja, Vieira match wits
Major League Soccer is in full swing. Jason Davis highlights the matches you can't miss as the season rolls into Week 11.
Red Bulls vs. Galaxy -- a glamour match no more
What once was the league's most glamorous matchup has taken on a decidedly different look in 2017. New York transitioned from big spenders to a Moneyball-style roster in 2016 to great effect, while the Galaxy have chosen a less star-studded direction in the aftermath of the departures of Robbie Keane, Steven Gerrard and manager Bruce Arena. In a league with big-money teams rising to the fore in Toronto, Seattle, Atlanta and New York City, the Red Bulls and Galaxy stand out most for no longer being financially elite.
Not that the contemporary version of their clash doesn't bring with it a different sort of fascination. It's still New York and LA.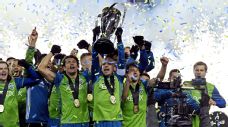 Subscribe to MLS LIVE today!
- MLS LIVE is back with an all-new platform for 2017
- Get the most matches ever, LIVE and ON DEMAND
- Packages start at only $14.99 a month
- Watch MLS on your phone, computer or TV
- Subscribe today at live.mlssoccer.com
The Galaxy steam into Harrison, New Jersey, with a cargo hold full of baggage. Personnel decisions and injures have defined their week, with Jelle van Damme's early removal in last week's game against Chicago the headline in that match and Jermaine Jones being ruled out for a month the leading story going forward. Head coach Curt Onalfo, perhaps in a bid to establish his authority in his first year on the job in Los Angeles, removed designated player Van Damme from last week's draw with the Fire in the 33rd minute.
Taking off a team leader and one of the club's highest-paid players is no small thing. Eyes will be on Onalfo as he sets his lineup against New York, especially after he doubled down on Van Damme's removal by calling his benching a "day-by-day" decision. There's a decent chance Van Damme's removal and the results that follow will make or break Onalfo's tenure in Los Angeles.
The Red Bulls have less drama, but can't be feeling good after dropping two results in a row. After a reserve-laden side lost to Sporting Kansas City in midweek, New York gifted the Philadelphia Union a first victory of 2017 in a 3-0 drubbing on Saturday courtesy of a CJ Sapong hat trick. Both of those games were on the road, so Jesse Marsch & Co. will be very glad to be back at home at Red Bull Arena, where his team has a 19-game unbeaten streak.
Managerial philosophies in focus when Dallas hosts NYCFC
The league's lone remaining unbeaten puts that record on the line against NYCFC on Sunday night in Frisco in a game that pits two refined philosophies against each other. Those respective mindsets flow down from head coaches that have put distinct stamps on their team via both soccer acumen and personality. The action in Texas won't be on the sidelines where Oscar Pareja and Patrick Vieira will be patrolling their respective boxes, but that doesn't mean the pair won't be largely responsible for how their teams perform.
FC Dallas has built their undefeated start (one apparently unaffected by their CONCACAF Champions League commitments) on the backs of goals by Maxi Urruti and an unheralded defense. The club isn't often celebrated for its ability to shut opponents down, but that's a major part of its success. Only Sporting KC have given up fewer goals per game than Dallas, with the defending Supporters' Shield winners having conceded just five goals in eight matches.
That's down to more than just Matt Hedges and Walker Zimmerman in central defense, but they should get the lion's share of the credit. As has been the case all year, midfielder Kellyn Acosta deserves attention as well. Against NYCFC, he'll be manning the area where Andrea Pirlo might have been just a few weeks ago.
Pirlo, or his absence, remains the biggest storyline for the New York club. NYCFC enters with a two-game winning streak, a run that has coincided with the Italian great's demotion to the bench in favor of Colombian teenager Yangel Herrera.
NYCFC brings plenty of firepower to the table with David Villa, Rodney Wallace and Jack Harrison, but it's the midfield choices that remain most interesting.
East meets West in Orlando
It wasn't that long ago that Orlando City and Sporting Kansas City were alone atop their respective conferences, riding a wave of strong early-season play to first-place spots through two months of the season.
Then last week happened. Orlando City fell on the road in Houston 4-0, a game marked by silly mistakes and an inability to break down the Dynamo's deep-lying setup. Sporting, meanwhile, suffered a surprising defeat at the hands of Minnesota United in Minneapolis, where they conceded multiple goals for the first time in 2017.
This game features two of the league's more prominent center forwards in Dom Dwyer and Cyle Larin. Both will be the focal points of the opposing defense on Saturday. Larin's potential battle with Ike Opara -- one of SKC's best players to this point -- will be worth watching. On the other side, Dwyer will likely be forced to deal with a fresh Jonathan Spector. The Lions' center back was held out of the match in Houston as Jason Kreis rotated his side.
Orlando's perfect home start is again on the line with Sporting in town. So far in its new building, the Lions have won all five of their games with a plus-six goal differential.
Kreis will again have the option of reinserting star attacker Kaka back into the starting lineup. The Brazilian designated player has appeared as a substitute in two matches since returning from a hamstring injury that kept him out for two months. Though he's shown flashes of his ability, he has yet to impact the season in any meaningful way. Despite Orlando City's solid record through nine games, they'll certainly need Kaka to be a major influence to sustain their push for the top spot in the Eastern Conference.
Saturday figures to be something of an emotional day at Orlando City Stadium. The man who built the club in Orlando, Phil Rawlins, announced he'll be leaving the city with the stadium completed and the team well established. Lions fans will want to send their soccer benefactor off with a win.
Jason Davis covers Major League Soccer and the United States national team for ESPN FC. Twitter: @davisjsn.