USMNT call-ups disrupt MLS as Portland seeks offense without Nagbe
There's no mystery in the game choices this week. With the international break upon us, three Saturday games constitute the entire MLS schedule.
New England, Minnesota seek first wins
In the past two weeks, Minnesota United suffered a humbling 6-1 defeat against Atlanta at home and then battled for a 2-2 draw at Colorado. That might mean the league newcomers are happy to be back on the road for a second consecutive week, with New England at Gillette Stadium offering Minnesota's next chance for a first win.
The problem is that United has been hit with a slew of international call-ups. While most of the league will skip the weekend, Minnesota must work without key contributors.
Kevin Molino, Johan Venegas, Rasmus Schuller and Francisco Calvo are all away, while full-back Justin Davis is suspended. That's five starters from last week, necessitating some heavy rotation by head coach Adrian Heath. In the backline, Vadim Demidov should be back to partner with Brent Kallman, a holdover from the NASL version of Minnesota United and who made his MLS debut last week.
Filling the attacking positions left open by Molino and Venegas will be a tougher task. The burden to find the goals will shift more heavily to the club's "Batman and Superman:" Miguel Ibarra and Christian Ramirez.
Both players are capable, but don't be surprised to see Minnesota sit back and let the game come to them. Pressure will be on the Revolution to get the full points at home, especially in light of a difficult start that sees them without a point after two games.
The hosts won't be missing anyone when Jay Heaps picks his team. Instead, the focus will be on who can jump-start the attack.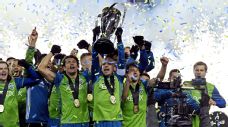 Subscribe to MLS LIVE today!
- MLS LIVE is back with an all-new platform for 2017
- Get the most matches ever, LIVE and ON DEMAND
- Packages start at only $14.99 a month
- Watch MLS on your phone, computer or TV
- Subscribe today at live.mlssoccer.com
Red Bulls host managerless RSL
The club most often noted for its organizational drama welcomes a team that currently holds the distinction of the league's most unsettled. By virtue of the decision to fire Jeff Cassar just three games into the regular season, Real Salt Lake arrives in New Jersey with a host of unanswered questions.
The man in charge, at least for the time being, is goalkeeping coach Daryl Shore, who steps into the fray during an international window that will rob him of players who could help fix the current problems. Nick Rimando, the club's rock in goal, is with the USMNT, while playmaker Albert Rusnak is away with Slovakia.
Tacked on to the international absences is a suspension for defensive midfielder and captain Kyle Beckerman, which means Luke Mulholland and Stephen Sunday figure to be the water carriers. They'll need to be on their game: The Red Bulls' high press makes Beckerman's absence a serious concern.
New York started the year with two wins, but were thoroughly beaten by the Sounders in Seattle last weekend. The defending champs managed to break the aforementioned press, but that shouldn't be as much of a concern at home against an RSL team in flux.
The home side's attack hasn't yet clicked and might not on Saturday without Sacha Kljestan in the mix. Underneath a striker tandem of Bradley Wright-Phillips and Fredrik Gulbrandsen, attack-minded midfielders Daniel Royer and Mike Grella, the latter of whom has been relegated to a part-time role thus far in 2017, will look to create chances.
Columbus and Portland meet again
Two teams tied to each other by their 2015 MLS Cup final appearance and the subsequent failure of each to make the playoffs in 2016 meet at MAPFRE Stadium.
The Timbers are flying high with an attack that has scored 10 goals through three matches. Fanendo Adi and Diego Valeri have combined to score seven of those, shouldering the finishing load in front of a midfield that is working exactly to head coach Caleb Porter's plan.
Deploying Darlington Nagbe on the left of midfield and encouraging him to push into the final third has paid significant dividends, but he is with the USMNT and won't be in Ohio. Valeri, Adi and newcomer Sebastian Blanco are more than capable of repositioning responsibilities to cover and Porter can turn to Darren Mattocks to man the wing.
Crew SC managed its first win of the year at D.C. United last Saturday, thanks to two penalties, but Gregg Berhalter's team will know that goals from open play are necessary to take care of the Timbers' threat. A tweak in tactics didn't pay off last week -- those penalties aside -- but could see a better return at home.
The change puts three at the back for Columbus, with captain Will Trap pushing higher up the field from his midfield position. Ola Kamara leads the line as a lone striker, with Harrison Afful and Jukka Raitala as flying wing-backs.
Raitala is the only international that Crew SC loses this week, likely pushing Waylon Francis back into the starting lineup. Another player to keep an eye on at the back is Alex Crognale; the homegrown defender impressed when making his debut last week.
Jason Davis covers Major League Soccer and the United States national team for ESPN FC. Twitter: @davisjsn.