Embrace of young DPs has MLS shedding 'retirement league' image
When future generations of fans look back at the history of MLS, 2017 might well be viewed as the year the league finally shed for good its image as a retirement destination.
Fact is, the domestic league had already been trending younger in terms of luring high-priced designated players when a bunch of teams went back to the well two years ago, signing a fresh batch of past-their-prime household names before and during the 2015 campaign.
Thirty-somethings Frank Lampard, Andrea Pirlo and David Villa were the marquee attractions during New York City FC's maiden season. Ex-Ballon d'Or winner Kaka headlined Orlando City's. Steven Gerrard, surplus to requirements at Liverpool, went to the LA Galaxy. Didier Drogba, no longer needed at Chelsea, landed in Montreal.
The sudden influx of aging stars was reminiscent of MLS's earliest days, when marketable World Cup vets like flamboyant Mexican goalkeeper/striker Jorge Campos and mop-headed Colombian maestro Carlos Valderrama helped re-launch top-flight soccer in America after a 12-year hiatus, and to the first few years of the David Beckham era, when global icons like Thierry Henry, Cuauhtemoc Blanco and Beckham himself spent the twilight of their careers stateside and helped increase the league's profile at home and overseas.
This time, though, the approach didn't really work.
Villa, the reigning MLS MVP, has been great. Kaka has been good in Orlando. But the classy Lampard couldn't stay healthy and retired when his two-year contract was up. Drogba fizzled after a white-hot start and clashed with Impact management during his only full season, while Gerrard was an abject failure on and off the field before he, too, hung up his boots this winter.
But 2015 was also the year Toronto FC managed to ink a certain 27-year-old from Juventus named Sebastian Giovinco who, after torturing MLS defenders for two otherworldly seasons, is considered not just the most influential designated player signing in history from a purely soccer point of view, but perhaps the best player the league has seen full stop.
Giovinco's influence didn't go unnoticed. So when Atlanta United president Darren Eales began putting together the expansion team's 2017 roster -- 10 years after Beckham's arrival as the league's first DP changed MLS forever -- he decided that finding young talent that could help his team win, and not fading stars who could sell more jerseys, was the way forward.
"My feeling was that the time was right where that old cliche of it being a dead-end to your career was no longer the case," Eales said in an interview with ESPN FC. "We started to see with a player like Giovinco coming in that we could take these younger, dynamic players that are in their prime or coming into their prime and be as competitive as we can and get a winning team on the pitch."
Indeed, Atlanta will field three of the youngest DPs in the league when it plays its inaugural match on Sunday against the New York Red Bulls: 23-year-old Paraguayan playmaker Miguel Almiron, Venezuelan forward Josef Martinez, also 23, and Argentine midfielder Hector Villalba, who is just 22.
Atlanta isn't alone. Of the 13 DPs who were signed across the league during the offseason, NYCFC's Maxi Moralez, at 30, is the oldest.
Still, every market is different. The fact that Atlanta sold 30,000 season tickets before ever kicking a ball meant that banking a well-known personality the way NYCFC and Orlando did in their debut seasons wasn't as necessary or even desirable.
"If we were to have signed a player who is perhaps at the end of their career," Eales said, "we would've gotten some pushback from our fans."
Yet for all the success Giovinco has enjoyed for Toronto FC, few players like him -- under 30 but also a proven commodity at the sport's very highest levels -- hasn't happened as predicted. Mexican international Giovani dos Santos joined the Galaxy in mid-2015, but that's about it.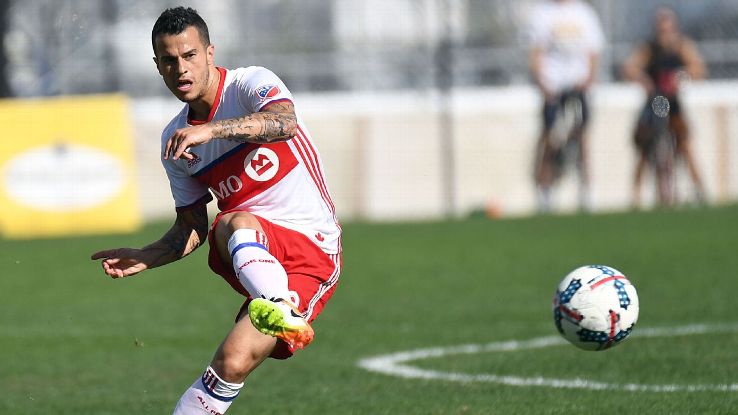 "You've got to find guys that feel this is the right move in the prime of their career to at the start of their career, and that's easier said than done," said TFC coach Greg Vanney, who also helped lure U.S. striker Jozy Altidore back from the English Premier League two years ago, when Altidore was 25.
"We've done a good job of leading in that way as a club, of showing that if you get some guys in their prime who are DPs and you build around them -- not for one year or two years, but for many years -- you can start to really build some continuity in the group.
"We were able to intrigue Seba with a package that made sense for him, but it's hard attracting guys from Champions League clubs that are competing for titles every year. And It came at some cost for him," Vanney added, noting how Giovinco, who has 23 caps, has been mostly ignored by the Italian national team since arriving in North America.
That's part of the reason Eales believes even younger DPs are the way to go, even if those players see MLS as a step toward better things.
"Eventually there will come a time where we'll be able to not have to move these players on even if a big club comes calling with the checkbook out," Eales said. "But at the moment, if we can show that this is a good league where good players can improve and go onto a big league in Europe, and then we reinvest those funds into players that make MLS even better, that's a virtuous circle that's good for everyone."
Everyone, that is, except living legends who are looking for one last payday in MLS before calling it a career.
Doug McIntyre is a staff writer for ESPN The Magazine and ESPN FC. Follow him on Twitter @DougMacESPN.