2017 MLS predictions: Who will win MLS Cup, Supporters' Shield, MVP?
With the 2017 MLS season just about to kick off, ESPN FC asked its writers and analysts to make predictions for who will win the MLS Cup, Supporters' Shield, Golden Boot and MVP.
Vancouver Whitecaps: Is it crazy to think that a team that two years ago was in contention for the Supporters' Shield without a goalscorer find themselves with one of the most exciting goalscorers MLS has ever had, and not be in the mix? I'm all in on a Cascadia Treble. -- Herculez Gomez (@herculezg)
I'm going to go for Vancouver Whitecaps, though that may be as much about the way that the season and playoffs offer the kind of twists and turns that see solid-but-unspectacular teams find a way through by the time early December rolls around. The Whitecaps were derailed by injuries last season, but were better than their final position suggested. A lot depends on whether Yordy Reyna returns from injury in the summer like a new signing, or whether he ends up as a cap writeoff for the year, but let's guess that he helps Cascadia keep its winning sequence running into a third surprise year. -- Graham Parker (@KidWeil)
Also picking Vancouver is Steve Nicol (@SteveNicol61)
---
FC Dallas: Even with Mauro Diaz likely to miss half the season due to the Achilles injury he sustained last year, Dallas looks to be the most complete team. Javier Morales has been brought in to fill the attacking void, but more importantly, Dallas' core that includes Kellyn Acosta, Matt Hedges and Walker Zimmerman is a year older and wiser. If Cristian Colman provides the goals from the forward position, look out. -- Jeff Carlisle (@JeffreyCarlisle)
Last season's Supporters' Shield winner take it a step further and validate regular season dominance with a successful MLS Cup run. -- Alejandro Moreno (@AleMorenoESPN)
It's their time. FC Dallas has all the tools to take home the crown in 2017: A strong defense, speed on the wings, a creative midfield and now a striker to finish chances. Once Mauro Diaz returns from injury in June, they will be unstoppable. -- Arch Bell (@ArchBell)
Maybe I'm swayed by their CONCACAF Champions League demolition of Arabe Unido, but Dallas just seems poised to hang banners in 2017. Kellyn Acosta is so good and they've got -- arguably with Seattle -- the best center-back pairing in MLS. Oscar Pareja has really built a powerhouse. -- Sebastian Salazar (@SebiSalazarFUT)
Also picking Dallas is Paul Mariner (@Paul_Mariner)
---

Toronto FC: Were the most dynamic team down the stretch run of last season and have kept all their major pieces intact. Unlike Columbus the year before, I believe they will use losing MLS Cup at home as the fuel to fire a return a year later and will go one better. -- Adrian Healey (@AdrianHealey)
The Reds came oh-so-close to hoisting the hardware last season, losing a final they dominated on penalties. That experience pushes them over the edge this year. -- Doug McIntyre (@DougMacESPN)
Toronto FC is my pick to win MLS Cup, reaching the goal they nearly accomplished last season. A host of big changes and new signings across the league make this as unpredictable a season as there's been in recent memory, but TFC stands out thanks to their proven core of MLS elite talent and a handful of strong additions. -- Jason Davis (@davisjsn)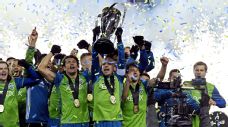 Subscribe to MLS LIVE today!
- MLS LIVE is back with an all-new platform for 2017
- Get the most matches ever, LIVE and ON DEMAND
- Packages start at only $14.99 a month
- Watch MLS on your phone, computer or TV
- Subscribe today at live.mlssoccer.com
FC Dallas: So consistent during regular season play, these kids know how to handle the grind of a long MLS season. Look for a repeat of the Supporters' Shield. -- Herculez Gomez
FCD won the Shield last year, and look plenty capable of delivering a different kind of double this season. -- Jeff Carlisle
Also picking Dallas is Alejandro Moreno.
Hard to look past Dallas again, as they're strengthening at all levels of experience and have a formidable pipeline of youth talent compared to other clubs. Still need to work on concentration coming through knockout rounds, but in the regular season, any club that beats them probably has to do better than last year's points total. -- Graham Parker
The CONCACAF Champions League quarterfinal win over Arabe Unido showed that FC Dallas are still plenty dangerous even without Diaz in the fold. There will be plenty of challenges in coming out of the West -- Seattle, Los Angeles -- but Oscar Pareja's group should ride to a second straight Supporters' Shield. -- Arch Bell
---

Toronto FC: The Double hasn't happened too often recently, but Toronto are primed for it this year. They will have the advantage of playing a regular schedule rather than the first eight games on the road as they did last year. Dallas, Sporting Kansas City and even Columbus could push them close, though. -- Adrian Healey
After MLS Cup heartbreak, I bet TFC comes out hot to start the season. Toronto managed to keep its team together, and the intriguing addition of Victor Vazquez -- who was player of the year in Belgium two seasons ago -- could further spark an already combustible attack. -- Sebastian Salazar
---
Seattle Sounders: Boosted by their championship swagger and the return of Clint Dempsey, the Sounders will become the first MLS Cup holder to win the Shield since Columbus did it eight years ago. -- Doug McIntyre
The Sounders' 2016 championship means they had an extremely short offseason. That could mean a slow start, but with Brian Schmetzer settling further into the job and Clint Dempsey back on the field, Seattle should still be among the best teams in the league. After last year's aberrant regular season, I'm picking the champs to bounce back with a points title. -- Jason Davis
---
Sporting Kansas City: Lots of firepower up front, creative in midfield and young improving defenders at the back. -- Paul Mariner
---
Vancouver Whitecaps: -- Steve Nicol
---

Sebastian Giovinco: Do I really need to explain myself? Just look at his numbers over the past two years. -- Herculez Gomez
Fueled by his MVP snub in 2016, when the little Italian wasn't a finalist despite leading the league in combined goals and assists, I see Giovinco outscoring everyone this year. -- Doug McIntyre
Also picking Giovinco is Steve Nicol.
---

Fanendo Adi: Adi tied for fifth last year with 16 goals, but with Sebastian Blanco brought in to provide another supply line alongside Diego Valeri and Darlington Nagbe, Adi should not only exceed that total this year, but lead the league. -- Jeff Carlisle
A striker who has it all, who Portland have done amazingly well to hang on to. Has got better every year in MLS and this is the year he puts it all together and tops 20 goals for the first time. -- Adrian Healey
David Villa is the safe bet here, because he'll net a big chunk of NYCFC's likely 60-plus goals. But Adi has scored at a great clip since entering league in 2014, and with Diego Valeri, Darlington Nagbe and now Sebastian Blanco creating danger, the Nigerian international will get plenty of chances. -- Sebastian Salazar
---
David Villa: Going to suggest David Villa squeaks this one with the strengthening New York has done in the attacking midfield positions around him; less work as a creator and more as an opportunistic finisher may give him the edge over the usual contenders. -- Graham Parker
New York City FC's high-flying attack won't miss a beat with Maxi Moralez slotting into the midfield along with Andrea Pirlo, thus setting up David Villa with plenty of scoring chances. Bradley Wright-Phillips of the New York Red Bulls will provide stiff competition, but this year it's the Spanish striker taking home scoring honors. -- Arch Bell
Also choosing Villa is Alejandro Moreno.
---
Bradley Wright-Phillips: Chances created, chances finished, stays fit, plays most games and his conversion rate has improved over the years. -- Paul Mariner
---

Jozy Altidore: As is s often the case, the biggest question surrounding Altidore is his health. If the TFC man can stay on the field for most of the season, he's certain to score goals. Playing with Sebastian Giovinco obviously agrees with the U.S. international, and when he's comfortable, he's close to unstoppable. -- Jason Davis

Sebastian Giovinco: Are we still doing this? He was snubbed last year. Wasn't even top three! Insane. Shame on you. -- Herculez Gomez
Sebastian Giovinco should have won it last year, only to be completely snubbed. No matter. This season he'll reclaim the trophy he won in 2015. -- Jeff Carlisle
Since Giovinco won it two seasons ago, and should have won it last season, there's no reason to believe that he won't have yet another outstanding season. -- Alejandro Moreno
Missing out last year really seemed to stick in Sebastian Giovinco's craw. Assuming he stays happy in Toronto and also stays injury free, then he should be the one to beat again. -- Graham Parker
After not even being named an MVP finalist in 2016, Giovinco should pick up his second MVP trophy (2015) in what stands to be another fantastic season for the Italian in Toronto. With Jozy Altidore healthy, Giovinco's numbers (17 goals and 15 assists in 2016) will only improve. -- Arch Bell
He's the best player in MLS, and maybe the best in league history. The fact that Giovinco wasn't even an MVP finalist last year still gets on my nerves. Hope the voters get it right in 2017. -- Sebastian Salazar
Benny Feilhaber: In similar fashion to the production of Sacha Klejstan last year, Feilhaber has the potential to do the same this year with the added motivation of getting back in the national team picture. Sporting are going to make their presence felt in the West, and Feilhaber will be the fulcrum for everything they do. -- Adrian Healey
---
Nicolas Lodeiro: The Uruguayan World Cup vet was so good in 2016 he had an argument for the award even though he didn't arrive until late July. In his first full season, the league's most complete player will just edge out Giovonvo as MLS's best. -- Doug McIntyre
We got a taste of what the Uruguayan could do when he arrived in Seattle in midseason and subsequently pushed his new team all the way to an MLS Cup title. A full season of Lodeiro, augmented by the return of Clint Dempsey, should be extremely productive. A 15-goal, 15-assist season isn't out of the question. -- Jason Davis
---
Mauro Diaz: Best No. 10 in the league, a creator, can finish chances and is magic on restarts. -- Paul Mariner
---
Fredy Montero: -- Steve Nicol
Follow @ESPNFC on Twitter to keep up with the latest football updates.