MLS making strides toward becoming destination league, but has a way to go
As Major League Soccer prepares for the start of its 22nd season on Friday, there is much for the league to celebrate. After not increasing its footprint in 2016, the arrival of two new teams, Atlanta United and Minnesota United, swells its ranks to 22 clubs with at least one more newcomer, Los Angeles FC, slated to arrive next year.
A dozen other markets are clamoring for four more coveted spots, all of them prepared to pay a $150 million expansion fee for the privilege. Attendance and fan engagement are at all-time highs. There is labor peace, at least for now. Even the TV numbers are up significantly. By any measure, these are good times for a circuit that came perilously close to extinction just 15 short years ago.
During his annual State of the League address before MLS Cup in December, longtime MLS commissioner Don Garber once again reiterated the league's desire to become one of the top soccer circuits in the world. Nothing new there. Garber has been beating that drum for four years now, and why wouldn't he?
MLS has become one of the great success stories in sports since Garber became commissioner in 1999, in large part because of the New Yorker's savvy. He helped the league survive its brush with death in 2001, when two of its 12 teams folded, by creating a profitable marketing arm to help underwrite its clubs' losses. He recruited a stable of new investors, more than doubling MLS size and putting it on the stable ground -- quite literally, as most teams now play in custom-built stadiums -- that's the foundation of the league today.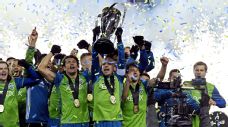 Subscribe to MLS LIVE today!
- MLS LIVE is back with an all-new platform for 2017
- Get the most matches ever, LIVE and ON DEMAND
- Packages start at only $14.99 a month
- Watch MLS on your phone, computer or TV
- Subscribe today at live.mlssoccer.com
Yet it was notable that Garber didn't mention exactly when MLS would stand toe-to-toe with global juggernauts like the English Premier League, the German Bundesliga and Spain's La Liga during those remarks in Toronto. In the past, there was an oft-quoted end goal of 2022. Now that aim seems a bit more opened ended, with a growing recognition among MLS insiders that the league must first catch up to its southern neighbor before truly beginning to compete with Europe's elite.
"The Mexican league has a really good standard. For me, Liga MX is one of the top 10 leagues in the world," Seattle Sounders general manager Garth Lagerwey told ESPN FC in a phone interview.
"If you can beat those teams regularly in the [CONCACAF] Champions League, which we haven't been able to do so far, then we're on our way to becoming one of the best leagues in the world. Hopefully we're able to achieve that at some point."
Mexican teams have utterly dominated the region for the past two decades. MLS teams have made the final just twice since the current format was introduced nine years ago. The last to claim a title was the LA Galaxy in 2001.
The main reason is, not surprisingly, money. Not only do Mexican teams spend more on player salaries than their MLS counterparts, they distribute those funds more evenly across their rosters, resulting in substantially greater depth.
MLS has tried to narrow the gap in recent years by investing more in their squads. It's working.
"Two years ago, when teams put out their reserves during preseason, some guys shouldn't even have been on the field," said Philadelphia Union Coach Jim Curtin. "Now you have some really experienced players out there."
Still, you can be sure that whoever wins the Tigres-Pumas CONCACAF Champions League quarterfinal will be favored against either the New York Red Bulls or Vancouver Whitecaps when the semis kick off next month.
During the past decade, Garber often compared MLS to a teenager still finding their way in the world, while correctly pointing out that the European and Mexican top flights have been around for a century and the other North American sports leagues for almost as long. He correctly reminded anyone who would listen that the league, for all its successes, couldn't catch up overnight.
But back in December Garber again called his league "young". He wasn't wrong. But if MLS was an adolescent a decade ago, it's now more like a college grad who moved back in with the parents before really making a go of life alone. A few years from now, it might be harder to invoke youth when explaining why other leagues boast more talent.
"Player investment is the single biggest driver [of success]," Lagerwey said. "It's not the only driver by any means, but it's the single biggest one."
Development is included in that, and MLS academies -- which got a later start than the league as a whole -- are only now beginning to make a real contribution to first-team rosters. Eventually that will help close the gap, too.
And MLS does have some built-in advantages when it comes to luring top foreign players, such as more favorable tax laws and the relative anonymity that comes with being a professional soccer player living in the United States and Canada.
But the truth is that MLS, a league that is thriving thanks to its insistence on financial responsibility, won't be one of the top leagues in the world until it can afford to spend like one. And on that front at least, MLS still has a way to go yet.
Doug McIntyre is a staff writer for ESPN The Magazine and ESPN FC. Follow him on Twitter @DougMacESPN.