MLS Talking Points: Should league's winless title favorites be worried?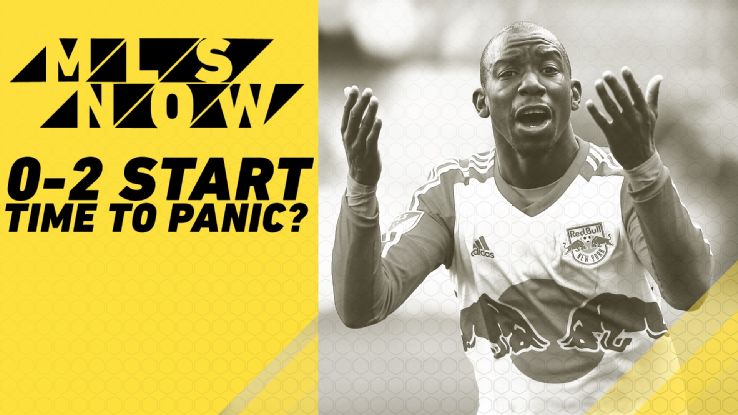 Two weeks into the MLS season, and four preseason title favorites are still winless. In this edition of MLS Talking Points, Jeff Carlisle, Doug McIntyre, Jason Davis and Graham Parker reveal whether or not the New York Red Bulls, Columbus Crew SC, Seattle Sounders or Vancouver Whitecaps have anything to worry about.
Seattle Sounders
Seattle may be tucked away in a corner of the country, but the discontent coming from Sounders fans can be heard loud and clear from coast to coast.
That's what happens when the U.S.'s best-backed club begins the season with two losses. That's how it ought to be, too. Pressure is a fact of life in Seattle, and the weight on longtime coach Sigi Schmid's shoulders is heavier than ever in 2016 after archrival Portland won last year's MLS Cup.
But while the slow start explains the hand-wringing on Puget Sound, a closer inspection suggests that things aren't as bad as they seem.
If not for a first-half red card and a long-range shot that could have been saved but instead stood up as Sporting Kansas City's winner, the Sounders' first loss could well have been a victory. A goalkeeping error cost Schmid's team points again last weekend, as Tyler Miller -- who replaced hurt starter Stefan Frei -- was out-jumped on the decisive play in a 2-1 stoppage-time loss at Real Salt Lake.
In short, Seattle has been unlucky. Their roster is still stacked. Clint Dempsey, who scored twice against Club America in the CONCACAF Champions League quarterfinals, will get his goals in league play. Much-touted rookie Jordan Morris will adjust to the professional game. Frei and captain Brad Evans will return from injury and GM Garth Lagerwey will add a high-earning playmaker to replace departed designated player Obafemi Martins (who was sold to Chinese side Shanghai Shenhua on the eve of the new campaign) in time for the playoffs.
For fans of other MLS teams, that sounds downright scary.
-- Doug McIntyre (@DougMacESPN)
Columbus Crew SC
There's nothing good about being 0-2 just two weeks into the MLS season. Losing can't be spun, not when there's not a platform of winning from which to do the spinning. But the absence of good doesn't necessarily mean the presence of bad. For Columbus Crew SC, a preseason favorite in the Eastern Conference, the rough start to the campaign should prompt a healthy amount of reasoned perspective, not any undue amount of worry.
Columbus came within 90 minutes of lifting the MLS Cup in 2015. In 2016, they returned all of their crucial pieces, with turnover limited to a handful of depth players. Under head coach Gregg Berhalter, Columbus has a clear and effective system of play that worked well enough to earn them second place in the conference last year. The club has no serious injury issues at the moment and can call on their best XI for their next game. Worry shouldn't be in their vocabulary.
Going winless in two games to open the season isn't good, but it's hardly a disaster, even with a fairly daunting schedule -- after an away date in Chicago, Columbus has road tests against FC Dallas and Montreal. The Eastern Conference is open enough, and Columbus is good enough, that a playoff position will still be there for the taking over the remaining seven-plus months of the season.
-- Jason Davis (@davisjsn)
Vancouver Whitecaps
When it comes to a poor start to an MLS season, there are varying degrees of worry. There's the "Damn it, this is going to be miserable" school of thought. Then there's the "Remain calm, all is well" mode. And finally you have the "I don't know whether to be worried or not," type of thinking. It is between these last two categories where the Vancouver Whitecaps, losers of two straight, currently reside.
Without question, the Caps have talent. Kekuta Manneh remains one of the best young attackers in the league. Matias Laba is also a rising star, albeit in a holding midfield role. And manager Carl Robinson has added smartly to his side through the likes of Christian Bolanos and Blas Perez.
But Vancouver hasn't defended well at all so far, conceding five goals, and has even gifted opponents a few tallies. This from a team that tied for the best defensive record in the league last year. There has also been a lack of discipline that has resulted in two suspensions already.
So there is every reason to think that Vancouver will snap out of this mild funk. The Whitecaps can't defend this poorly for the whole season, right? And they're bound to play with more discipline, correct?
Probably, but the Caps do seem to be missing departed right-back Steven Beitashour more than they anticipated, and the new pieces will take some time to jell. In the absurdly competitive Western Conference, this will need to happen quickly, however. Otherwise the worry meter will move closer to the red zone.
-- Jeff Carlisle (@JeffreyCarlisle)
New York Red Bulls
No Damien Perrinelle to partner Gideon Baah yet, so the provisional version of the Red Bulls defense that started the post-Matt Miazga era will have to make do for the foreseeable future. Temporary look or not, that defense needs to stop leaking goals.
The attack needs to score some too, however. The good news for the Red Bulls is that Gonzalo Veron should be back this weekend to face Houston Dynamo. After a somewhat bumpy midseason arrival as a designated player last summer, Veron didn't see a great deal of playing time in a winning team, but had featured heavily and successfully for the Red Bulls in preseason alongside Bradley Wright-Phillips.
That said, Veron's still something of an unproven factor in MLS play, and the big question for New York is if he can kick-start an attack that had shown signs of drying up at the end of last year and has been outscored 5-0 in its opening two games this term. You'd still suspect the team are a kind bounce away from resuming normal service, but just as they'll be hoping to get back to their dominant best of 2015, the Red Bulls are also probably hoping that the Dynamo send the hapless 2015 road version of themselves on Saturday night, rather than the newly confident team that just steamrollered FC Dallas.
The Red Bulls still needs more creative guile if they're to build on the foundation of 2015. But at 0-2, they'd be happy with a reminder of the spirit and work rate that propelled them to success last season. New York needs an ugly win more than style points to nip talk of a crisis in the bud.
-- Graham Parker (@KidWeil)