LAFC gets its wings as ambitious MLS upstart plots next moves
LOS ANGELES -- For Los Angeles FC, Thursday was a day for symbols and gestures. The team's logo and crest were introduced, as were two new part owners in Brandon Beck and Will Ferrell. Style and, given Ferrell's presence, a hefty dose of humor took center stage.
Given that this is Los Angeles, that isn't a surprise. Yet symbols and gestures do matter to a degree, and team president Tom Penn was clearly pleased to get the L.A.-festooned crest, one replete with a wing emerging from the "A," completed.
"It makes us real, tangible," he said of the team's symbols. "It's been torture waiting to get this out because we've had a temporary identity out there. But this firmly solidifies us in the heart of Los Angeles. We designed this crest to authentically represent L.A., both with the L.A. mark, and also the wing in the heart of it, in the City of Angels."
Managing partner Henry Nguyen added: "That wing element, to me that was really the heart and soul of this. It's the City of Angels, but that wing element also captures the ambition and dynamism of this city taking flight. And beyond that, it's also about what the wings represent in terms of being a uniting force."
The crest. The colors. Meet @LAFC. https://t.co/H5KOG350LX

- Major League Soccer (@MLS) January 8, 2016
Gestures can be empty, however, and they only end up mattering if they are accompanied by follow-through and execution. To LAFC's credit, those last two traits have been a hallmark of the organization since the club was first introduced in October of 2014. LAFC has consistently executed, met and even surpassed expectations on all manner of endeavors, from the assembly of what is now a burgeoning 26-person ownership group to the team's stadium, which will sit on the site of the L.A. Sports Arena.
To that end, Penn indicated that the approval process for the stadium is about 90 percent complete. Nguyen added that the planning process and working with the city planning commission is well underway.
"Over the next two to three months we'll have the finalization of our design, and once that gets approved, we should expect full entitlement by the spring," he said. "Once we get that we can start taking down the L.A. Sports Arena."
The steps taken by LAFC have gone toward distinguishing the organization from their eventual city rivals, the LA Galaxy. The downtown stadium site, in particular, creates a demarcation line, although Nguyen insists that wasn't necessarily the intent.
"I'm not saying we've done things in mindful opposition to what [the Galaxy] have done," he said.
"I think what we're looking at internally is a process of, 'How do we do this in the way that's the best way to do it?' And that's making this a participatory process, starting with our supporters, starting with our ownership group. And then just building what we think is a really terrific leadership team internally within the club."
Now the decisions start to stray more to the team's construction. Those choices become more difficult and carry considerable risk. Many of them will fall to new executive vice president of soccer operations John Thorrington, who has scant experience as a club executive, although his work with the MLS Players Union was widely lauded.
Thorrington said that his immediate priority is to get the club's academy up and running, something he expects to accomplish by the fall. In terms of youth coaches and where the academy will be housed, he declined to get into specifics, although was eager to talk about the scale of what he hopes to achieve.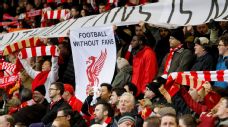 "My big audacious dream for this club is that if a kid has that decision to go to Manchester United or wherever it is overseas, or stay here, they stay here," he said. "I think that will be a statement that reflects what we're doing at a first-team level but also at an academy level."
In terms of hiring a manager, Thorrington said there was no specific timeline that he was working under. After all, the most sought-after coaches are almost certainly tied up with other clubs at the moment.
"I don't want to be grabbing the best person at that [time]," he said. "I want to get the right person, and I'm confident that with the resources and the vision and the plan of the club, we'll get the right guy at the right time when he's available."
The coming months will reveal if the decisions LAFC makes will continue to hit the mark, but there's no question the club is off to an impressive start.
Jeff Carlisle covers MLS and the U.S. national team for ESPN FC. Follow him on Twitter @JeffreyCarlisle.