Giovani Dos Santos enjoys LA Galaxy life ahead of NYCFC clash
CARSON, Calif. -- It's a cliche to say that someone loves L.A., but the smile on the face of Giovani Dos Santos makes it clear that he's enjoying himself in Los Angeles with his new team.
"It's easy to come here and play with my teammates," Dos Santos said in an exclusive interview with ESPN FC. "They have great skill and they are quality players and we are training every single day very hard. We're happy with the way we're playing our games."
The Galaxy are certainly happy with the way Dos Santos is playing. The team has won every match since his debut. Even with limited minutes to increase his fitness, the Mexican has contributed a goal or an assist, and sometimes both, in each of his games.
In his latest outing, Dos Santos went 90 minutes in a 5-0 CONCACAF Champions League victory over Comunicaciones. He orchestrated a number of attacking plays, finishing with a pair of assists and winning praise from opposing coach William Olivera.
"He's a top player, a player who has been in Europe, who was a world champion at the youth level," Olivera said. "He's added to the strength of this Galaxy team. He's got a lot of ability, he's good on the ball, he's fast. We know he's a great player."
The scale of Dos Santos' early potential saw him shine for his country and break into the Barcelona first team as a teenager. However, a subsequent stint with Tottenham did not work out and Dos Santos bounced around Europe while struggling to display the quality he routinely showed with Mexico.
"When he came to Tottenham, he was only an [19-year-old] kid," explained Robbie Keane, a teammate back then who now captains the Galaxy. "Unfortunately, he didn't get the chances that I think he deserved at times. We had a lot of older players in front of him."
But there also were statements from coaches -- Harry Redknapp, for example -- that Dos Santos wasn't disciplined and a little too fond of the London nightlife.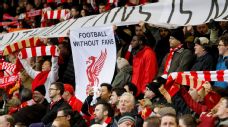 Many years later, the player has a fresh start and Galaxy coach Bruce Arena was certainly impressed by Dos Santos' performance in the CCL game.
"He did a little bit of everything," Arena stated. "His passing was good, his running off the ball was good. He had a very good night. I thought his effort was tremendous."
While Keane may treat Dos Santos, who often shadows the veteran at Galaxy practices, a bit like a kid brother, Arena's attitude is more reminiscent of a grizzled horse trainer who has spotted Triple Crown ability in a young colt.
"He's very promising," Arena said. "What he's demonstrated to date on the field has been very good. We believe he's going to continue to move forward as a player and make a great contribution to the Galaxy."
Dos Santos, for his part, seems open to what the experienced American coach can teach him.
"Bruce Arena is a great coach, for me one of the best coaches in the history of football," Dos Santos said. "I'm learning a lot of things from him. I'm very happy with the confidence that he gives me. Hopefully I can get better every single day with him."
The Galaxy confront New York City FC on Sunday (3 p.m. ET, ESPN and WatchESPN) and in a clash of big names that will feature Dos Santos, Keane, Steven Gerrard, Frank Lampard, Andrea Pirlo and David Villa, only Dos Santos can arguably be considered on the upswing of his career.
"He's 26!" Galaxy defender Dan Gargan scoffed when asked if Dos Santos might be tired against NYCFC after going the distance in CCL action.
"I feel more fit than ever and I'm ready for the next game," Dos Santos said, smiling in anticipation of Sunday's match. "They're great players, have played in the best leagues in the world. They can decide a game with one pass, one goal. It will be a special game and we hope the fans enjoy it and that we get the three points."
Dos Santos, who termed Gerrard his "idol," has found the Galaxy's style of play to his liking.
"It's a combination of very physical and skillful. As a professional you have to improve your game and settle with your teammates. I feel comfortable here."
Though he has worked hard to fit in with his new squad, the player's independent streak is evident in the fact that he didn't seek advice from other national teammates with MLS experience before making the choice to join the league.
"Rafa Marquez or [Cuauhtemoc] Blanco? No, I didn't speak with them," said Dos Santos, who also shrugged off criticism from fans who might think his game will regress in MLS.
"They don't watch enough football," Dos Santos said. "They have to watch more MLS games and see how competitive it is here, the intensity of the games. The league is growing up very quickly and in a few years, it's going to be one of the top leagues in the world."
One opinion that Dos Santos did heed, however, was that of his father Zizinho, who took a chance himself on a team in Los Angeles years ago when he played indoor soccer for the L.A. Lazers.
"He loved L.A.," Dos Santos said. "He had a really good time over here."
Like father, like son, it appears, as Dos Santos is pleased with the Galaxy facilities and the atmosphere around the club.
"I love my new stadium. I'm very happy that the stadium fills up and that the fans support me. It's extra motivation to win every time we play a game at home."
It could well be that MLS and Dos Santos are coming of age together. In the meantime, he is just enjoying the moment.
"He's here now, got a good team, a good football club that looks after its players very well and he's enjoying his football, which is the most important thing," Keane said. "He has a smile on his face and as long as he continues to do that, he's going to be a massive success here."
Andrea Canales covers both Liga MX and the Mexican national team for ESPN FC. Follow her on Twitter @soccercanales.