Paulo Dybala coming along slowly at Juventus, but does Allegri know best?
"Panchina d'Oro" means "Golden Bench" in Italian; it's the name of Italy's Coach of the Year award. Massimiliano Allegri has won it once, edging Jose Mourinho six years ago. He might yet win it again after taking Juventus so close to the treble last season. "Panchina d'Oro" was also the headline for Tuttosport's front page on Friday morning, but this time, it had an altogether different meaning.
The Turin paper was using it to allude to Allegri's much-discussed decision to leave Juventus' most expensive summer signing, €32 million striker Paulo Dybala, out of the starting lineup in the Derby d'Italia and then against Borussia Mönchengladbach in the Champions League.
Both games ended 0-0 ,and to exacerbate things, on each occasion the first change Allegri made wasn't to bring on Dybala. In fact, against Gladbach it was the last. "Do you see Dybala or not, Allegri?" asked La Gazzetta dello Sport. He should reach for his occhiali ("pair of glasses") -- that's what a 0-0 draw is sometimes called in Italy, and if Dybala had gotten more game time, the papers argued, Juventus wouldn't have had to watch any back-to-back.
The context here is important. Juventus found themselves in 14th place in Serie A, a position that president Andrea Agnelli called "unacceptable" at the annual shareholders' meeting on Friday. He would later have to clarify that this applied to everyone "from the president to the kit man" and wasn't to be construed as a warning aimed solely at Allegri. Speaking beside Agnelli, general manager Beppe Marotta explained that even after such a "massive turnover" of players in the summer, the squad they assembled remains "competitive" and has the "obligation to win."
After all, while Juventus lost Carlos Tevez, Andrea Pirlo and Arturo Vidal in the recent transfer window, they still invested €127m in the team. If you include the performance-related add-ons in the deal with Palermo for Dybala, almost €80m of that was on striking talent.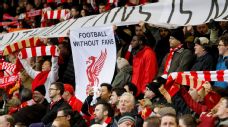 Disappointingly, there wasn't an instant return. One of the reasons for Juve's position in the table was their struggles in front of goal: they had scored only nine goals in eight league games, 12th-best in Serie A. The Old Lady had seen little bang for her buck, and the sense was that it didn't have to be this way.
Allegri had left €32m worth of talent out of his starting lineup against Lazio in the Italian Super Cup, then against Udinese, Man City, Frosinone, Inter and Gladbach. That Dybala was their top scorer (four goals) and had offered a bright side in defeats away to Roma and Napoli, when a goal in one and an assist in the other threatened to get his team back into those games, didn't seem to matter. Up until then, Dybala had started and finished only three of Juve's 12 games. Allegri was made out to be someone who goes and buys a Ferrari but is too afraid to take it out for a spin just in case the engine overheats, the bodywork gets scratched or someone dents it.
Not for the first time this season, Palermo owner Maurizio Zamparini, who likes to present his relationship with Dybala as that between a father and son, had some scathing words for Juventus, and Allegri in particular. He mused that had Dybala gone to Inter or Milan, he wouldn't have been treated this way.
"The coaches of today, and Allegri is no exception, prefer workers who follow their orders," Zamparini told Radio Sportiva. "But Paulo cannot be placed in a cage. He needs freedom to be decisive. Do you see Messi going to pick up the ball in midfield at Barcelona? No, because they play for him, to free his inspiration." Juventus didn't, Zamparini argued.
They used him like a "third division anchor man," he said, challenging listeners to watch Dybala show for a pass and not get it from a teammate. "It reminds me of what happened to Amauri with Pavel Nedved and Alessandro Del Piero [when he joined Juventus for €22.8m in May, 2008]. They didn't pass him the ball, and he took the blame [as results went awry]."
Regrettably, a storm had been whipped up around Dybala. Allegri felt both had been "put on trial" by the media, and when the time for his press conference came around on Saturday, it had the atmosphere of a showdown.
"Now I get to talk," Allegri said as he began to set the record straight. The reporting, he said, had been inexact. Of all Juventus' strikers, Allegri argued, Dybala had played the most minutes, 422. It was therefore a false debate, although as La Stampa countered, if you looked at Dybala's average minutes per match, 51.4, he had featured less than Mario Mandzukic (62) and Morata (58.6), both of whom had spent time on the sidelines with muscle injuries.
Allegri explained that he is the first to accept criticism when it is justified, but that on this occasion, it was not fair. His track record of handling young talent should also give him the benefit of the doubt.
He introduced Morata gradually last season, and the Spaniard scored 12 goals after Christmas, including decisive strikes in the round of 16, quarterfinal, semifinal and final of the Champions League. Morata finished strong, finding the net in four of his last five games. Meanwhile as he learned the ropes and settled in, however, Juventus had Tevez to take care of business. They do not have the same luxury this season, hence the pressure on Allegri to make Dybala play. His price tag has only added to it, too. "It's not my problem he cost €40m," Allegri bristled.
Dybala started and finished Sunday's game against Atalanta at the J Stadium. He was Man of the Match; it was his most accomplished in a Juventus shirt to date. He scored a goal reminiscent of Tevez's away to Dortmund, set up Mandzukic for the clincher, won a penalty and was generous enough to even allow Paul Pogba to take and miss it. Dybala was everywhere and did everything. La Stampa even wondered if he had cleaned the dressing room afterward.
In the absence of Juan Cuadrado's absence, Juventus' main creative spark this season, Dybala catalysed his side's play. His performance drew comparison with Tevez, who incidentally he had replaced upon making his debut for Argentina against Paraguay the previous week.
"I played like Tevez, you say? Well, OK, almost as a trequartista, between the lines. But the truth is that I have been studying him for a year. I watched almost all of his games last season, and when we trained together with the national team, I try to take as much as possible from him." It's a different role to the one Dybala had at Palermo, and his re-education is one of the reasons why Allegri is being patient with him.
"[At Palermo] I played as a centre-forward," he explained in the mixed zone. "I had [Franco] Vazquez behind me who gave me the ball. Here I do what the coach asks." And that's to be a second striker, the link between the midfield and attack -- a "nine and a half."
"Never again without [Dybala]," Tuttosport demanded on Monday. There was an "I told you so" feel to the Turin daily's coverage. They clearly felt vindicated in campaigning for him to play -- "Maybe those who wanted him to play weren't wrong?"
But here's a thought: What if Dybala shined precisely because of the way Allegri had handled him, resting "la Joya" against Inter and Gladbach purposefully with this game in mind, carefully selecting the right moments and opponents for him?
Contrary to what Gazzetta inferred after the Gladbach game, Allegri does see Dybala; in fact, he sees a lot more of him than we do. He sees him in training. He sees that he is still only 21 and doesn't need burdening with pressure. He recognises that there is a big difference between playing for Palermo and for Juventus in both the style and the substance expected. He appreciates that Dybala not only needs to learn a new position and from his mistakes -- like giving the ball away against Frosinone that led to the equaliser -- but also to develop an understanding with his new teammates and to bulk up a bit and put on some muscle. "He suffers the physical contact a little," Allegri admitted.
In a results business -- the too much, too soon business -- that is responsible coaching, and Allegri deserves credit for his restraint and for not letting Juventus' injuries, bad start to the season or media pressure influence his mentorship of "O Picciruddu" ("The Kid," as Dybala was known in Sicily).
Pogba has called Juventus a "University of Football." Dybala is receiving an Ivy League education.
James covers the Italian Serie A and European football for ESPN FC Follow him on Twitter @JamesHorncastle.