Will Roberto Mancini's added muscle push Inter to end trophy drought?
It's been a while. Longer than you might think. Inter are alone at the top of the Serie A table for the first time since the days when they were still champions of Europe, back on Sept. 22, 2010.
Sent to Stamford Bridge for Chelsea's game against Maccabi Tel Aviv on Wednesday night, one Mediaset reporter couldn't resist grabbing Jose Mourinho afterward to get his reaction to his old club's renaissance. "I didn't see the derby on Sunday, but I've got nothing to hide," he said. "If Inter win, I am happy. If Inter get back to winning trophies, I am happy. I am Interista. I haven't forgotten."
Sunday's 1-0 win against Milan maintained Inter's perfect start to the season. Opening a campaign with a hat trick of victories was a feat that even the Special One didn't achieve. The last time Inter managed it was under heart-pounding Hector Cuper in 2002. "It changes nothing," coach Roberto Mancini argued. Inter finished runners-up behind Juventus that year. Remarkably, the only time they have been proclaimed champions on the nine occasions they have started this well was all the way back in 1954.
Mind-blowing, right? Until of course you remember Inter's braccino corto: the tennis player's shrinking arm as he nears match point. The collapses of 1967 and 2002 are every bit as big a part of Interismo as the triumphs of the Grande Inter and those of the triplete-winning team.
Mancini has never shied from insisting that Inter be included in the conversation for the Scudetto. This is Inter, he often says, and their history and tradition demands that they are a contender. There can be no excuses. Mancini is the highest-paid coach in the league. The team is no longer built for the style and system of his predecessor, Walter Mazzarri. After 10 new signings -- 13 if you go back to last January -- it is now unmistakably in Mancini's image.
Relatively speaking, he has an embarrassment of riches. And yet you can understand why he doesn't want the piazza -- that imaginary space inhabited by Inter fans -- to get carried away. The supporters know better.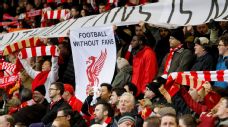 Inter won seven games in a row and became the first team to beat Juventus at the J Stadium in the autumn of 2012 but ended in ninth, their worst finish since 1994. Ulterior confirmation is needed, even after coming through their first acid test of the season, before cautious optimism evolves into bullish braggadocio. "Two years ago Roma won their first 10 games," Mancini reminded everyone. And then what happened? Juventus retained their title by 17 points.
As Mourinho likes to say, the league is a marathon, not a sprint. The Scudetto is won in May, not September. An indicator of just how tough it will be to get the tricolor back on their shirt for the first time in what will be six years next May was provided by the return of "the true Juve" at Manchester City on Tuesday and the progress Roma showed at home to Barcelona on Wednesday.
Not playing in Europe, however, should be of advantage to Inter just as it was to Juventus in Antonio Conte's first season at the club. That was said the season before last, too, and to no avail but the team is better coached -- Mancini can point to his track record -- and also much better equipped than then. Mancini will treasure the extra time not only to rest and recover players but also to get his message across to the team.
Things clearly still need working on. Jeison Murillo showed some naivety in the derby. Geoffrey Kondogbia has yet to look like a €35 million player. Ivan Perisic is a winger, not a No. 10, which is where he played in the derby; but if Inter play 4-3-3 to accommodate him, where does their player of the season so far, Stevan Jovetic, fit in?
The impression of Inter so far is that they have won games but without playing well -- a mark of champions, goes the cliche. "They are not as organised as Milan," was Billy Costacurta's takeaway on Sky Italia. "Mancini has more better individuals than [Milan manager Sinisa] Mihajlovic." And at the moment they are coming through for him.
For instance, so far it hasn't really mattered that last season's top scorer, Mauro Icardi, is still goalless. Encouragingly for Inter, other players are stepping up and deciding games for them instead. Jovetic has already emerged as a leader and go-to match-winner. He clinched the wins against Atalanta and Carpi. A trademark Fredy Guarin strike settled the derby. The team has character. "Che GrINTER!" was La Gazzetta dello Sport's front-page headline on Tuesday, hailing the grit and determination of this team.
Felipe Melo has quickly come to personify it. Asked at his unveiling if his bad-boy reputation was wide of mark, he encouraged it. "No," Melo said. "I am a bad boy. That's my biggest attribute." And didn't it show in the derby? Melo raked his studs down Carlos Bacca's heel and got all up in Mario Balotelli's grill as soon as he came on. "Balotelli is too good," he said afterward. "He's a champion. So you've got to kick him. That's football."
People are beginning to understand why Mancini made signing Melo non-negotiable. He's got attitude.
"I didn't come here so that one day I could tell my grandkids I played for Inter," Melo said. "I came here to win things and make history." Inter were missing a nasty streak. As long as Andrea Ranocchia captained the side, it was hard to disassociate the team from the notion that nice guys finish last. Now Icardi has the armband, a player who at times can make Melo look like a choirboy, and the symbolism couldn't be more striking.
Mancini wants his team to get under their opponents' skin. He doesn't want teams to have it easy against Inter. He wants them to know they have been in a game. He wants Inter to intimidate. This was central to his recruitment strategy over the summer: make Inter more heavyweight. Muscles have been added. Only Hellas Verona's team is taller in average height than Inter's this season. They won 15 aerial duels against Milan on Sunday. Playing Melo and Kondogbia is like raising a wall in front of a much-improved defence, which has so far kept two clean sheets in three games and only conceded once. Only Fiorentina (7) have allowed fewer shots on target than Inter (8).
If Inter haven't played well so far, then imagine when they do. The new signings, the wins, the derby and their return to the top of the table have generated enthusiasm and injected confidence and belief into the team.
Inter are already eight points ahead of Juventus, seven points in front of Napoli and six clear of Milan. At the very least, you have to say that their start to the season bodes well for a return to the Champions League. Knowing Mancini and the personalities he has introduced to this team -- Miranda, Melo, Perisic and Jovetic all have title-winning experience -- Inter won't stop at that. Could a four-year wait for silverware finally come to an end this season?
James covers the Italian Serie A and European football for ESPN FC Follow him on Twitter @JamesHorncastle.