'Kick Gareth Bale and Wales will kick back,' Andy King warns Cyprus
Wales will respond to any rough treatment of Gareth Bale from Cyprus with "kicks" of their own, according to Andy King.
Real Madrid star Bale was subject to a number of strong tackles in last year's 2-1 Euro 2016 qualifying victory over Cyprus, while teammate King was shown a red card for a late challenge.
The Leicester midfielder feels Bale was "targeted" last time around, and has warned Wales' opponents ahead of their vital game in Nicosia on Thursday.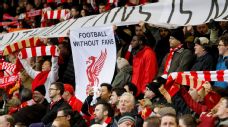 "When playing a team that wants to kick us they need to understand we're going to kick them back," he told BBC Sport.
"They might be thinking they can get away with a little bit more than what they did over here [in Wales].
"Hopefully that goes for us as well from my point of view. We'll be expecting a tough game. They are a good side -- a strong, physical team. We've got to make sure we're ready for that."
Wales are currently top of Group B with 14 points from six games, and a win in Cyprus coupled with a home victory against Israel on Sunday will secure qualification for next summer's tournament in France.
King says Wales are prepared for another battle against Cyprus -- particularly if their opponents look to harm Bale once again.
"In the first game that's what got our backs up, the way they were targeting [Bale]," he added.
"They thought they could do anything without us doing anything back. My red card was a mistake and something I've learned from but we need to be prepared because that's probably going to happen again.
"We're ready to give them a bit ourselves as well."
Wales manager Chris Coleman believes Bale can handle the rough treatment, saying: "They gave him a little bit and Cyprus are going to do what they've got to do to get a result. But Gareth's a strong boy and he knows how to ride a tackle.
"He can't see everyone coming, but if he gets a clump I expect the referee -- whether it's in Wales or in Cyprus -- to deal with it accordingly. We're not asking for special treatment, we just want normal treatment.
"I remember going to Scotland and an ex-Scottish player said: 'He can't play if he hasn't got any legs.' That's fine if you want to try and go and kick him, as long as the referee sees that and deals with it we'll play against nine men or 10 men, but in the last couple of years we've never been bullied.
"One of two of their challenges the boundaries weren't stepped over, they were hopped over. I was surprised we came off the pitch with one man less than Cyprus and it wasn't 10 vs. 10 by the end of the game. They'll make it difficult for us again, but why should they make it easy? But we'll just concentrate on what we want to do."
Coleman has also compared Bale's enthusiasm in turning out for his national side to Cristiano Ronaldo's pride as Portugal captain, adding: "You see Cristiano Ronaldo performing for Portugal and what it means to him every game, it's the same with Baley.
"The excitement on his face when he shows up for every game and that's all positive when in the past we've had negative thoughts when maybe this player or that player hasn't turned up because it doesn't mean enough to them. I don't think you could ever say that to Baley."
Information from the Press Association was used in this report.