Borussia Dortmund fans' boycott at Stuttgart could harm team - Tuchel
Borussia Dortmund coach Thomas Tuchel has spoken of his disappointment at a planned boycott by fans at Stuttgart over ticket prices.
Dortmund fans are set to stay away from the Mercedes-Benz-Arena for the first 20 minutes of the DFB-Pokal tie on Tuesday.
Tuchel said that he believes the decision could have an influence on their performance as they take on Stuttgart in the 50,000 capacity stadium without any of their supporters for the opening exchanges.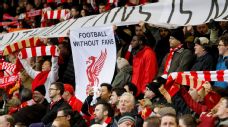 The Mercedes-Benz-Arena has not been filled to its capacity this season, partially because of another difficult first half of the season for Stuttgart but also because of ticket prices.
Stuttgart are charging Dortmund fans €19.50 for standing tickets and €38.50 for the cheapest seats. Twenty-five percent of the tickets allocated to Dortmund cost €70. The prices exclude advance booking fees of €1 and postage of €6 per order, with the latter charge going into Dortmund's accounts.
The match, just like the Bundesliga games against Bayern Munich and Dortmund, has been graded in the highest price category.
"We always want the support of our fans, from the very first minute," Tuchel told his prematch news conference on Monday. "That's a sign of solidarity. You know you are not alone on the pitch, and normally you can rely on our fans. And definitely a boycott would have an influence.
"We understand their concerns, but despite that we would like to have their full support."
In 2010, the Kein Zwanni (No to €20) movement formed in Germany, protesting against prices in the Bundesliga when ticket prices for away standing increased above €20.
Initiated by Dortmund supporters, who kicked off the campaign with a boycott of the derby away to Schalke, Kein Zwanni soon received backing from a number of other clubs in Germany's top leagues.
"It also means: No support! We won't even try to grin and bear it, but rather show that you just can't do this," Marc Quambusch, a Kein Zwanni spokesperson, said of the latest planned boycott last week.
Dortmund supporters also protested against "abnormal" prices for their game at Hoffenheim in September after the home side set ticket prices at €55.
Dortmund's media director Sascha Fligge said that Dortmund have officially protested against the high ticket prices, but Stuttgart rejected their concerns.
The club said that Dortmund had been aware of the prices before they went on sale, "and only reacted days after the presale started." Stuttgart argued that prices at the Mercedes-Benz-Arena have remained unchanged since the 2012-13 season.