Bayern boss Kovac faces uncertain future even if Bundesliga title is sealed
Mathematically, it's quite straightforward. Bayern Munich will be champions for a seventh consecutive time on Saturday afternoon unless they lose at home to Eintracht Frankfurt and Borussia Dortmund win at Borussia Monchengladbach. According to the implied probability of the bookmakers' odds, the chances of both of these things happening are slim: 3.3 percent.
Dortmund need another one of those minor football miracles, Bayern only a draw due to their vastly superior goal difference. In light of the that unpromising outlook, BVB CEO Hans-Joachim Watzke has predictably attempted to shift the pressure onto the league leaders, proclaiming that Niko Kovac's men "have it all to lose."
Gamesmanship aside, there's a deeper truth to that statement. Dortmund, much improved under Lucien Favre after last year's fourth-placed finish, can ultimately live with coming second. But the Bavarians really can't. "If we don't win the championship, it's a s--- season," Bayern sporting director Hasan Salihamidzic admitted last week in a nervy TV interview that betrayed the club's discomfort at the lack of certain silverware so late in the campaign.
To lose their grip on the Meisterschale (champions' shield) on the last day of the season, in front of their own fans at the Allianz Arena, would be categorically unacceptable in the eyes of the unforgiving bosses; a calamity incompatible with their self-image as the toughest and best in class.
Kovac, in particular, has it all to lose. It's not even clear that he can actually win at all. Discontent with the defensive focus of his training is so widespread in the dressing room that even a domestic Double might not save him from the sack. Both Salihamidzic and executive chairman Karl-Heinz Rummenigge have both refused to confirm that the 46-year-old would definitely be in the job come July.
- Who are the 30 best players under 21?
- Transfer window grades: Tracking all the big clubs
Kovac, who left Eintracht Frankfurt for the Bayern job 12 months ago, is trying to ignore the rumblings -- "I'm not interested in the things people say," he declared on Thursday -- but he has clearly been hurt by the lack of backing. "It was a very instructive and educational first year," the former Bayern midfielder said. "I had to roll with the punches and found that it was very difficult to stay a human being. Humans are a special species. You can all figure out for yourself what I mean by that."
His counterpart Favre might sympathise. The Swiss manager will finish the season at least 18 points better off than his predecessor, Peter Stoger, but Dortmund's inability to defend the nine-point lead they had in mid-December -- in fact their inability to defend, full-stop -- has left some wondering whether they could have done a little better. The 61-year-old's position is therefore not as strong as it might have been. Dortmund, however, will have to be much more careful than Bayern to voice any criticism about their coach. Favre is famously volatile.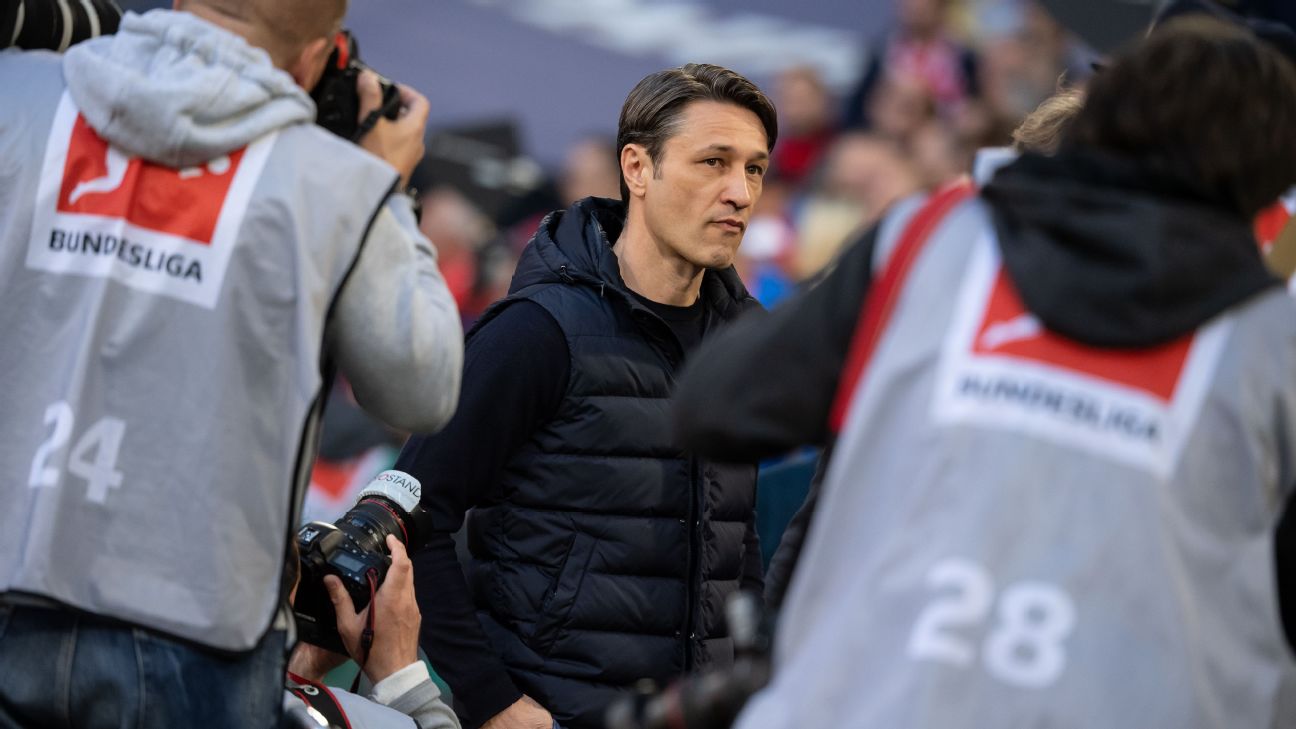 And so is the whole Bundesliga. Out of the 18 managers who started the season, only 12 are still in the job and a further four -- not counting Kovac -- will move on after the season. Among them are Ralf Rangnick (RB Leipzig, guaranteed third place) and Dieter Hecking (Gladbach), who could lead the fourth-placed Foals into the Champions League before handing over to the incoming Marco Rose. Peter Bosz's Leverkusen, away to Hertha, are also still in the mix for UEFA's top competition, as are Eintracht Frankfurt. Adi Hutter's Eagles haven't exactly been flying in the league in recent weeks -- their Europa League campaign has been draining -- but a win at the Allianz Arena would secure European football at the very least. VfL Wolfsburg could otherwise crown a quietly competent season under the soon-to-be-gone Bruno Labbadia by overcoming lowly Augsburg at home.
With seven of the top eight positions still to be decided, the last round of matches promises plenty of excitement. Down at the wrong end of the table though, there's only a bit of pride and positive momentum to play for. Hannover 96 and Nurnberg simply did not have enough quality to survive. VfB Stuttgart's fall from grace is harder to explain. The Swabians must save a horrific season by beating Paderborn or Union Berlin from the second division in the relegation playoff. Statistically, it's quite straightforward: in eight out of ten times since the reintroduction of the playoff, the side from the top flight has prevailed.
Dortmund's odds to accomplish a historic, last-minute title heist would seem to be even smaller but Watzke, at least, is a believer. "My hope is growing with each day, I myself am stunned by that," the 59-year-old said. "I get the feeling we're about to do something big."