Mathieu Valbuena 'very, very disappointed' with Karim Benzema
Lyon winger Mathieu Valbuena has expressed his disappointment in Karim Benzema over the Real Madrid striker's alleged role in an attempt to blackmail him.
Earlier this month, Benzema, 27, was charged with conspiracy to blackmail as part of an investigation into an attempt to extort funds from 31-year-old Valbuena, a France international teammate, using a sex tape.
Wiretap evidence has been gathered in the case, and Benzema is suspected of acting as an intermediary on behalf of a childhood friend. He denies any wrongdoing, with his lawyer insisting that the striker was merely making a "friendly intervention."
Last week, Valbuena gave evidence before an investigating judge during which he was expected to discuss a conversation between the two players on Oct. 5.
And in an interview with Le Monde on Friday, Valbuena said Benzema had approached him about the sex tape.
"In the way he talked he wasn't aggressive, he didn't talk to me about money in concrete terms, directly, but when you insist that I meet someone... pfff," Valbuena said, tailing off before finishing the sentence.
"Me, I've never seen someone who's going to destroy a video for free just because he loves me. You should avoid taking people for idiots."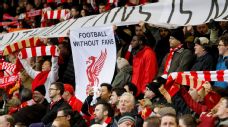 The Lyon midfielder said the conversation always came back to whether Benzema should introduce him to his friend, and this "lack of respect" had left him "more than disappointed."
In the end, he did not give his international teammate the go-ahead to have his friend contact him.
"No," he said. "Because Karim knows very well -- even if we never talked about money, I think he's at least a little intelligent -- that from the moment where I meet this person, it's not for peanuts."
The interviewer for Le Monde asked Valbuena if it was fair to say that Benzema had not put pressure on him, but had incited him to meet certain people.
"Yes," Valbuena responded, "but to incite means 'you're going to have to pay.' Indirectly."
Valbuena said that when Benzema's name began circulating in the media, the striker called him via a Lyon staff member's phone on Oct. 20.
"I responded to him: 'Karim, it's not coming from me. As a good citizen, I just lodged a complaint [about the blackmail attempt]. After that, I can't do anything if in the recorded conversations your name comes out several times.'"
The pair discussed Djibril Cisse, who was also questioned in connection with the case but quickly cleared by police and thanked by Valbuena.
"At that moment, I knew the big difference between Djibril and Karim -- it's that Djibril never asked me to meet someone," Valbuena said.
When details of recorded phone conversations involving Benzema and his childhood friend were leaked to Europe 1 and L'Equipe -- which led Benzema's lawyer to make an official complaint due to the release of "not a conversation in full, but extracts of it" -- Valbuena said he felt he was being taken for a fool.
He said he also did not appreciate certain comments attributed to Benzema.
"At a certain point, you can't defend the indefensible," Valbuena told Le Monde. "Even with my worst enemy, I wouldn't do that."
He said the fact that a teammate was implicated in the case was harder to take than the alleged blackmail attempt.
"I can only be very, very, very disappointed and to observe that the relationship with Karim is not as sincere as he could have perhaps claimed," he said.
Earlier this month, Valbuena's lawyer said his client had "no particular animosity" towards Benzema, but warned that could change if leaked recordings concerning the case proved accurate.