Ligue 1 relegation places stay at three, uncertainty continues
PARIS -- France's highest administrative court, the Conseil d'Etat, has provisionally upheld the national football federation's decision to keep the number of relegation places in Ligue 1 at three.
Last month, the French federation opposed the league's decision to reduce the number of relegated teams to two, which meant Ligue 1 could continue with its previous system of three promotion and relegation placed.
League officials asked the court to suspend the federation's decision, but that has been rejected on the grounds that there was no need for an emergency ruling and said it will consider the merits of the case at a later date.
A majority of top clubs are supporting the league's project, arguing that it will bring more financial stability to the elite teams.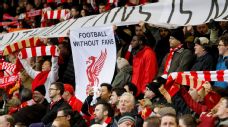 French league president Frederic Thiriez rued the court's decision, saying: "It's a shame, because uncertainty remains."
On Wednesday, all but two of the top-flight sides quit the country's union of professional clubs over the row.
Only Guingamp and Rennes did not follow the move to quit the UCPF on Tuesday with the intention of "forming a new professional union together," as they stated in a press release.
The clubs, which include Paris Saint-Germain and Monaco, Marseille and Lyon, said they were unhappy that the French Football League (LFP)'s decision to reduce the number of relegation places to two had been annulled by the French Football Federation (FFF).