Lionel Messi award 'a marketing plan'
Argentina legend Diego Maradona has hit out at FIFA's decision to award the Golden Ball accolade for the best player of the World Cup to Lionel Messi.
Messi, who missed a good chance as Argentina lost 1-0 to Germany in the final, was presented with the award after the match.
The selection put him ahead of players such as Colombia's James Rodriguez, Germany's Thomas Muller and the Netherlands' Arjen Robben.
Germany
Argentina
Game Details
But Maradona said that despite four goals in Argentina's seven matches, Messi had not been the player of the tournament and his selection as Golden Ball winner was "a marketing plan."
"Messi? I would give him heaven if possible," the 1986 World Cup winner told pan-Latin American TV channel Telesur.
"But it's not right when someone wins something that he shouldn't have won just because of some marketing plan."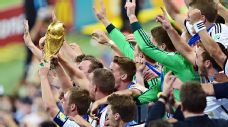 Messi said the award "means very little to me at this moment" and added: "It is a pity not to go home with the cup, but we go home with our heads high. We can return calm from this World Cup.
"It's very painful to lose the way we did, because we were near penalties.
"We had three clear chances -- mine, Gonzalo Higuain's and Rodrigo Palacio's -- but we couldn't get it. Now we have to move forward."
FIFA president Sepp Blatter said he didn't expect Messi to receive the award.
"What do you want -- shall I tell the truth or be diplomatic?" Blatter said. "I am going to say the truth, I was surprised that he was chosen and [surprised] to see him come up to get the award."