Neymar seen walking around home
In addition to sending messages of encouragement and thanks to the Brazilian team and his fans, injured star Neymar allowed fans a glimpse into his health status on Tuesday when he was captured by ESPN Brazil cameras walking and doing light movement at his home in Guaruja.

Brazil
Germany
Game Details
The Barcelona forward suffered a tournament-ending back injury during a collision with Colombia's Juan Camilo Zuniga during Brazil's 2-1 quarterfinal win last Friday and Brazil coach Luiz Felipe Scolari had earlier said that Neymar could not feel his legs briefly after the hit. The young star asked fans to shift their focus to the Brazilian team for Tuesday's semifinal vs. Germany.
Neymar sent a message to his fans via Twitter on Tuesday: "Thank you for the messages of #Jogapraele from all of you and all of friends on the team. Now I'm asking and all of Brazil is asking the team to #PlayforMe".
Agradeço as msgs #JOGAPRAELE de todos vocês e dos parceiros da seleção. Agora, peço junto com o Brasil: #JogaPraMim pic.twitter.com/phdzyCDWy8

- Neymar Jr (@neymarjr) July 8, 2014
Neymar also thanked his fans for their support via Facebook.
"I can't thank all the affection and the thousands of messages of support I have received since Friday ... I wanted to be able to speak more than one language to thank everyone. Followed, or tried to follow everything that was published ... were these messages that made these last days less painful. Today I'm going to watch the Brazil game against Germany on the outside. I'm going to be one more among the 200 million fans and I know how important it is for those guys inside the field, our support our cheers!! That's why I wanted to thank everyone who sent their positive energy for me and also I wanted to ask you to support [the team] together until the last second because I want very, very much to be with everyone (fans and my teammates) next Sunday in the field ... at the Maracanã. God is faithful!!"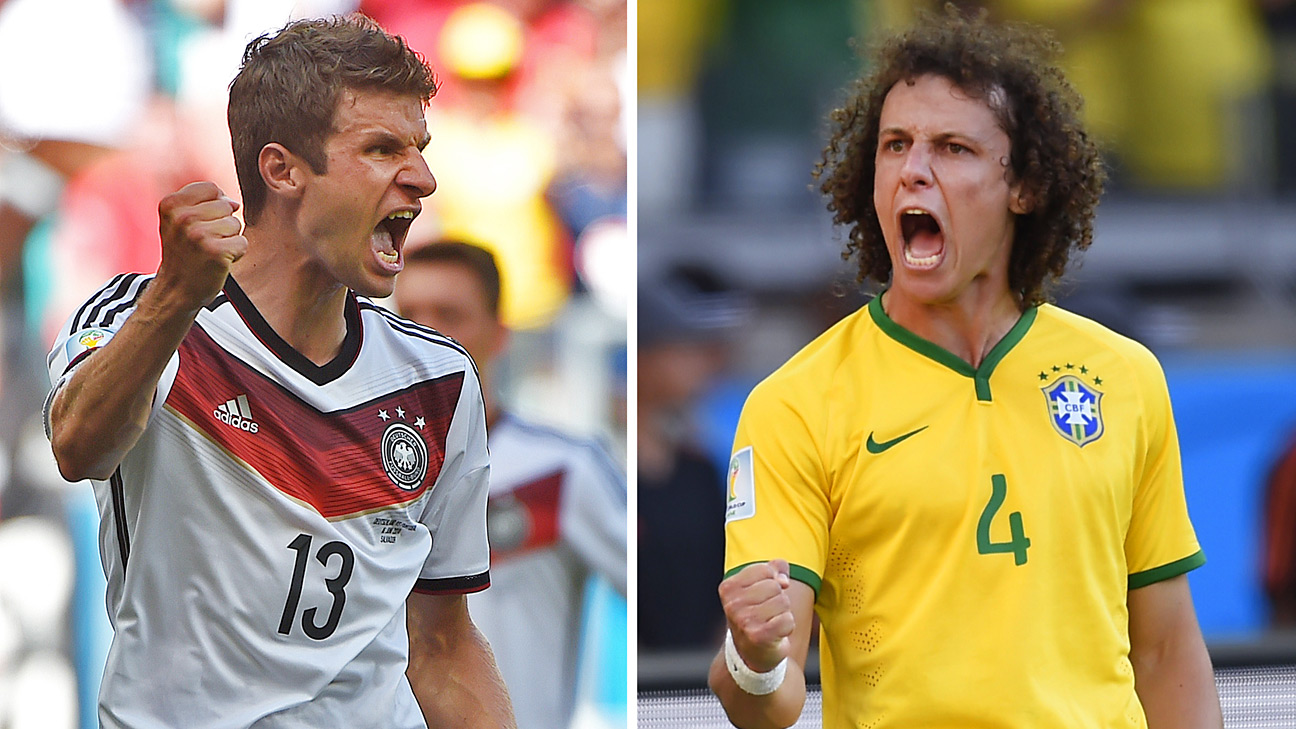 Thiago Silva is suspended after picking up his second yellow card of the tournament.
Colombia's Zuniga kneed Neymar in the back in an attempt to win an aerial challenge, with the Brazilian suffering a fractured lumbar vertebra.
Neymar's father told Brazil media on Tuesday that his son would do everything possible to be on the bench with the team to watch should Brazil advance to the World Cup final.
"His will is to be with the team," Neymar Sr. said. "He should have the necessary care but if they get to the final he will join the team again."