'The world is blue' - media react to France's World Cup win over Croatia
France beat Croatia in the World Cup final and the media in the two countries celebrated/commiserated their teams' respective achievements.
FRANCE
L'Equipe who lead with 'an eternal happiness' accompanied by a picture of the moment that Les Bleus' captain Hugo Lloris lifted the World Cup trophy, it is a nod of the head towards 1998's iconic 'for eternity' front page after the French beat Brazil at Stade de France all those years ago.
Deux étoiles

Deux Unes éternelles. pic.twitter.com/8IqdPJ4diE

— ⭐ L'ÉQUIPE ⭐ (@lequipe) July 15, 2018
In the capital, Le Parisien have gone for 'head in the stars' as Lloris hoists the trophy to the delight of teammates such as Mbappe and Giroud.
Le Parisien: pic.twitter.com/Xx8UI3DKxu

— Jonathan Johnson (@Jon_LeGossip) July 16, 2018
Meanwhile, fellow Paris-based publication Le Figaro have gone for a play on words with some of La Marseillaise's lyrics in 'the day of glory has arrived' and married that with the image of Lloris holding the World Cup above Giroud's head as the rain poured down at Luzhniki Stadium.
Le Figaro: pic.twitter.com/ciwCeo6CtM

— Jonathan Johnson (@Jon_LeGossip) July 16, 2018
Ouest France, in the west of France, have taken a different approach and have instead gone for an image of Deschamps being thrown into the air by his players with a simple 'thank you!' directed towards their heroes.
Ouest France: pic.twitter.com/sppXn4Ccly

— Jonathan Johnson (@Jon_LeGossip) July 16, 2018
Sud Ouest, from France's southwestern region, plumped for 'the world is blue' with an image of the players celebrating the World Cup lift in the pouring Moscow rain.
Sud Ouest: pic.twitter.com/S9rb0QFvRI

— Jonathan Johnson (@Jon_LeGossip) July 16, 2018
CROATIA
Jutarnji: You made us proud BRAVE HEART (the circle on the front cover says: 'Everyone to the square*, greet the champions.')
*Square is the central square in Zagreb and people usually call it just 'The Square.'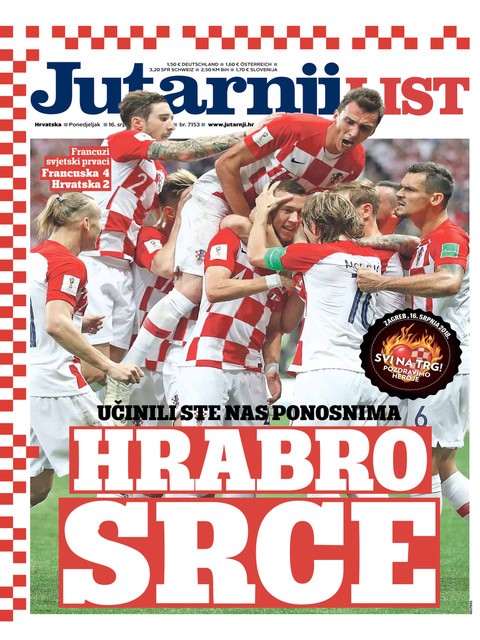 Vecernji list: Vice-champions Of the World
YOU ARE OUR GOLD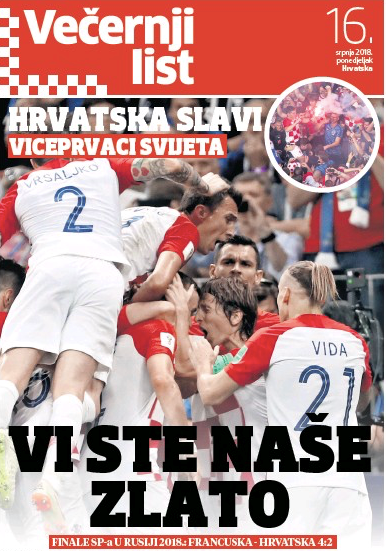 Sportske novosti: World silver coming home
For history -- Great captain -- Modric -- Golden Ball
Thank you, heroes! You gave us everything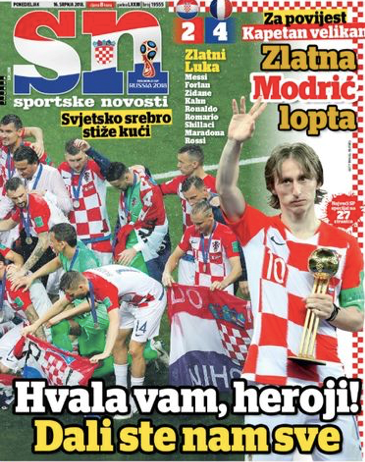 Slobodna Dalmacija: Silver coming to Croatia
FOR US YOU ARE GOLDEN