Brazil World Cup stadiums symbol of tournament's dubious legacy
RIO DE JANEIRO -- As Brazil marks one year since hosting the World Cup, it reflects on the tournament's checkered legacy. More than $3 billion was spent on building five new stadiums and renovating seven existing ones, but many of these so-called white elephants are as likely now to collect dust as they are to generate ticket receipts.
"When I look back on the 2014 World Cup, it is not good," the mayor of Rio de Janeiro, Eduardo Paes, told ESPN FC. "Brazil was left with some great stadiums, but they were too expensive because of corruption.
"Brazilians have not benefited from the tournament. There has been no legacy for them. The World Cup still makes them angry. There is regret that we even staged it."
Paes' office estimates that corruption at all 12 World Cup venues accounted for 30 percent to 40 percent of final construction costs; that figure was established after officials conducted inquiries and compared projected and final costs. Paes asserts that much of the corruption took place as the stadiums fell behind schedule and more money had to be contributed to ensure they were completed before the tournament started.
"There was a last-minute rush to finish the work," he said. "And this is where the corruption kicked in, because a lot of public money had to be thrown at the stadiums to ensure their delivery."
But as Brazil counts the cost of its World Cup adventure, we take a look at the 12 stadiums that hosted matches and what has happened to them since (stadium figures supplied by Brazilian government in Rio).
Maracana, Rio de Janeiro (renovated)
Initially the responsibility of the state government, the 76,000-seat Maracana cost $550 million to renovate and is now run by a private consortium. It is home to two of Rio de Janeiro's most famous clubs, Flamengo and Fluminense, while two others, Botafogo and Vasco da Gama, also play some matches there. The combined average attendance is around 15,000.
Estadio Nacional Mane Garrincha (new)
Located in Brasilia, the country's capital, it hosted seven World Cup matches. The 72,000 capacity stadium cost $900 million to build -- three times the estimated cost, making it the most expensive World Cup stadium.
City officials estimate that it has cost another $2 million in public subsidies since the end of the tournament. Brasilia does not have a professional team, and most of the matches staged here have involved local semi-professional sides. Stadium offices are now set to be used by 400 civil servants as a way of minimising losses to the city, while its car park is doubling as a bus depot.
Arena da Amazonia, Manaus (new)
Located in the heart of the Amazon, it cost $300 million -- almost $50 million over budget. Matches in the Amazonian state championship have drawn attendances of fewer than 1,000, and there is no local team playing in Brazil's top flight. The stadium holds 44,000 and is being kept afloat with public money.
Arena Pantanal, Cuiaba (new)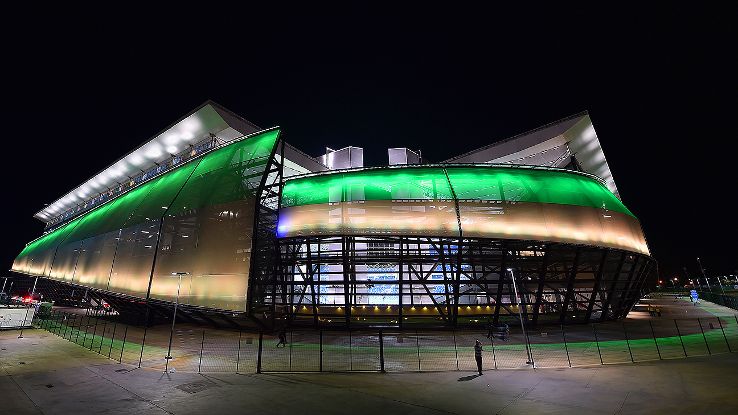 Forced to close for repairs to its roof earlier this year, it cost $230 million -- almost twice the expected amount -- and was not completed as planned. There are two local teams, neither of them in Brazil's top flight, which on good days attract an attendance of around 1,000 in a 41,000 capacity stadium.
Fonte Nova, Salvador (renovated)
Its final cost of almost $200 million was 48 percent over budget, and the private company that runs the 53,700 capacity stadium is now the subject of a corruption investigation. Second-division side EC Bahia, who have played their home matches here after the World Cup, announced earlier this year that they would return to their original ground because Fonte Nova was too costly, despite averaging decent crowds of 20,000. They were persuaded to stay after renegotiating their terms.
Arena de Sao Paulo, Sao Paulo (new)
It hosted the World Cup's opening match and is now known as Arena Corinthians, home to Corinthians, one of the country's biggest clubs. It cost around $450 million, holds 65,000 and is one of the few venues to attract large crowds after the World Cup, averaging 25,000 to 30,000. It has not been without its problems, however, and was not complete until 11 months after the tournament finished.
Estadio Mineirao, Belo Horizonte (renovated)
One of only two World Cup stadiums to stay within budget, costing $287 million. Atletico Mineiro play their home matches here but have struggled to fill the 57,000 capacity stadium. Officials have threatened to move to their original, smaller home ground, saying it is proving too costly to play in the former World Cup venue, where attendances have averaged 18,000.
Estadio Castelao, Fortaleza (renovated)
Home to two of the city's main clubs, Ceara and Fortaleza, the 67,000 capacity stadium cost $240 million and stayed within budget. It is owned by the city and relies on public funding as it is rarely close to capacity, averaging 15,000 except when the two rivals play each other.
Arena Pernambuco, Recife (new)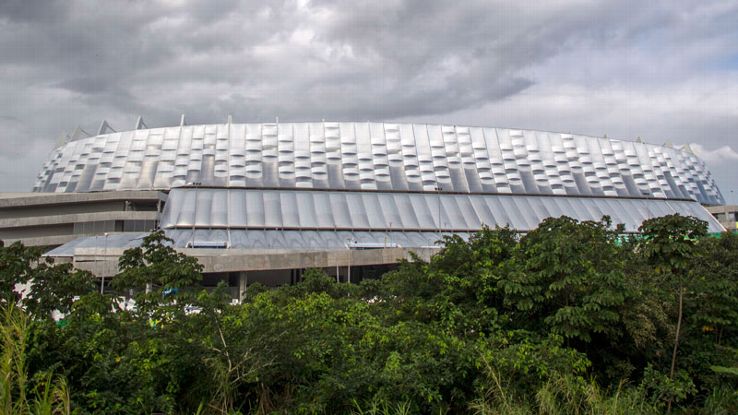 The 44,000 capacity stadium cost $230 million through a partnership between the local government and private companies. Its final cost was still 22 percent over budget, and it has struggled to hold its own, relying on public subsidies. Nautico of Brazil's Serie B play their home matches here, attracting an average crowd of 11,000.
Arena da Baixada, Curitiba (renovated)
The 41,000 capacity stadium struggles financially because of home side Coritiba, who play in Brazil's Campeonato Serie A, attracting crowds of around 16,000. Initially estimated to cost $100 million, it was completed at $146 million.
Arena Das Dunas, Natal (renovated)
The stadium has been put up for sale by its owner, the OAS company, which has become embroiled in a series of corruption scandals. The 42,000 capacity venue has been trying to generate funds by hosting weddings and children's events. No final cost has been established, with estimates ranging from $180 million to $450 million. It is the home ground of ABC Football Club, who play in Brazil's second tier, attracting average attendances of around 5,000.
Estadio Beira-Rio, Porto Alegre (renovated)
The 48,000-capacity stadium cost almost $130 million to renovate. It is the home of Internacional, one of Brazil's most popular sides, who paid for the entire project. The team regularly attracts crowds of around 30,000 and is planning to increase capacity to 60,000 over the coming years.
Vivek Chaudhary covers FIFA and the financial side of the game for ESPN FC. Twitter: @viveksport