Postcard from Paris: Euro 2016 so far dullest tournament in recent memory
PARIS -- It feels as if Euro 2016 is finally about to kick off. I live in Paris, and on Sunday the kids and I are going over to a friend's place to watch France-Ireland with a bunch of people from the neighborhood. The first round was mostly a waste of time. Now, with the knockout rounds, things should get much better, and we're already sure to have one surprise finalist.
The main lesson from the first round must be: never again. I have been to seven World Cups and seven European Championships, but so far Euro 2016 has been my dullest tournament. Barring the odd moment, it has been neither dramatic nor exotic nor very good.
This was inevitable the moment that UEFA's then-president Michel Platini expanded the European Championship to 24 teams. There just aren't 24 good teams in Europe. Early in the tournament I went to Ireland-Sweden, and it looked as if an ageing Zlatan Ibrahimovic had accidentally wandered into an English lower-division match in 1993. Too many games have been like that (and often on bad grass). Sweden, Austria, Ukraine and Russia -- to single out the worst teams -- have done almost nothing for anybody's quality of life.
The tournament's format made things worse. Given that you could finish third in your group and still reach the second round, teams knew that they only needed one win in three games. (Portugal in the end didn't even need that.) Many teams mostly sat back playing for 0-0. I'm not pretending that we soccer journalists have tough lives, but in one four-day period I sat through Portugal-Austria (0-0), England-Slovakia (0-0), an all-night train journey from St. Etienne to Paris, and then Germany-Northern Ireland (1-0). Northern Ireland wasn't even playing for 0-0: the narrow loss was enough for a second-round place.
The first round averaged just 1.92 goals per game. That is 0.3 goals fewer than the lowest-scoring World Cup ever, in 1990, when, by an amazing coincidence, there were 24 teams.
The 24-team format also dampens suspense. Once Dimitri Payet had scored that wonderful winner in the 89th minute of France's opening game against Romania on June 10, the French were practically assured of a spot in the second round. That removed almost all suspense around the hosts for 16 days, or more than half the tournament, until their second-round game against Ireland on June 26. No wonder the French public hasn't got into the Euro yet. So far, I have seen one French person (a kid, in Marseille) wearing a France shirt in public.
Still, the next UEFA president probably won't dare tell Europe's large cohort of mediocre soccer nations that we're going back to a 16-team Euro. The new messed-up European Championship will therefore be a cornerstone of Michel Platini's legacy to soccer, along with his decision to give Qatar the crucial European votes to host the 2022 World Cup, and the unexplained two million Swiss francs he took from Sepp Blatter. That last offense got him banned from soccer, which means that at least he hasn't been forced to sit in the stands for a game a day at Euro 2016.
Some people will say that having 24 teams gave us the pleasure of the tiny Cinderella nations. In fact, that's false. Wales, Northern Ireland, Iceland and Albania -- the smallest participating nations -- would have qualified even in a 16-team format. Three of those four have got to the second round, proving that size isn't the same as quality.
The success of the British nations (and add their cousin, Ireland) shows that a backward region of Europe is finally catching up with the continent. Wales and Northern Ireland are best understood as subsidiaries of English soccer. When the English game got better, that helped their best players.
In the past, skillful British youngsters went under in mindless long-ball children's soccer. But after about 2000, English clubs began abandoning long-ball soccer for the continental passing game. In recent years, the clubs' reformed academies have been saving skilled kids. That explains the emergence of a gifted generation of British attackers: England's Harry Kane, Dele Alli and Daniel Sturridge, but also Wales' Gareth Bale. Though Bale was raised in Cardiff, he got most of his soccer education in Southampton's academy in England.
Most other members of the Wales squad -- nine of whom were born in England -- also have heavily English resumes. So do many players from both Irelands. Manchester United's academy alone produced six players in Northern Ireland's squad and two of the Republic's. The British Isles have risen almost as a unit.
Conversely, Eastern European soccer remains mired in its post-communist decline. Five of the nine eastern European teams were knocked out in the first round of Euro 2016, compared with three of the 15 Western European nations. The littlest minnow at Euro 2016 was arguably Russia. The 144 million Russians should probably be grateful their team was humiliated 3-0 by Wales (three million inhabitants) rather than by Iceland (323,002 inhabitants at last count).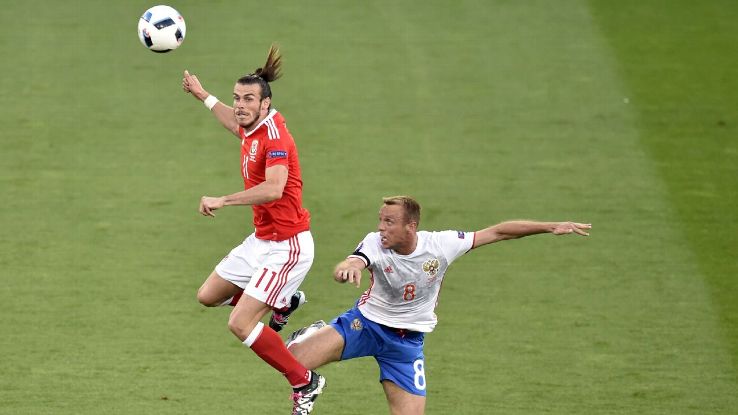 The Russian newspaper Sport Express compared Russia's team to a Lada -- "not a bad car in itself, but outdated." That's too kind. In truth, the team looked like a 1984 Lada with a cracked windshield, a burnt-out clutch and horrid fumes belching out of the exhaust.
At the World Cup in 2018, hosts Russia could face a humiliation to match Brazil's in 2014. But the worry is what might happen off the field. The Russian hooligans in France were applauded by some of their country's leading politicians. In 2018, Russian fans will be at home throughout the tournament. Will there be even more trouble?
But let's finish moaning about Euro 2016. The first round wasn't merely mediocre and low on drama. It also wasn't exotic enough. One of the joys of a World Cup is discovering brilliant Japanese or Costa Rican players you had never heard of. But European soccer is televised ceaselessly, and most players at the Euro are known quantities. That has its pleasures. Over the past few years, we have got to know someone like Pepe so deeply that we can see that he sometimes fouls just for the sake of fouling: Beyond any hope of gaining advantage, he takes pleasure in the act itself.
Watching other familiar players, you see change. Wayne Rooney has shown this Euro that he has the soccer brain to become a kind of English Luka Modric, making the play from the back of midfield, but also that he cannot play up front anymore: His acceleration is gone. Watching Mario Gotze, you suspect he did a deal with the devil: He got to score the winner in a World Cup final, and in return, accepted that he would then instantly lose his powers.
True, a few newcomers to the highest level have given us pleasure. Hungary has topped group F with a 40-year-old goalkeeper, Gabor Kiraly, whose grey pajama-style sweatpants have become such a cult item that last Wednesday thousands of Hungarians wore a similar outfit to work. Or there's Kiraly's teammate Adam Szalai, a paceless center-forward who hadn't scored a goal anywhere for 18 months until he got the opener in the win against Austria.
Another Hungarian, Laszlo Kleinheisler, named man of the match that day, revealed at the postgame news conference that he'd never spoken at a news conference before. But most of the players you didn't know at Euro 2016 were unknown for a reason: They aren't good players.
On Saturday this finally becomes an elite tournament. Euro 2016 in the knockout rounds will be like a World Cup minus the one non-European country that can currently challenge this continent's best: Argentina.
One bracket of the draw here is as strong as any at a World Cup: It includes Germany, Italy, Spain, France, and (OK, a notch below) England. By contrast, the other bracket includes eight nations that between them have won fewer international tournaments than England by itself: namely zero. The biggest names in that weaker bracket are Belgium, Croatia and Portugal. The route to a final is never easy, but for those countries, it's now as easy as it will ever be.
Let the tournament commence.
Simon Kuper is a contributor to ESPN FC and co-author, with Stefan Szymanski, of Soccernomics.