Euro 2016: Four big questions ahead of the final qualifying playoffs
The international break is upon us again. Miguel Delaney has four big questions as eight nations play off for the final four Euro 2016 spots.
1. Will Euro 2016 be denied Zlatan Ibrahimovic, or will Zlatan deny Morten Olsen the perfect goodbye?
The star against the stalwart manager. At 34 years of age, Sweden's Zlatan Ibrahimovic wants one more big tournament -- and arguably needs one for his legacy, having not qualified for 2014. At 15 years in the job and set to retire when this campaign ends, Denmark manager Morten Olsen is hoping for a fitting send-off.
Those stories are pretty much what this local derby comes down to and indicates how, despite the closeness of Sweden and Denmark in terms of geography, there are significant differences to the makeup of the teams and their approaches. If it seems too easy and obvious to bring everything regarding Sweden back to Zlatan, that is because he obviously makes life much easier for them.
The reality is that Sweden might not have gotten this far -- and certainly wouldn't have this much of a chance -- without him. In a flagging team that suffered "two catastrophic matches" in September in losing 1-0 to Russia and 4-1 at home to Austria, Zlatan still hit eight goals. That alone equalled the amount Denmark scored as a team in all of their 10 games, but it perhaps sums up their problems that Nicklas Bendtner is their main striker with two goals.
Only Christian Eriksen really offers any creativity now, and he's had a few disciplinary issues with Olsen, who criticised the playmaker for not making the most of his talent after an early defeat to Portugal.
That sums up something about the manager. As has been typical of his time in charge, though, Olsen seeks to craft tight collectives. Despite their lack of goals, the Danes don't want for spirit. It remains to be seen whether they can match Zlatan's sparkle and ensure it isn't in France.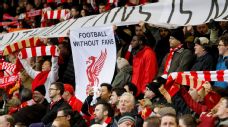 2. Can one of the great overperformers again deny one of the great underperformers?
Slovenia and Ukraine both became independent nations in the early '90s but, despite the drastic differences in their football heritages and population, there has also been an unexpected differences in their records. Although Slovenia's main sport is skiing and they have a population of just over 2 million, they have qualified for three tournaments in that time.
Meanwhile, although Ukraine have provided some of the finest club teams in European history at Dynamo Kyiv and have a population of over 40 million, they have reached just two tournaments. They've also seen some wondrous players waste opportunities in that regard, not least the Andriy Shevchenko-Serhiy Rebrov-inspired core at the turn of the millennium.
Of course, it might have been so different had that Ukrainian team actually beaten Slovenia in the Euro 2000 qualifying playoffs. Neither country had yet made a tournament at that point, and Shevchenko & Co. were fully expected to ease through and potentially become repeat qualifiers and a real quality side.
Except a sleek Slovenia side stunned Ukraine and went on to create a greater legacy of their own. Now, the feeling is that the Ukrainians should finally have enough to get revenge -- especially with Andriy Yarmolenko and Yevhen Konoplyana in such lively form -- but there is potential for some complications.
For one, Slovenia have rehired the manager responsible for that Euro 2000 qualification, Srecko Katanec. Secondly, he has again started to put together a solid and competitive team, underpinned by a fine goalkeeper in Atletico Madrid's Jan Oblak. There could be frustration in store for Ukraine again.
3. Can Ireland's graft overcome Bosnia and Herzegovina's greater craft?
Perhaps the most even of the four ties, and the one that thereby offers the most allure in terms of competitiveness, with that augmented by the contrast between the teams. Most of Ireland's best players -- Wes Hoolahan apart -- are defensive, and manager Martin O'Neill has consequently built a rigid, hard-working side upon them.
Most of Bosnia's best players are creative, especially in Roma duo Miralem Pjanic and Edin Dzeko, and Asmir Begovic recently spoke about how they revel in attacking. Ireland are going to have to find a way to disrupt that, but the flip side is they may find a surprising amount of space behind the Bosnian back line in the same way they did to Germany in that remarkable 1-0 win over the world champions.
That task is made more difficult, however, by the absence of important starters. Senior defender John O'Shea and campaign key scorer Jon Walters are suspended for the first leg, while Shane Long -- who hit the winner against Germany -- is struggling for fitness. Added to that, while Ireland remained somewhat inconsistent and jittery in performance throughout the qualifiers, Bosnia are on a winning run. It's just another contrast complicating this tie.
4. Can Norway and Hungary change recent history to make history?
The tie involving the two teams with by far the biggest collective gap since their last qualifications, and thereby the one that arguably means the most. Consider the figures. Sweden and Denmark both made it to Euro 2012 last, meaning it will be a joint wait of eight years by the start of France 2016. Ukraine hosted Euro 2012 and Slovenia were at the 2010 World Cup, ensuring they have gone 10 years together. Ireland were also at Euro 2012 but Bosnia and Herzegovina reached 2014, so that's six years.
For Norway and Hungary? The former's last tournament was Euro 2000, and the latter's ... the 1986 World Cup. That makes it a total of 46 years. Of course, Hungary's rich history -- 1938 and 1954 World Cup finalists -- and tough recent times adds a depth of romance to this tie, too.
There wasn't much romance to how they finished their group, though, as Bernd Stock's side only claimed one win from their last five games to blow the chance of automatic promotion. Norway were the opposite, with an evolving young team picking up pace as the campaign went on. They beat Croatia and were 17 minutes away from beating Italy to top the group. One of these teams is now 180 minutes away from ending a long wait.
Miguel Delaney covers the Premier League and Champions League for ESPN FC. Twitter: @MiguelDelaney.