England continue Euro perfection, while Spain squeak by Belarus
It's heading toward crunch time in the 2016 European Championship qualifiers. ESPN FC's Nick Miller takes a look at some of the biggest talking points from this week's games.
'Perfect' England march on
The opposition has been modest, the performances often uneven, but you can't argue with the results. Six games in, and England have a 100 percent record, one of just two sides in the entire qualification competition to have won every game in which they have played. Spain, Germany, the Netherlands, Portugal, Belgium -- they've all lost at least one game, whereas England have maximum points.
Slovenia
England
Game Details
Of course, the question is will it mean anything? It's obviously easy to be cynical about England and with good reason; they have been here oh-so-many times before, with a strong performance in qualification resulting in limp early exits from the tournament when it arrives. Hopes have regularly been raised and then dashed, like animals unfamiliar with Pavlovian learned behaviour. Thus, it's almost impossible for England fans to actually enjoy these wins.
"The team has made progress," said Roy Hodgson, discussing the achievement of England going a season unbeaten, even if traditional "seasons" have little meaning in international football. "It's a good achievement, completing a season of 10 games with eight wins and two draws. That's not been done for over 20 years. The players deserve some credit for that, and get plenty of credit from me. Now we have to keep building on it. We want to keep that unbeaten run going."
Whether that run will amount to much remains to be seen, but for now Hodgson can be quite satisfied. Although, for perspective, the other team with a "perfect" record is Slovakia.
Slovakia maintain their record
And quite an achievement that is, too. Quite apart from the 100 percent record, to be this far into the qualification process and to still be ahead of Spain is fairly remarkable, even if the Spaniards are going through something of a rebuilding process after their mournful exit from last summer's World Cup.
Slovakia won their sixth straight game by making short work of Macedonia, opening the scoring after just eight minutes through Kornel Salata, before Napoli's Marek Hamsik doubled their lead just before half-time. Macedonia pulled one back just after the break, but the Slovaks were relatively comfortable. And if nothing else, they sound confident.
"They weren't pushing so hard, we were just playing our game," midfielder Viktor Pecovsky said after the game. "In the second half we stopped playing a little bit but we managed." That most certainly smacks of a team playing their own way, with the assuredness that comes from their record so far.
Slovakia, as an independent nation, have never played at the European Championship finals before, but given they're six points clear of third place with four games to go, they can probably start making plans for next summer.
Spain proceed with caution
"David Silva sorts out the mess," ran the headline on Marca's Website on Sunday, after Spain edged their way to a 1-0 win over Belarus. A goal from the Manchester City playmaker moved them a little closer to qualification themselves. Of course, mere participation in next summer's finals should be the absolute minimum expected and in theory be a formality for Vicente del Bosque's side, but after the shambles in Brazil nothing can be taken for granted.
The real intrigue was in Del Bosque's selection for the game, most notably with Iker Casillas in goal. There has of course been the juiciest of narratives in the Spain camp this week, with stories of icy sideways glances between Casillas and his heir apparent at both club and country, David De Gea, all over the place in the lead-up to the game.
"Iker's a great goalkeeper and for us the best. There's nothing more to say," Silva said after the match, and of course he was unlikely to say anything else. However, it is tricky to work out what else De Gea can do to displace the senior man at the moment, and it is surely only loyalty keeping Casillas in place. That said, it would be a big surprise if Casillas was still between the sticks next summer.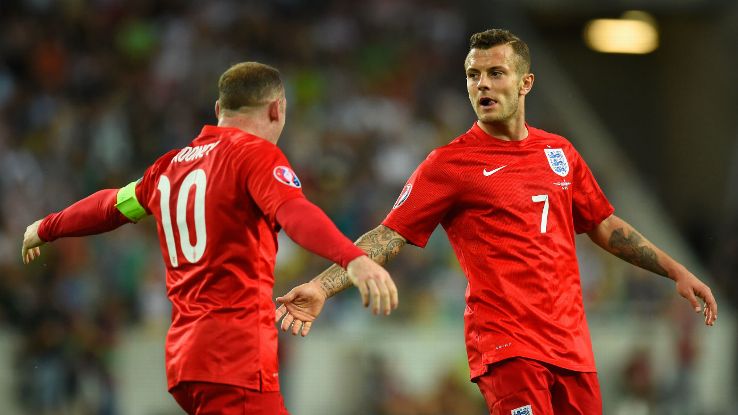 Who will join England in qualification?
England's place in France looks secure, as they sit six points clear of second place with four games remaining, but who will join them in France is another matter entirely.
Thanks to Wayne Rooney's 48th goal for his country and their own 2-1 win over Lithuania, Switzerland are the incumbent second-placed side, moving three points above Slovenia into the second automatic qualification spot. Xherdan Shaqiri got the winner for the Swiss, shooting into the bottom corner with six minutes remaining, completing the comeback started by Josip Drmic after they initially fell behind to Egidijus Vaitkunas' opener for the Lithuanians.
Estonia are a further two points back, maintaining their position with a 2-0 win over San Marino, but with games against Slovenia and Switzerland to come, they will not regard their chances of going through as dead just yet.
Austria plough on toward France
The expanded European Championships were expected to usher a whole new collection of teams to the finals and allow the "lesser lights" of the continent to qualify. As it turns out, that looks like it's going to be true, but it's got little to do with the extra qualification spots. The list of the current group leaders reads Iceland, Wales, Slovakia, Poland, England, Romania, Croatia, Portugal and Austria. Turns out the "lesser lights" are doing perfectly well without a leg-up from Michel Platini.
The last of those names, Austria, continues to provide one of the stories of this qualification period, as the Austrians' impressive 2-1 win in Russia on Sunday cemented their position at the top of Group F, pushing them a full eight points clear of their opponents with four games left. Remarkably, Austria could secure qualification with three games to spare, if results go their way in the next round of fixtures.
"We are still not there," Austria and Stoke forward Marko Arnautovic said after the game. "We have one of the hardest games behind us, we won, but the matches that are coming up are still tough because we are getting closer to the Euros. We have a good points total, but we are still not in France."
Not quite, but they will be soon. When you manage to be the big story in a group that includes Zlatan Ibrahimovic, you must be doing something right.
Nick Miller is a writer for ESPN FC, covering Premier League and European football. Follow him on Twitter @NickMiller79.