Same old Arsenal? Gunners lack fight, leadership on the road again as top-four hopes take hit
For Arsenal, it feels as if normal service has been resumed. That is not to say they have rediscovered the carefree, devastating football of old. Instead it means that, on a chastening night in Wolverhampton, they presented the very worst version of themselves: leaderless, lifeless, utterly unresponsive to adversity.
Narrow wins at Watford and Napoli suggested that maybe, just maybe, they had arrested two seasons of woeful away form. But such a resounding 3-1 defeat to an excellent Wolves team suggests they are back to square one and heightens the sense that Champions League football, via whichever route, may ultimately be beyond Unai Emery's side.
-- Arsenal ratings: Leon 3/10 as Arsenal's top-four hopes take massive hit
By the time Sokratis Papastathopoulos headed in a late consolation goal, giving the scoreline a veneer of respectability towards the end of a barely-relevant second half, swathes of Arsenal's travelling fans had headed for the exits. Nobody could blame them. Arsenal have now won just two of their last 10 away games in the league, and those came against Huddersfield and a 10-man Watford side that deserved far more.
They are a team that looks convincing when the going is good, and that is reflected in home form that -- until Sunday's defeat to Crystal Palace -- looked like it would propel them into the top four. They are also a team that consistently melts at the merest change in temperature, and that was exactly what happened during a disastrous first half here.
"They were better than us, they played more strongly in their game plan and they beat us," admitted Emery afterwards. He must wonder how, just six days ago, Arsenal could have executed his Europa League instructions so expertly against Napoli at the Stadio San Paolo, only to look like strangers here en route to their heaviest defeat against a promoted side -- albeit a singularly strong one -- since May 1994.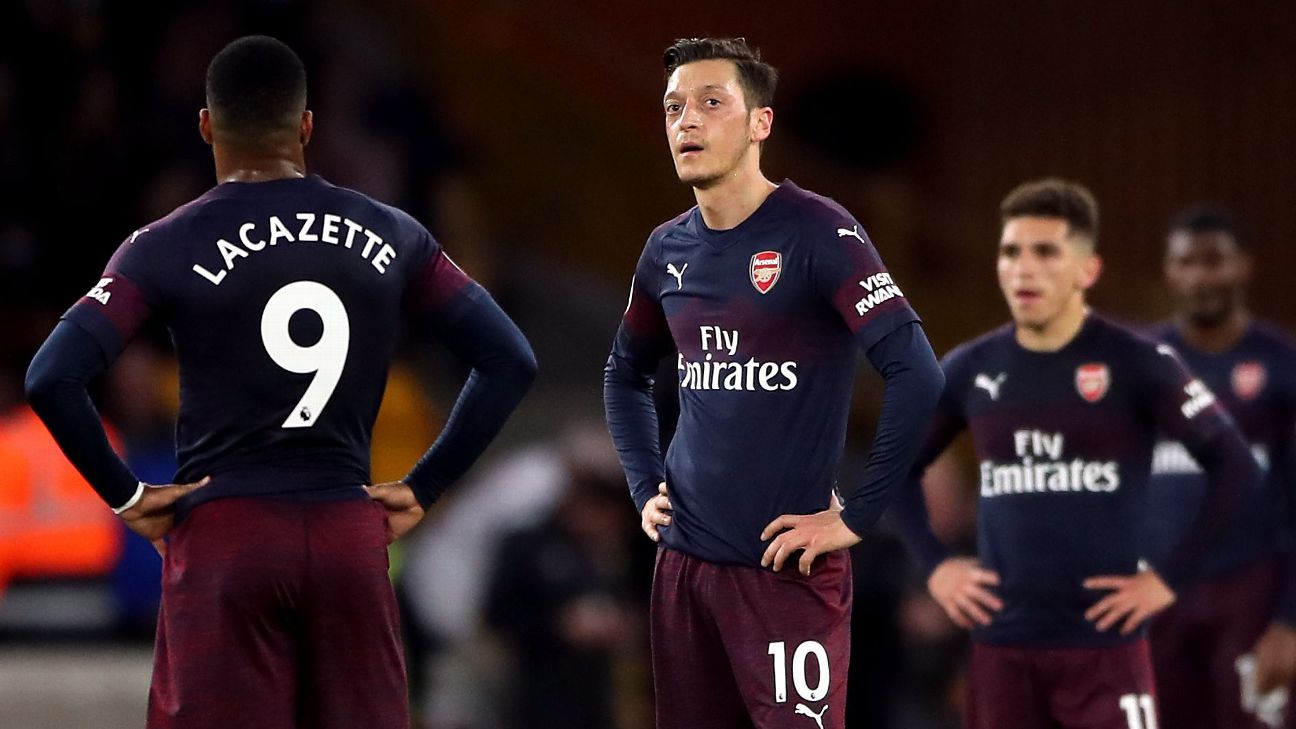 Wolves had not beaten Arsenal in 40 years. In an even first 25 minutes there was little to hint that they would do so with anything like this ease. Emery had rested a number of first-choice players for the Palace game and that had turned out to be a miscalculation, although a packed schedule cuts him some slack. He made seven changes here and one of them, Pierre-Emerick Aubameyang missing through sinus surgery, was forced. Otherwise this looked an experienced, balanced side and they buckled in a manner that was far too familiar to be a coincidence.
"The second and third goals killed us," Emery said. Ruben Neves' free kick to open the scoring was unstoppable but what happened after that was hard to excuse. Against Palace, Shkodran Mustafi was the fall guy for letting Wilfried Zaha in to score. Here, Mustafi was on the bench and it laid bare the fact that Arsenal's problems are far more widespread.
In fairness to Bernd Leno, the goalkeeper has had a generally fine season. He was beaten to the ball by Matt Doherty for Wolves' second, though, and should have got a firmer hand on the outstanding Diogo Jota's low strike for the third. It did not help that, in front of him, more serial offenders failed to step up. Granit Xhaka conceded possession cheaply for Jota to finish and barely played an effective forwards pass all night. Henrikh Mkhitaryan was invisible yet again while Mesut Ozil, on nights like this, resembles nothing more than a £350,000-per-week human void.
Ozil problematically has been involved in a lot of comparable evenings and so has Arsenal. As Wolves upped the tempo following Neves' goal, swinging the ball from side to side with the swagger that has hauled them up into seventh place, the visitors had no answer. Emery had wanted his side to control the game, dominate the ball and probe for weaknesses. By half-time they had recorded 70 percent of possession, but it had not yielded a shot on target and, besides, the game had been put well beyond reach. Control is one thing; Arsenal could simply not muster the aggression and tempo to create anything bar sterile possession.
"Usually I am angry with myself when we don't do the game plan I want, not with the players," Emery said when asked whether he had told a few home truths at the break. "My style is to look ahead and find a solution, not 'who is the player playing worst?' or 'why aren't they doing all we spoke about before?'." In that moment it could almost have been his predecessor, Arsene Wenger, speaking. In Wenger's later years at the helm a common accusation was that the same underperformance was forgiven time and again. It is tempting to ask if anything has changed?
A minor consolation is that, in a top-four race where nobody seems keen on grasping the initiative, a one-point gap behind Chelsea may not be insurmountable even on this evidence. "It is not in our hands [anymore] but we still have possibilities," said Emery, but he will do well to remain of that mind after another fiendish away match with Leicester this Sunday.
Removing the longer-term context, there should usually be no shame in losing to a Wolves side that routinely steps up against top-six opposition. Manchester United have lost here twice this season, Chelsea too; Liverpool have been beaten in the FA Cup and Manchester City were held to a draw. "I'm very proud of the way our players engage themselves and commit to ideas," said the Wolves head coach, Nuno Espirito Santo. If only Emery could, in his heart of hearts, say the same.