Premier League has competitive issues with 'big six' but it still tops Europe for excitement
Whatever the outcome of a captivating Premier League title race, the losers will surely go down as the unluckiest runners-up ever.
It's unprecedented for any team to top 90 points and not become champions, but that's almost certain to happen this year. Indeed, Liverpool could get to 97 points and still not end their 29-year run without a league title.
- W2W4: How will City and Spurs recover after UCL epic?
- Ogden: City need to refocus or a historic season could become a failure
Manchester United missed out on goal difference with 89 points in 2012 when Sergio Aguero scored his sensational last-gasp winner for Manchester City, but usually it takes far fewer points to clinch the crown. United's 81-point haul when they finished second under Jose Mourinho last season would have won five other Premier League races.
What does this prove? The top teams are becoming more and more dominant.
Since Leicester's astonishing 5,000-1 title triumph in 2016, the same teams will finish in the top six for three straight seasons. The gap between sixth and seventh places -- Manchester United to Leicester City -- is 17 points. Yes, Manchester City have lost to Crystal Palace, Leicester and Newcastle this season, and Wolves have caused a few upsets, but these are rarities.
We now have a Premier League where the bosses of the bottom 14 clubs know their fate will largely depend on the results in games between each other. Some might even play weakened teams against the top six, preferring to save their best for more winnable assignments -- a trend that can dilute the drama. In any case, the quality gap is too big.
- Premier League sprint to the finish: Title, top four, relegation latest
The danger is that games between the "big six" and "also-rans" can occasionally look like training exercises, with the smaller club simply looking to frustrate in the hope of nicking an unlikely point.
That said, the Premier League is in better shape than Italy's Serie A, where Juventus are about to collect an eighth successive title, or Germany, where Bayern Munich demolished Dortmund, their closest rivals, 5-0 and will likely be champions for a seventh successive season. Likewise, Paris Saint-Germain's immense wealth is blowing the opposition away in France since Monaco's vintage year with Kylian Mbappe and Bernardo Silva.
How soon before TV networks decide they do not want to pay top dollar when the outcome is so predictable every year?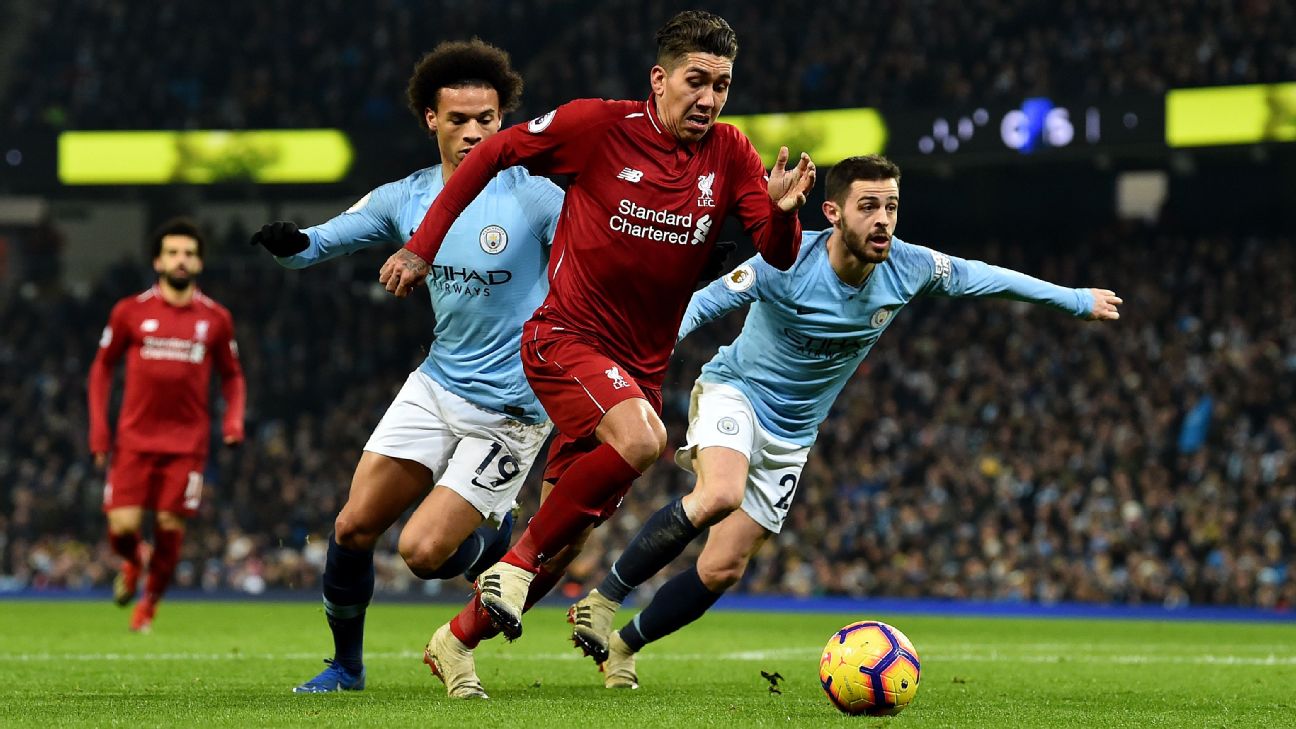 All of those countries are crying out for a Leicester-esque tale of the unexpected to spice up the scene. At least Spain has Atletico Madrid to occasionally challenge the duopoly of Real Madrid and Barcelona in La Liga. Thank you, Diego Simeone.
England is better-placed with six clubs -- albeit the same six -- who can conceivably get involved. But in the meantime, we should enjoy this neck-and-neck battle between Liverpool and Manchester City. Both have been terrific. Both deserve to win it, but only one can.
Manchester City may have suffered disappointment in their race for a historic Quadruple, but they know that they will retain their Premier League crown if they win their last five games. But those fixtures include Spurs at home this week and an intense derby at Old Trafford next week. Liverpool have the easier-looking run-in, and it will be a surprise if they do not collect maximum points from those four games.
We should enjoy it while not losing sight of those other issues further down the league and around Europe. European football has to mind the gap.