Tottenham don't 'need' FA Cup glory but they do deserve it
The further Tottenham progress through this season's FA Cup, the more the debate will continue about whether or not Mauricio Pochettino and the club "need" to win a trophy.
"Need" implies that there's some specific reason why a trophy is required and the explanation tends to vary: to keep players, to keep Pochettino, to act as a springboard to further success. You sometimes wonder whether winning trophies these days is actually ever considered a worthwhile achievement in itself or whether it's always simply currency, a means to an end.
They may or may not "need" a trophy this season, but Tottenham definitely "deserve" a trophy. To a certain extent, knockout competitions are random: they've got a smaller sample size than league competitions and combined with luck of the draw, it effectively means sides can get lucky. Manchester United and Arsenal have won the last two FA Cups despite not being in the best four sides in England according to results in the Premier League. It's precisely why the FA Cup remains so popular: because it produces unexpected results.
Tottenham, though, have been a better side than both Manchester United and Arsenal during this time. In fact, the points totals of the "big six" clubs over the past three seasons makes for genuinely interesting reading. Arsenal have accumulated 200 points, Chelsea and Liverpool have 206 and Manchester United collected 209. Way ahead of those four are Spurs (224 points) and Manchester City on 231. Spurs are still considered on the fringes of the top four, always battling to maintain their position in the Champions League places, yet based upon recent performance they're actually part of a "big two" alongside Manchester City.
Spurs' performance is particularly remarkable considering their financial limitations over recent years. Not only were Spurs starting from an immediate disadvantage compared to the other five big sides, they were also hit with the costs of building a new stadium, which was entirely their own choice and has clear long-term benefits but traditionally hits teams hard.
Arsenal's stadium-enforced "austerity years" handicapped them significantly, and they've arguably never recovered. Several other Premier League sides, from Leicester to Southampton to Derby, have built new stadiums and been relegated in part because of the financial costs affecting their playing budget. This isn't to say Tottenham should be praised for not being relegated but clubs of every size generally take a massive hit when moving ground.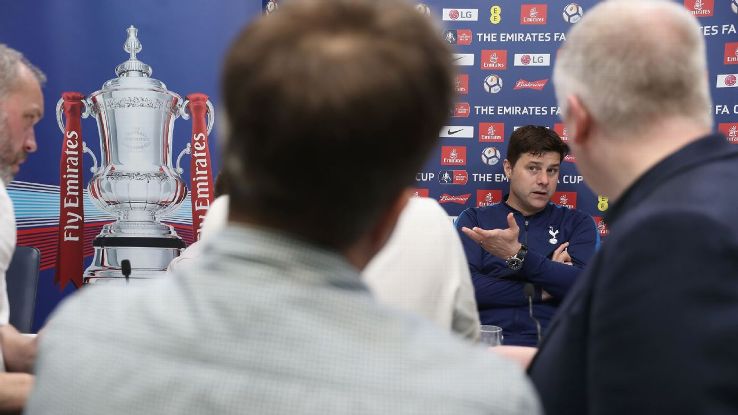 The extent of Spurs' financial "hit" deserves to be outlined in full. Over the past five years, Manchester City -- the only side to have accumulated more points than Spurs since the start of 2015-16 -- have a net spent of £563 million. Manchester United's is £437m, Chelsea's £222m, Arsenal's £188m and Liverpool's £52m. Remarkably, Spurs' is just £2m because of a mixture of intelligent signings, well-timed sales and an excellent youth system. The combination of these two figures, the points total and the net spend, underlines the point: Pochettino, the board and the players have been responsible for an incredible over-achievement.
Of current Premier League clubs, only Southampton and Swansea (two sides who have gone dramatically backwards and made serious errors of judgement in recent years) have a lower net spend in the past half-decade. To put things into context, Tottenham's "net spend" figure is around two percent of West Bromwich Albion's. Spurs' performance has been sensational especially when you consider they've also played this season away from their home ground.
But while Manchester City, Manchester United, Arsenal and Chelsea -- oh, and Leicester -- have won trophies in the past three seasons, Tottenham have not. This feels the right time to correct that problem, especially considering the luck you need in cup competitions appears to be with Tottenham.
Their draws so far in the FA Cup have been remarkably simple: AFC Wimbledon, Newport, Rochdale and Swansea. A semifinal against Manchester United is tougher and should they progress, Spurs will probably face Chelsea in the final but even then, Spurs essentially have home advantage. What initially appeared a major problem for their league campaign will now provide a significant boost to their cup campaign. It's not quite a complete home advantage (the fans will be split 50:50) but Tottenham will be familiar with the environment and the pitch. It's an obvious advantage and unlike anything any side has previously enjoyed in the long history of the FA Cup.
Spurs' success would also be good for English football. Spurs have provided a huge number of England players in recent years: Harry Kane, Dele Alli, Eric Dier, Danny Rose and Kyle Walker (now at Manchester City) are likely to start for Gareth Southgate's side this summer. Harry Winks has fallen out of favour but will likely re-emerge in time for Euro 2020. Southgate has recently been using a 3-4-3 system that surely owes much to Pochettino's use of that system: Chelsea and Arsenal have played that way too, but barely provide any players that would make Southgate influenced by them. In that sense, Pochettino has genuinely helped to revitalise and re-shape the England national team both in terms of personnel and style.
It would be hugely positive if this group of players tasted success in the form of a trophy to "confirm" their achievements, So too would be the respect they get for triumphing rather than mocked with tedious quips about how you don't receive a trophy for "putting on the pressure" or about being typically "Spursy." Of course, such insults entirely miss the point, which is that Spurs are massively punching above their weight to have accomplished these non-accomplishments in the first place.
There's no reason for Tottenham to be negative heading into this weekend's semifinal; after all, they beat Manchester United 2-0 in January with impressive ease. Perhaps that will only increase the criticism of Spurs should they fail to progress, with allegations about "mental weakness" and "bottling it" on the big occasion, but it would also simply demonstrate that cup competitions aren't always the best barometer of quality.
Michael Cox is the editor of zonalmarking.net and a contributor to ESPN FC. Follow him on Twitter @Zonal_Marking.