Tottenham beat Sheffield United to advance to Capital One Cup final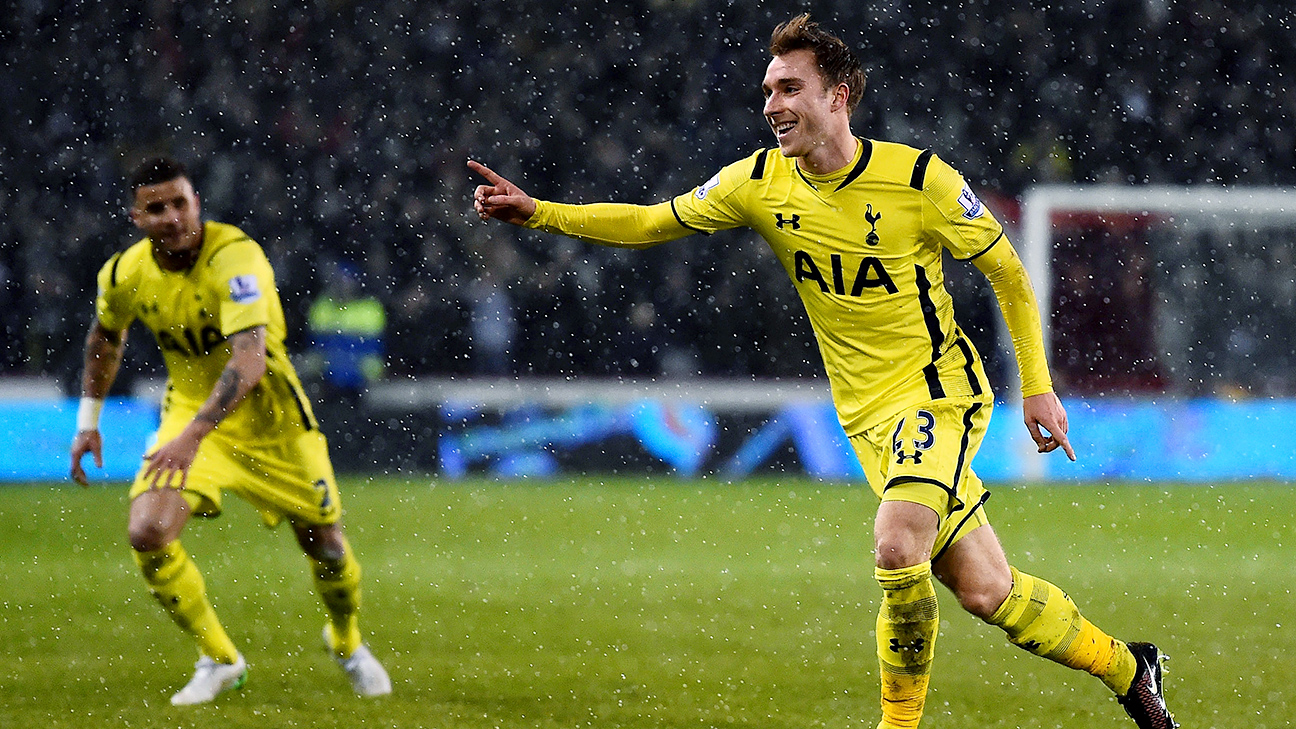 Three thoughts on Tottenham's win against Sheffield United on Wednesday, which secured a place in the Capital One Cup final.
1. Eriksen blunts Blades comeback
This is how it feels to be Tottenham: Idling through to Wembley, suddenly rocked on their heels by a comeback beyond the realms of possibility. This though, was Sheffield United, the best pound-for-pound Cup fighters in English football. Bramall Lane was turned into a bawling bear pit as two Che Adams goals blasted Tottenham from the reverie of playing Chelsea in the final.

Chelsea

Liverpool
Game Details
When, next, 17-year-old Louis Reed found the type of space that had begun to open up achingly in front of Tottenham's defence, a miracle beckoned, but youthful exuberance caused his shot to blast over.
And Tottenham have Christian Eriksen, who kept his head when others had lost theirs. From Harry Kane's pass, there was a cheat inside, and a perfectly-placed shot left Sheffield United goalkeeper Mark Howard dumbfounded for the second time.
The first honour of the English domestic season is headed for the capital. Tottenham negotiated a South Yorkshire blizzard to join Chelsea on the first Sunday in March. One of London's hottest rivalries will be renewed, a repeat of 2008's final, when Spurs beat Chelsea, and 1967's FA Cup final, when Spurs again beat Chelsea.
Good omens for Tottenham, perhaps, though that ignores the clubs' last Wembley meeting, when Chelsea demolished Spurs 5-1 in 2012's FA Cup semifinal. Manager Mauricio Pochettino's achievement of taking his team to the home of football in his first season in charge is considerable. That said, he might consider that Spurs' League Cup-winning boss in 2008, Juande Ramos, was sacked before the end of the same year.
Pochettino, whose philosophy on football life is not to get too excited when things are going good, so that the bad times can be treated with equal equilbrium, will have been mightily relieved. This was a win snatched from the jaws of humiliation, and only by the singular saviour-like qualities of Eriksen.
There is a position, angled around to the left of an opponent's penalty box, from where the Dane can be deadly. Sheffield United conceded a 28th minute free-kick in that position, and knew, but could not stop it. He measured his steps, to the left of the ball, before then bending his shot with unwavering direction.
It winged past the wall, before streaking past a rooted Howard and off the angle of crossbar and post. Already, Jose Mourinho's dossier on Tottenham is almost certain to contain instructions not to allow the Dane into those positions from where he can be so destructive.
2. The mark of Kane
Last week's captain, Emmanuel Adebayor, was dropped to the bench, leaving Kane as a lone frontman with Eriksen playing off him, licensed to wander where he might be most creative. Following the weekend's FA Cup defeat to Leicester City, Pochettino's vision had been crystallised. Anything less than taking the club to Wembley would have been a serious, potentially fatal, damage to his credibility.
Duty called, and Adebayor cannot always be relied upon to do his part, even on such a crucial night for his club. Without him, Spurs played with a professionalism that has been lacking since throttling Chelsea on January 1. Even Kane's guiding light had faded a little. Passes from Erik Lamela and Eriksen gave him two chances to give Spurs an early cushion. Both times, he was ponderous, followed up by a third when strong defending from Chris Basham forced him too wide to threaten Howard's goal with his eventual shot.
However, one of the marks of Kane is an enthusiasm that keeps his head from dropping. It's a quality that has helped convert him from multiple loanee to a player whose selection by England can only now be prevented by injury. He also possesses a striking trait that is difficult to maintain for many, in that he is unafraid to miss, and will always seek the next opportunity rather than ruminate on one that's just gone. Howard ended up peppered by Kane's efforts, and the striker eventually supplied the winner for Eriksen.
Hardly much less stinting were the hard labours of Lamela, whose return gave Spurs a wild card they missed in their stilted first-leg showing. The biting cold did not freeze him. By the end of the first half, and by the time he was subbed off in the second, his yellow shirt was streaked in mud, a sign of a committed shift.
3. A long wait goes on
Though they played at Wembley last year in an FA Cup semifinal, and did so in 1993, Sheffield United had not reached a major final since the 1936 FA Cup final. They fell at this stage in 2003 under the management of Neil Warnock, and this was Bramall Lane's grandest occasion since losing to Liverpool back then.
A fanfare of music previewed the occasion, including recently-deceased local lad Joe Cocker's version of "With A Little Help From My Friends." Then came Def Leppard's "Let's Get Rocked." The proud city of Sheffield -- well, the half that doesn't support Sheffield Wednesday -- wants to be known for something beyond being a crucible of such rock classics. Football has far too long been in the doldrums here.
The weather suggested elements might benefit the Yorkshiremen. Swirling snow might have been a levelling factor between teams two divisions apart, but Tottenham's higher class told, even on a pitch that must have been sodden by the downpour.
Manager Nigel Clough's clear -- and failed -- objective was not to concede the goal that would take Spurs to the limit of his team's reach. However, his team did not park any buses. Instead, they played the passing style which would be expected of someone of his footballing heritage. To paraphrase his father Brian, if football was meant to be played in the air, then God would have put grass up there.
The comeback was achieved by such means -- not blood and thunder but genuine quality. It fell short, and that near-80-year wait goes on.
John Brewin is a staff writer for ESPN FC. Follow him on Twitter @JohnBrewinESPN.