Tigres miss out on Copa Libertadores glory in punchless loss to River Plate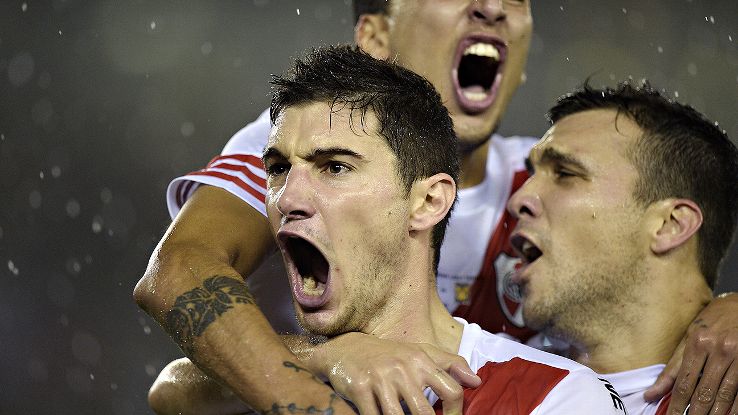 Tigres failed to become the first Mexican team to lift the Copa Libertadores, losing 3-0 to Argentine giant River Plate in Estadio Monumental in the second leg of the final on Wednesday.
It represents River Plate's third Libertadores trophy and its first in 19 years, coming just four years after relegation to the second division.
Here are our three quick takes from the match.
River Plate

U.A.N.L
Game Details
1. River's grinding style wins out
This was not pretty, unless you are a River fan.
Any neutral watching on would've been immediately struck by the quantity and ferocity of the fouls committed by both teams, but it suited River Plate far more than the Liga MX side. In truth, Tigres never really got going and the storied Argentines ran out deserved champion.
There were a total of nine yellow cards (four for River, five for Tigres) and before Lucas Alario put River into the lead on the stroke of halftime, he could've counted himself slightly fortunate to still be on the pitch. Alario had already picked up a yellow card for a late tackle on Jorge Torres Nilo and had seemed to step on Tigres goalkeeper Nahuel Guzman.
Still, it was a sweet header and an even better dribble and ball into the box from Leonel Vangioni.
The goal changed the game and injected confidence into River. Beforehand, it had been fairly even affair with Tigres' Andre-Pierre Gignac having the best opportunity either side had in the 24th.
But in the second half, River took control as Tigres wilted after the long journey and under heavy rain in Buenos Aires. Playing the second leg in Argentina was always going to be a significant advantage, with CONMEBOL rules stating that even though Tigres were a higher seed, the return match of the final had to be in South America.
Uruguayan referee Dario Ubriaco had a difficult night -- it was a minor miracle he didn't pull out the red card. Tigres put in their fair share of hard challenges, but couldn't deal with River making the game as closed as possible.
A more fluid game would've suited Tigres wingers Javier Aquino and Jurgen Damm, but both had little impact. For two teams with no lack of quality, it was a bit of shame in terms of the final being a spectacle, but River fans won't complain.
River's reward came late as Tigres pushed for an equalizer. Sanchez converted from the penalty spot in the 75th, following a clumsy challenge from Aquino, and center-back Ramiro Funes Mori -- outstanding in both legs of the final -- headed in from a corner four minutes later.
The steely Argentine style came out on top in the Libertadores, as it has on 23 other occasions. The irony is that in the group stage back in April, Tigres were close to knocking River out, before Los Millonarios netted two late goals to make the score 2-2 and keep their hopes alive.
2. Tigres attack splutters
Big signings Gignac, Aquino, Damm and Rafael Sobis went missing for Tigres, who had their first and only shot on goal as late as the 61st.
Frenchman Gignac had the first half opportunity and a shot from the edge of the penalty area in the 55th, but was almost completely starved of service either down the middle or out wide. River center-backs Funes Mori and Jonatan Maidana were excellent in negating his influence.
Aquino, signed from Villarreal in June to play for Tigres, like Damm, only sparked intermittently. The duo couldn't influence the game as they would've wished in a key battleground.
Considering the heavy investment and hope in Mexico that this Tigres team could cause an upset, this was a let down from a front four expected to set the Copa Libertadores final alight.
3. Mexico's drought goes on
Tigres coach Ricardo "Tuca" Ferretti will lament refereeing decisions not going his team's way, the final being played in El Monumental and how his side had to come into the semi and final off the back of a hurried preseason. Most of all it'll be his team's inability to put the ball in the net over 180 minutes that will keep him awake at night.
The last six teams to win the Libertadores also won their home legs and Tigres came to Argentina as underdogs because they could only manage a 0-0 draw last Wednesday in Estadio Universitario.
The result is that Mexico's wait for a Copa Libertadores champion goes on and the disconnect between Liga MX teams paying large wages and substantial transfer fees for some of South America's best players isn't being rewarded with success in the southern continent's premier club competition.
The old arguments about travel, the Liga MX not giving clubs any leeway, the lack of financial incentives and focusing on the Libertadores affecting domestic league form are all valid, but it is a monkey that has been hanging off the back of Mexican soccer since 1998.
The truth is this was a huge opportunity for Tigres. Once through to the semifinal stage, Ferretti and the club's hierarchy could plan, bring in players and give the competition its full focus.
Once again, however, a Mexican side fell that little bit short when it came to the crunch.
Tom Marshall covers Liga MX and the Mexican national team for ESPN FC. Twitter: @MexicoWorldCup.