Chile's win vs. Colombia validates team's blueprint for success
CHICAGO -- Every opposition knows what they get when they face Chile these days, but that doesn't mean there is an easy way to stop "La Marea Roja" (The Red Tide).
Mexico tried to go toe-to-toe with Chile in the Copa America Centenario quarterfinal and ended up humiliated; 7-0 losers. Surely, went the theory, Colombia would learn from the battering El Tri took, especially with the experienced and wily coach Jose Pekerman on Los Cafeteros bench.
Eleven minutes in and the game was basically beyond Colombia, with Chile 2-0 up. The two-plus hour rain delay after half-time only postponed the inevitable. Chile flew out of the blocks and even though all the talk pregame had been about how La Roja would replace Arturo Vidal, the reigning Copa America champions showed that their system is so ingrained that the individual parts can be replaced without as much disruption as for other sides that lose a star player.
Colombia
Chile
Game Details
Chile scored nine goals in 100 minutes of play between the quarterfinal and early stages of the semis. Whatever happens in the Copa America final against Argentina on Sunday, those 100 minutes are an enduring representation of what this awesome and refreshing Chile team has become.
The volume, intensity and cohesion of Chile's play seemed to catch Colombia completely by surprise, even if everyone knows how Juan Antonio Pizzi's team plays, and they were shell-shocked to go two-down after 11 minutes.
The first goal came from Gary Medel taking possession in defence, playing a ball to Jose Pedro Fuenzalida, who charged down the right and crossed, with Charles Aranguiz finishing, following a poor defensive header from Colombia's Juan Cuadrado. The ball was played forward at pace, opening up Colombia. Yet despite that, by the time Aranguiz netted, there were five Chilean players in the box.
None of it was coincidence. This period of Chilean football will go down in history. Two Copa America finals in two years (and possibly two trophies) is sensational for a side with an average FIFA ranking of 33rd since the rankings began and one that sunk as low as 84th in 2002.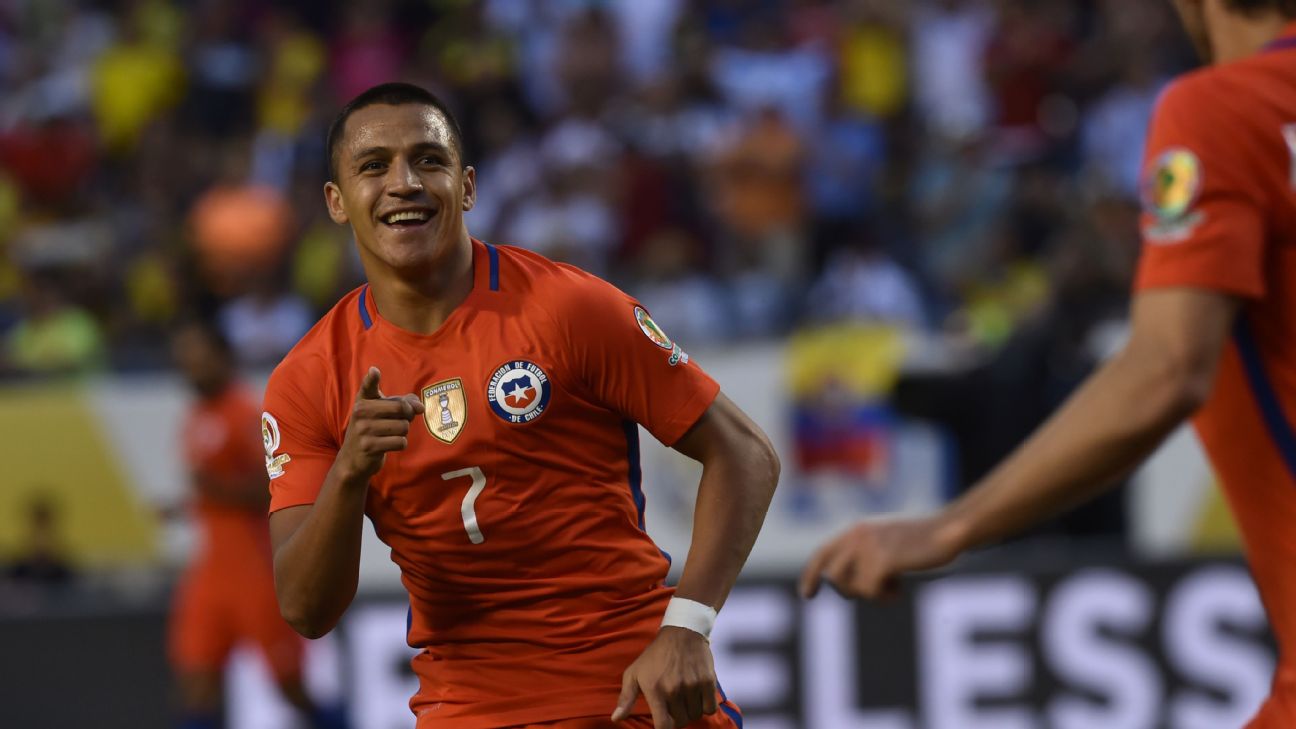 Back in 2007, Chile finished third in the Under-20 World Cup in Canada, with a team featuring Vidal, Sanchez, Gary Medel and Mauricio Isla. In November of the same year and with the team in 45th place in the FIFA rankings -- two places below where Scotland is today -- Argentine Marcelo Bielsa was hired.
Bielsa got to work with the youngsters to forge the basic philosophy of attacking, vertical passing, flexible positioning and the high press that causes so many problems for teams seeking to play out of the back. La Roja hasn't looked back since. Chile reached their first World Cup in 12 years under Bielsa in 2010 and then won their first game in the tournament since 1962.
Previously a footballing backwater, Chile had become a nation to keep an eye on in the just under four years Bielsa was in charge. Jorge Sampaoli -- a disciple of Bielsa -- came in and maintained the intensity, further entrenching a style that both entertained and enabled Chile to go into games against South American giants Brazil and Argentina on equal footing. Last year's Copa America victory appeared to be the natural conclusion. But after a difficult start to life as Chile coach, Pizzi now has La Roja playing as well as they have under either of the previous two managers, while maintaining the identity.
It hasn't always been easy and there has been plenty of friction between the federation and Bielsa and Sampaoli, but Chile is now a concrete example for other national teams to follow.
Having a golden generation has obviously helped, but as we saw with a Vidal-less Chile on Wednesday, the playing ideas and style supersede any superstar individual.
Chile will once again be the underdog against Lionel Messi's Argentina on Sunday in New Jersey, but a victory would consolidate this already legendary side into an immortal South American soccer story.
Tom Marshall covers Liga MX and the Mexican national team for ESPN FC. Twitter: @MexicoWorldCup.