United States lacking vs. Honduras, bailed out by Dempsey, Guzan
There was absolutely nothing convincing about it, but the United States opened their Gold Cup defense with a 2-1 win over Honduras in a hot and humid Frisco, Texas, on Tuesday night. The second-best team for most of the 90 minutes, the Americans should be counting their blessings as they move on to the second game of the group stage against Haiti on Friday.

United States
Honduras
Game Details
Player Ratings (1-10, with 10 the best. Players introduced after 70 minutes get no rating.)
GK Brad Guzan, 7 -- An all-around pretty solid night for Guzan, who was forced into an early save and made several good decisions to come off his line. Hung out to dry by a poor American defense.
DF Fabian Johnson, 6 -- The only decent performance from anyone on the backline. Johnson got forward on a few occasions, and set up DeAndre Yedlin with a perfect pass that should have been a goal in the first half.
DF John Brooks, 4 -- Bad in possession, bad in position, mostly just bad. Brooks' highlights amount to a tactical foul that resulted in a yellow card for the Hertha Berlin man and a decent early tackle.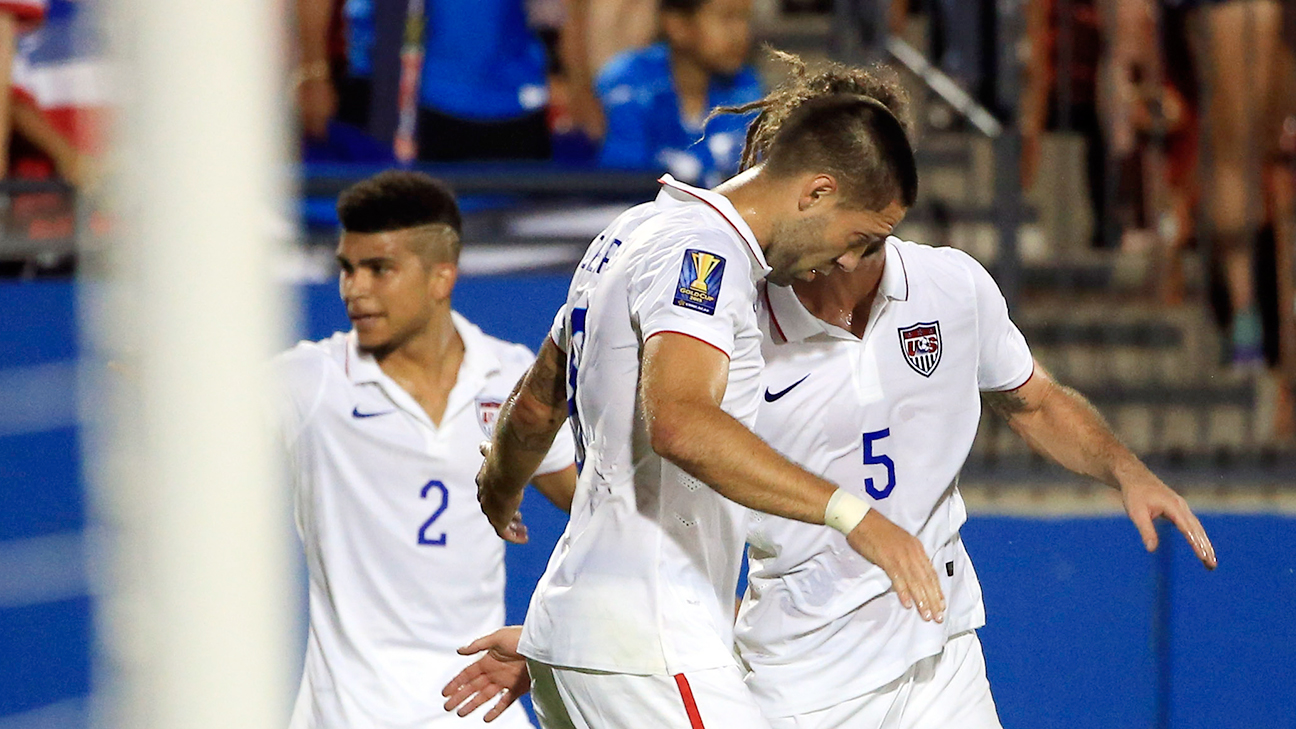 DF Ventura Alvarado, 3 -- It wasn't a good U.S. debut for the Club America center back. He was left flat-footed by attackers all night, as he was on the Honduran goal.
DF Timothy Chandler, 3 -- It was another one of those uneven, mistake-filled performances that makes you wonder what Jurgen Klinsmann continues to see in Chandler for the men's national team. Made to look silly on numerous occasions by Honduras' Andy Najar.
MF Gyasi Zardes, 4 -- Rough night for Zardes, who doesn't have the defensive awareness to play the midfield position he was forced into by the formation. Had a handful of bright moments in the Honduran end.
MF Kyle Beckerman, 4.5 -- That was not the Beckerman we're used to seeing. Lacked sharpness, and was caught scrambling to cover space for most of the evening. Not helped by the formation and personnel around him.
MF Michael Bradley, 5 -- Gets credit for his set piece service, which directly led to both American goals. Was otherwise lacking, and sprayed a number of wayward passes that killed attacks and resulted in turnovers.
MF DeAndre Yedlin, 4 -- Didn't do enough in the attacking end to make up for his defensive deficiencies on the flank.
FW Jozy Altidore, 4.5 -- Altidore looked off the pace for most of his 59 minutes on the field, contributing good play only a handful of times. A heavy touch and an apparent unwillingness to make the tough runs in the Texas heat marked a poor night for the striker.
FW Clint Dempsey, 6.5 -- Two goals for "Deuce" push up his rating. Made himself available, and won important fouls for the Americans when they were under pressure from Honduras.
Substitutes
FW Chris Wondolowski, 5 -- Chased things down and added ball pressure in just over 30 minutes, but wasn't able to get involved offensively.
DF Brad Evans, NR -- Played strong defense in his appearance, bailing out the Americans more than once.
MF Graham Zusi, NR -- A cameo from the Sporting man added energy and better defensive instincts in the final minutes.
Jason Davis covers Major League Soccer and the United States national team for ESPN FC. Twitter: @davisjsn.