Clint Dempsey's carries U.S. to Gold Cup win with brace vs. Honduras
FRISCO, Texas -- Clint Dempsey scored in both halves as the United States held on to start its 2015 CONCACAF Gold Cup campaign on a winning note, beating Honduras 2-1 in front of an overflow crowd of 22,357 at Toyota Stadium. Here are three quick thoughts on the match.

United States
Honduras
Game Details
1. The U.S. rode its luck
In the days leading up to the curtain-raiser, U.S. coach Jurgen Klinsmann and his players talked about the importance of taking the game to a Honduran team that was expected to play defensively from the opening whistle. When it blew, though, it was the visitors who controlled the play.
The Americans spent much of the first 20-plus minutes pinned back in their own half of the field, and the U.S. was lucky not to go down a goal just 120 seconds in, when Anthony Lozano breached the Yanks' backline and fired a low shot that keeper Brad Guzan did well to bat away.
The hosts were still under pressure when Demspey headed home a rebound off Jozy Altidore's saved shot in the 25th minute. The goal absolutely came against the run of play.
It also changed the game, as the Americans began to settle down and maintain some possession that had eluded them earlier, exploiting the extra space created by the Catrachos opening up in search of the equalizer.
The match was more evenly played after the break, with Carlos Discua pulling one back just five minutes after Dempsey's second strike in the 69th minute. But Klinsmann & Co. might consider themselves fortunate to escape with all three points.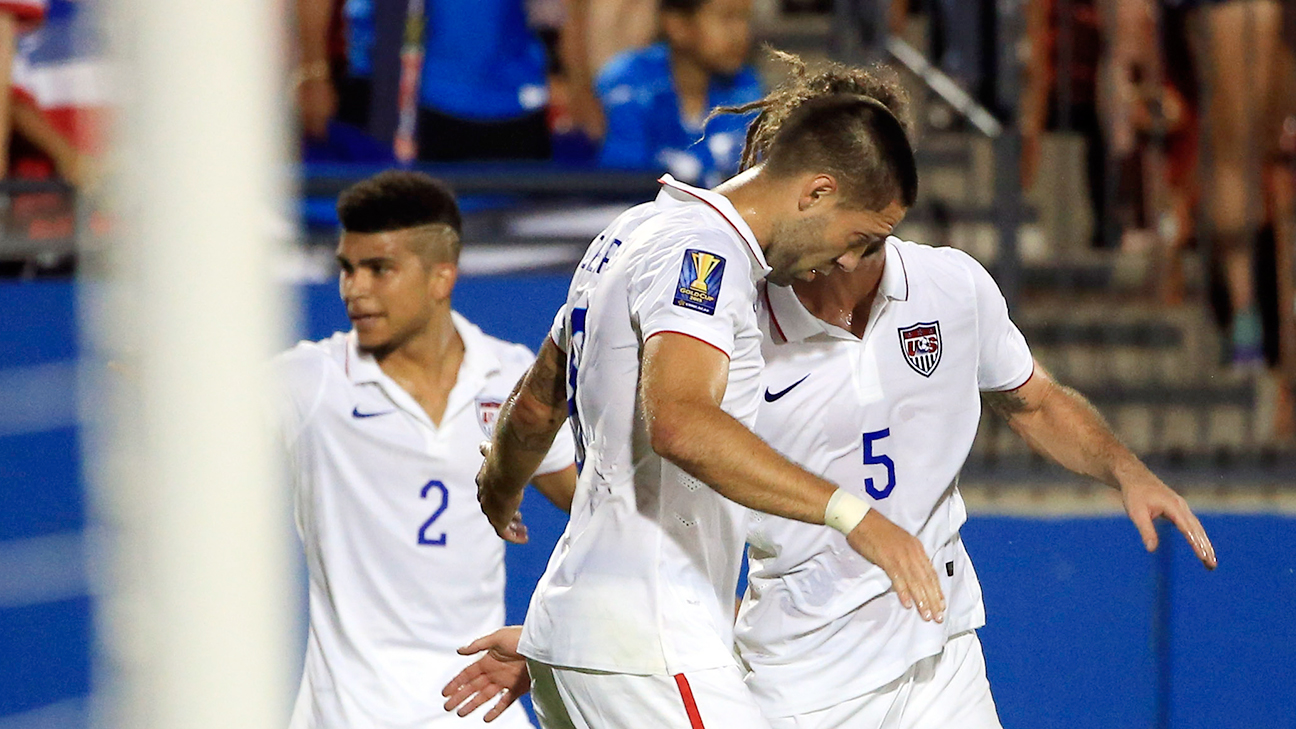 2. Dempsey remains the Americans' go-to goal scorer
When Klinsmann announced last week that Michael Bradley would replace Dempsey as the U.S. captain for this competition (and probably beyond), he also challenged the country's active goal leader to top this Gold Cup in scoring. After a so-so showing against Guatemala in the final dress rehearsal, the manager said he needed more. Dempsey responded emphatically.
He didn't play a perfect game, as he didn't have many chances. But he did what quality strikers are supposed to do, popping up in just the right spots on the two opportunities he got to nod home from the doorstep.
You can be sure that the 32-year-old, who took home man-of-the-match honors in his home state, will now be riding high heading into Friday's tilt against Haiti, which tied Panama 1-1 in Tuesday's undercard in Frisco. With Altidore still finding his feet after returning from a hamstring injury and Aron Johannsson coming off an extended break, a confident, in-form Dempsey will be huge asset to the Americans as the tournament progresses.
3. U.S.'s wide play left has a lot to be desired
Left back Fabian Johnson again showed why he's one of the best players in the U.S. pool, but the Americans' three other wide players -- wingers DeAndre Yedlin and Gyasi Zardes and right back Timmy Chandler -- struggled mightily.
In fairness, Yedlin and Zardes are not playing in their preferred positions (Yedlin is a right back, Zardes a forward) and they improved in the second half. Both also have enough experience in the spots they manned on Tuesday to expect better for 90 minutes, especially defensively, and they'll need to be more consistent if they are to keep their places in Klinsmann's lineup. Meanwhile, Chandler failed to build on last week's goal-scoring effort against Guatemala, turning the ball over repeatedly before he was replaced by Brad Evans with a half-hour to play.
Will we see some shuffling from Klinsmann on the flanks? Evans is an option to start against the Haitians, as is left back Greg Garza, whose insertion would allow Johnson to move into the midfield. Another option is veteran midfielder Alejandro Bedoya, who is still regaining his fitness following a knee injury suffered at the end of the French season with FC Nantes. If not this week, bank on seeing Bedoya later in the tournament.
Doug McIntyre is a staff writer for ESPN The Magazine and ESPN FC. Follow him on Twitter @DougMacESPN.