Justin Meram gets big raise in new deal with Columbus Crew SC - source
Justin Meram has tripled his salary by signing a contract extension with Columbus Crew SC on Thursday, a source told ESPN FC.
Columbus did not reveal terms in its announcement of the deal, but the source said Meram's deal will pay him an average of $525,000 for each of the next three seasons, with an option for a fourth year at $725,000.
Last year, Meram made $175,000 in base salary and $185,000 in guaranteed compensation, while scoring five goals with 13 assists in 33 league appearances.
"This contract extension means a lot to me," Meram said. "Having this club believe in me for multiple years to come is something that throughout my career I've worked hard to achieve.
"It's definitely an honor to have this extension, but I'm not going to take my foot off the gas -- I'm going to strive for bigger and better things."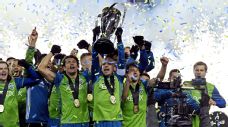 Subscribe to MLS LIVE today!
- MLS LIVE is back with an all-new platform for 2017
- Get the most matches ever, LIVE and ON DEMAND
- Packages start at only $14.99 a month
- Watch MLS on your phone, computer or TV
- Subscribe today at live.mlssoccer.com
Crew SC named him as its club MVP last season after he was named MLS Player of the Month in October.
"Justin is a player that has become synonymous with Columbus Crew SC," coach Gregg Berhalter said in a statement.
"He has developed into one of the better playmakers in MLS over the last few years and one of the leaders at the club. We are excited to have him commit to the club and the city of Columbus as we seek to build on our rich history of success."
Meram has spent his entire MLS career with Columbus, which drafted him out of Michigan with the fifth overall pick in 2011.
The 28-year-old has also become a regular for Iraq, making 20 appearances with the national team since 2014.
ESPN FC's Jeff Carlisle contributed to this report.