Jeff Cassar fired for Real Salt Lake's 2016 slide, not sluggish 2017 start
At first glance, the news that Real Salt Lake parted ways with coach Jeff Cassar after just three games of the MLS regular season looked like one of the more absurdly hasty sackings in MLS history.
Nobody is prepared to name the Portland Timbers champions-elect after their three wins to start the season, so why are RSL pressing the eject button based on no greater sample size? Especially when RSL were actually winning their last game against LA Galaxy, up until a Kyle Beckerman red card changed the complexion of the match.
The truth is, though, that the sample size under consideration is actually the 10 league games since RSL last had a win -- and in a larger sense, the three underwhelming years since the departure of former coach Jason Kreis. Rather than faulting RSL for not giving Cassar more of a chance in 2017, you might actually fault them with not acting at the end of 2016 instead of giving him a one-year contract extension.
Cassar's team was winless in its last seven regular-season games last year, but what was more alarming was the manner of that streak. After home wins over eventual Supporters' Shield winner FC Dallas and Rocky Mountain rival Colorado Rapids at the end of August, RSL looked to be sitting pretty. Even a draw in their next game seemed like a win when then-RSL forward Juan Manuel "Burrito" Martinez scored a 94th-minute equalizer against LA in a wild 3-3 game.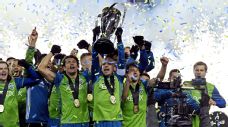 Subscribe to MLS LIVE today!
- MLS LIVE is back with an all-new platform for 2017
- Get the most matches ever, LIVE and ON DEMAND
- Packages start at only $14.99 a month
- Watch MLS on your phone, computer or TV
- Subscribe today at live.mlssoccer.com
In the 10 games that followed that match, though, RSL scored exactly four goals, none of them coming from Burrito -- whose slow deflation at the end of the year mirrored that of the club, which had made him the highest-paid player in team history. After an abject 3-1 loss to the Galaxy in the playoffs, a homesick Martinez slipped quietly away back to his native Argentina, joining the ranks of misfires in RSL's attempts at finding a designated player attacker who can stick.
Cassar was not in charge of recruitment, of course; general manager Craig Waibel has to take his share of the blame. But a look at the personnel the GM brought in quickly shifts the focus back to Cassar and what looked from the outside like a tactical stubbornness that was never likely to get the most out of the players under him.
Certainly by the time of the run that ultimately cost him his job, Cassar's longstanding attempts to evolve his team out of the 4-4-2 diamond that had been the team's highly successful blueprint under Kreis never quite got beyond an unconvincing 4-3-3 that seemed to lack the energy, personnel and downright conviction needed to make the formation work at the business end of the season.
Cassar made a habit of starting brightly, though; not least in his debut season as head coach in 2014, when the team went unbeaten in its first 12 games. There were five- and six-game unbeaten streaks to start the 2015 and 2016 seasons, too -- the latter ended by a 5-2 battering in L.A.
It wasn't the first time the Galaxy would prove to be Cassar's nemesis. In many ways, his reputation never really recovered from the 5-0 playoff beating by the Galaxy that ended his first season in charge, and of course there was the 3-1 loss in the 2016 playoffs, and then Saturday night's 2-1 loss to end his reign. Each of those games went wrong in its own way; and if anything, the game that finally cost Cassar his job had many more mitigating circumstances of injury and disciplinary losses than the two big playoff defeats.
But those games were the most damning as they exposed an inability to adapt. Playoffs have a habit of exposing even the most effective regular-season teams if they don't have a Plan B for better-prepared opponents, and RSL looked leaden in their postseason appearances under Cassar. It certainly didn't help that in his two playoff appearances in three years, the team came into that stage of the season shorn of momentum. In both 2014 and 2016, the team hadn't won back-to-back games since August before falling at the first playoff hurdle, and in 2015 they missed the postseason altogether.
And this year there's not even the consolation of a good start -- three games, no wins, one goal.
And now there's a headache for Waibel and owner Dell Loy Hansen regarding what to do next. Continuity, or at least an ideal of continuity, has always been at the heart of the RSL project, so perhaps there'll be a chance for interim coach Daryl Shore to make his case, but there's a fair argument that an outside eye is needed to reanimate the team's once-vaunted talent-spotting pipeline and to identify and incorporate the next designated player generation.
Cassar himself never really seemed to get out of the shadow of being No. 2 to Kreis for so long, and in some ways his longevity made the decline under him seem more drawn out. Having finally let him go, RSL's management may need to commit to a decisive change in direction.
Graham Parker writes for ESPN FC, FourFourTwo and Howler. He covers MLS and the U.S. national teams. Follow him on Twitter @grahamparkerfc.