Real Madrid dealing with difficult James-Isco balancing act
Denis Cheryshev's ineligibility for the Copa del Rey match against Cadiz was the big news of the day and it will certainly cause the Bernabeu bigwig in charge of checking such matters some discomfort -- if the club can figure out who that person is. Meanwhile, another aspect of Real's lineup in the Ramon de Carranza is the beginning of a season-long headache for manager Rafa Benitez, who is blameless in the Cheryshev debacle but ultimately responsible for everything that takes place on the pitch, whether his players should be there or not.
James Rodriguez should not have been in Cadiz. Isco as well, but Benitez wisely elected to play the Spain midfielder to maintain his match fitness while he serves a two-match La Liga suspension for his sending off in the Clasico. The Copa Round of 32 first-leg matches are strictly for the stiffs, squad players and Castilla's most promising youngsters. It's a chance for Alvaro Arbeloa to dust off his boots, Pepe to wear the armband, and the second or third choice keeper (in Cadiz, Benitez selected Kiko Casilla) to warm his hands on a provincial pitch with absolutely nothing at stake.
Clubs are obliged to field seven first team squad players, but the emphasis is firmly on squad. Barcelona's side to play Villanovense in October was unrecognizable from a La Liga matchday. Real's in Cadiz was conditioned by injuries, but was essentially the second string, plus Isco and James. What message that was meant to send to the Colombian is anyone's guess, but Benitez has been forced in recent weeks to deny a rift between very expensive player and under-fire manager. James was Florentino Perez's last vanity buy, an €80 million "because I can" statement to his peers.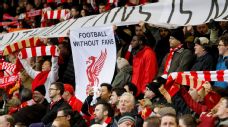 James is one of the most marketable players in the world, and a fine midfielder. A lot of clubs would have been interested after his spectacular World Cup, but perhaps not at that price. Does he add to Real's squad, and the club's global brand? Absolutely. Did the club actually need him? That is a more delicate question and one that Benitez seems willing to address, however clumsily.
Isco had featured in every Real Madrid match of the season before being dropped for the Clasico for the fit-again Colombian, who had previously sent his manager a message when on international duty after Benitez suggested he was not fit enough to start against Sevilla: "I'm fine, although some people keep saying I'm not," James told reporters.
Whether or not that was the case, Benitez has appeared reluctant to play the Colombian. In the opening match of the season James was on the bench. He lasted under an hour against Barcelona and just 65 minutes against Eibar where, in the absence of Isco, James was visibly annoyed when his was the first number to come up. Hardly surprising: he is no luxury player and his defensive work in Ipurua was commendable, something for which Isco has not always received plaudits. The Spaniard's defensive work against Barcelona consisted of flooring Neymar with a cynical kick under the referee's nose, for which he received a straight red and a two-match suspension for violent conduct.
Benitez has a balancing act to perform to keep two of his most creative players match ready and happy. With the standard front three of Cristiano Ronaldo, Karim Benzema and Gareth Bale ahead of both Isco and James in the pecking order, there is room for only one on the pitch. Compounding the problem is Bale's insistence that his best position is behind the striker -- precisely the area where Isco and James are best deployed. Many would argue that Bale's incredible pace and control makes him more a destructive winger than a string-puller behind the front line. But Benitez apparently made a preseason promise, ratified by Perez, to the effect that the Welshman would be deployed as a nominal No. 10, with freedom of movement. Isco has often been shunted out to the wing to accommodate.
Against Cadiz, Isco and James also provided another twist to the problem by playing extremely well together, the Colombian on the right of the front three but with a remit to rove across the line and the Spaniard on the left of midfield. Both players read the game in a similar way and appear to have an innate understanding. Isco's runs were often met by a James pass and the pair also swapped flanks on occasion, adding to Real's attacking threat.
In any other team in the world, the notion that Isco or James would be seen as a anything other than starting XI material would be non-existent. But the Spaniard, particularly, has struggled to hold down a place during his time at Real, despite the departures of direct competition in the form of Mesut Ozil and Angel di Maria in consecutive summers. James was clearly not signed to warm the bench after arriving for a fee of that size. It is an invidious task, but somehow Benitez has to give both the game time they clearly deserve.
The Colombian is almost impossible to offload due to the fee he would command. Manchester City and PSG could feasibly afford him, but both are ridiculously well-stocked in the attacking midfield department. Isco would fetch probably half the price and has no shortage of suitors. But when Perez signed him from Malaga, he was meant to be the future: "Isco is one of the great players of Spain and the club's technical staff believe he has the quality to play for Madrid," the president said.
Then-coach Carlo Ancelotti went even further: "Spain's Under-21 side has fantastic players and he is the one with the most quality of all. He could play for any team."
Indeed he could. It would be a genuine shame if the price tag factor, which is always a problem for any Real manager, forced Isco to prove Ancelotti correct.
Rob Train covers Real Madrid and the Spanish national team for ESPN FC. Twitter: @Cafc13Rob.