Keylor Navas impressing for Real Madrid so far, but still untested
Last Saturday, visitors Granada proved to be a much harder than expected test for Real Madrid. Rather than losing any of their motivation after having a legal goal disallowed in the 20th minute, the visitors kept pushing forward trying to beat Keylor Navas, the Madridistas' goalkeeper, and gave a few scares to the Merengue faithful.
Five minutes before the interval, Granada's classy Javi Marquez looked around and decided to send a fantastic through ball that found striker Isaac Success face-to-face with Navas. The evasive Success thought he had enough time for an easy first time finish, but Navas reacted faster than the striker -- and most of the spectators -- had expected.
In an unorthodox move, Real Madrid's keeper went foot first and met the ball just a fraction of a second after Success had made impact with it. Navas' block gave his team another piece of evidence to sustain something that few question now: the debate about Real Madrid's goal seems to be over.
Most of the merit is obviously Navas'. Until now he had never enjoyed a fair chance at the Bernabeu, and he is doing his utmost to take advantage of it.
His signing during the summer of 2014 surprised many. As soon as he arrived, the Costa Rican started to hear the same doubts that have been rehashed time and again since he joined the Real: can he perform at this level?
His lack of pedigree -- spells with Costa Rica's Deportivo Saprissa, Albacete and Levante are hardly the type of curriculum that will get you to play for Los Blancos -- raised one ongoing question, one that has to do with the significant differences between playing on goal for a small team and doing so for Real Madrid.
Being used to participate constantly in the match, would he be able to perform at the same level when he only has to do two or three saves -- key ones, at that -- per match?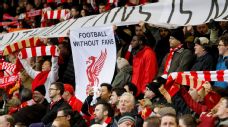 His ability with his feet was also a point for concern. A significant part of the socios murmured that the team needed someone closer to Barcelona's two main goalies, Claudio Bravo and Marc-Andre ter Stegen, "modern" goalkeepers that feel comfortable with 40-yard long balls, as well as choosing the right pass under pressure from opposition strikers. A more traditional reflex goalie, Navas didn't quite fit that mould.
In his first season under Carlo Ancelotti, he barely had the chance to prove that he could become Real Madrid's first choice keeper. The Italian manager decided to support Iker Casillas in his feud with a sizeable part of the Bernabeu for the whole season.
Once Casillas left, the Costa Rican international found himself in the headlines of most sports news programmes, portrayed as the dispensable element of the keeper duo he formed with new signing Kiko Casilla.
Even though new manager Rafael Benitez had trusted him to start during most of the preseason, he was the chosen one in the apparently sure deal of the summer, which would send him to Manchester United as a part of a swap transaction -- plus some cash -- for Spain's David De Gea.
When the deal collapsed, Navas couldn't help but feel unwanted, but here's where Benitez's role appears instrumental. During the following days, he made every public display of support imaginable -- "I've gone through everything with him. He knows how happy I am and he is delighted" -- and kept betting on Navas to occupy Real Madrid's goal.
In one more instance of the volatility of opinions in modern football, the Costa Rican has gone from redundant to essential in a matter of weeks. After beating Miguel Angel's clean sheet record at the beginning of a season with Real Madrid, he's now on the verge of conquering a new milestone by surpassing Iker's mark of 460 minutes without conceding.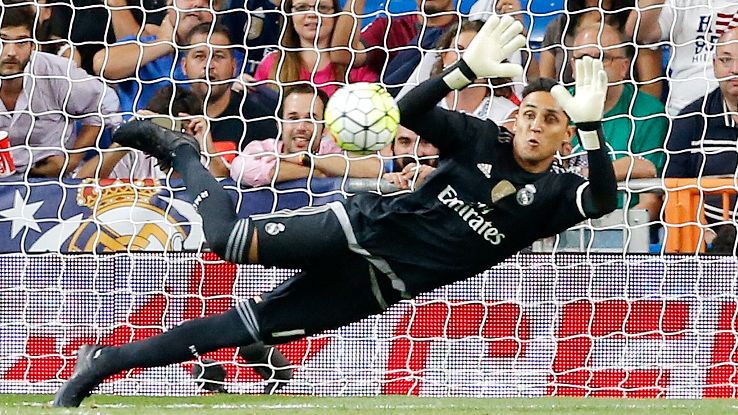 Is the debate actually over? It would be unwise to think so. Even though his performances so far have been spotless, Navas still needs to prove that he's mastered or at least developed in a number of skills so that he can be considered the unquestioned Real Madrid No. 1.
For all the talk about records, Navas has only been tested at what he indeed does best -- fast reaction saves, one-on-ones and point-blank range shots -- by a set of teams that can hardly be considered competition for Real Madrid.
Sporting de Gijon, Betis, Espanyol and Granada, together with a timid Shakhtar Donetsk, never really tested Navas at his weak points: leading him to use his feet under pressure with a high line, or forcing him to choose whether to stay on goal or go to get a high cross in set pieces.
His first real test arrives this Wednesday. Real Madrid's visit to Athletic Bilbao in San Mames has all the ingredients to observe Navas facing a team with a huge aerial threat in Aritz Aduritz, and a decent level of pressure on Real Madrid's build-up game from behind.
Unless Athletic manager Ernesto Valverde surprises with a new approach, Navas will have to use his feet way more often and in tighter spots in Bilbao than he has needed to so far in the first five official matches of the season.
A second opportunity to see whether Navas has become a solid candidate to occupy Real Madrid's goal for the foreseeable future will come in the shape of neighbours Atletico, on the weekend of Oct. 3. Diego Simeone's high line will also put Navas under pressure to make fast decisions, while Atletico's top-level set piece strategy has been probably the most productive in La Liga for the last two or three seasons.
It's easy to get carried away by a few fallen records and Navas' likeable persona, but the fact is that it's still way too early to declare Navas as Casillas' heir. The Costa Rican has started off the right foot this season and is making the most out of this chance to shine, but a bit of caution would help. New goalies usually grow as the season unfolds, as they need time to get in synch with their teammates.
Let's not buy the hype now, and let's not kill him when his first mistake arrives either. If Real Madrid are searching for a long-term keeper, some patience is key, although we know that item does not abound at the Bernabeu.
Eduardo Alvarez covers Real Madrid and the Spanish national team for ESPN FC. Twitter: @alvarez.