Can PSG's Lucas Moura harness his talent to become game's next big star?
PARIS -- "I adore it here. I want to make my history here," says Lucas Moura, Paris Saint-Germain's Brazilian winger. "I feel I can win the Champions League with PSG." But he clarifies: "It's not just the club. It's the life in Paris that is beautiful, and that is why I want to stay here long."
Lucas is sprawled on a sofa in his handsome house in a posh western suburb of Paris. Aged 23, he is at a critical point in his career. In October Brazil plays Venezuela and Chile, its first two qualifiers for the 2018 World Cup. Recently recalled to the national squad after nearly two years' absence, he now has the chance to play himself into coach Dunga's team long term. Meanwhile he is under pressure at PSG. Nobody at the club doubts his brilliance, but many doubt his effectiveness. On Sept. 25, two days before we spoke, PSG's coach Laurent Blanc said publicly: "He needs to do a lot more. He has time, but time is pressing. We remain a little hungry."
In short, this is the season in which a giant talent needs to become a star.
Walking to his house on one of the last glorious days of Parisian summer, you can see why Lucas likes it here. His Parisian suburb is just about the opposite of the poor Sao Paulo neighborhood where he grew up. No gunfire here. Instead, impeccably dressed families and old ladies with tiny dogs take Sunday walks along quiet avenues.
Outside his house, a gaggle of local boys is waiting for him to emerge. Lucas sits me down in the front room (where we can still hear the boys chattering on the street), brings me a glass of water, and says in decent if accented French: "The boys now know where I live, they come here almost every day. But I can go for a walk on the Champs-Elysees, go to the Eiffel Tower, which I like. It's tranquil."
His house is the center of the life he has built in Paris since landing here one freezing January day in 2013. PSG paid FC Sao Paulo €40 million for him, outbidding Alex Ferguson at Manchester United. "At first," Lucas recalls, "I missed my family, my friends a lot. Brazilians are very close with their families. Even with many difficult things, we are always together, happy, content. Here people are a bit colder. Now it's better, because I live with my mother, my father-in-law, my girlfriend. I have nothing to complain about. I do the thing I adore: playing soccer. I live in the most beautiful city in the world." He thanks God, he adds.
Here at home is where Lucas' family celebrated the announcement of his recall for Brazil. At home, he can wander around shirtless, beat all comers at pingpong, keep up with the news online (he is a fairly studious man), or watch soccer on TV while munching popcorn. Whereas Ronaldinho in his PSG years practically turned off the lights in Parisian nightclubs, Lucas is a homebody. He isn't "close" to Ronaldinho, he admits, but remembers the older man telling him about "the magnificent life" in Paris. It probably meant something different to each of them.
Still, Lucas is glad to be playing with compatriots in Paris. When I meet him, he has just returned from hanging out with PSG's left-back Maxwell. "We have a super group of Brazilians here. We go out together, eat, or do something at home. That's Brazilian culture: always together, happy, having positive thoughts. That helps me."
Another good thing about Paris: soccer players here can live without fear. On Oct. 4 PSG host Olympique Marseille. This is French soccer's great rivalry, but when Lucas compares it with Brazilian rivalries, he laughs. "Marseille is across the country from Paris. In Sao Paulo there are four great clubs in one city. There is violence. Sometimes when you go out in Sao Paulo, you meet a supporter of another club, and it's not nice. When you lose a match, sometimes you can't leave your house. Here there is more respect. If we don't win, you can still eat in a restaurant with your family. Sometimes when I go out with my girlfriend, my dog, I run into supporters and they say, 'Look, it's Lucas, a photo!' But that's nice. I've never had a negative experience here."
Lucas is especially popular with French children. This round-faced little man seems to play with a child's spontaneity. Whereas his fellow outside-right Arjen Robben endlessly repeats the same perfectly honed move -- cutting inside and shooting -- Lucas's game is almost entirely unpredictable. "I think that makes sport beautiful: actions that people do not expect, that they don't believe. I try to play an efficient game, and also beautiful -- to elevate the game. I play to give pleasure."
His most Lucasian moment so far was his rush through half Marseille's team in March 2014, a run that ended with a Marseille defender lifting his shot off the goal-line. That night at 4 a.m., one of Lucas's agents, staying in his house, heard curious sounds from the player's bedroom: it was Lucas, watching the video of the rush on a loop. Lucas laughs: he thought about that move, he says, for "a week, two weeks, a month. That is the characteristic of my game: dribble at pace, always straight for goal. One day I will score a goal like that."
But for now, his coach feels he doesn't produce enough. When I mention Blanc's criticism, Lucas says: "I agree. I work hard to improve that. Sometimes I've paid the price, because I always think of the team first, and only then about myself. I'm always helping with defensive work, and sometimes I don't have time to get into the penalty area and score. I'm not a goalscorer. I know I will become more efficient. The important thing is: I have the mentality, I'm always looking to improve."
In Paris, he plays alongside two of soccer's most goal-oriented forwards: Zlatan Ibrahimovic and Edinson Cavani. Has he worked out what makes them such efficient scorers? "Above all their movements and positioning in the penalty area. Ibra and Cavani are almost perfect at that. They are always in a good position to score. Cavani is really, really a scorer. It's natural for him. I think he knows where the ball is going to land. Maybe with more experience I will improve that."
This summer PSG strengthened its attack with Angel Di Maria, a fearsome rival for Lucas on the right wing. This super-team already looks to have the next French title sewn up. Lucas, of course, denies that, but admits: "The French league is a bit below the English. But I think life in Paris is more beautiful." And, he asks, isn't Paris warmer than London? I have to disappoint him: there's almost no difference.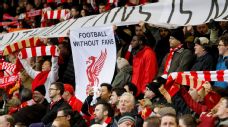 Stretching full-length on his sofa, he reflects: "Our objective is to always win. Our great objective is to win the Champions League. We are stronger, more experienced every year." Last season, he says, Barcelona had an "average" first few months, but "in the second half of the season they got to the top, with Neymar, Messi, Suarez, magnifique. But they are not invincible. Everything can happen in soccer -- as we saw with Brazil at the World Cup."
Lucas was lucky enough not to play in the 1-7 defeat to Germany. Omitted from Brazil's squad, he watched the match at PSG's preseason training camp in Austria. "I was with my friends, it was terrible. When Germany beat France in the previous round, me and Marqui [PSG's Brazilian defender Marquinhos] laughed a lot. After the 1-7, the young French laughed. We never thought it could happen to us, losing 1-7 at home."
Is Brazilian soccer a bit naive? "We need to progress tactically," he agrees. "In Brazil we believe a lot in skill. We think it will decide matches and tournaments. Sometimes we forget the tactical side. The Selecao is in a difficult moment. Now we have to change. We have to forget the last World Cup. We have to do everything to return to our place, which is at the top." On his recent return for Brazil, he shone as a sub against the U.S. Having won silver (or lost gold) with Brazil at the London Olympics, he now dreams of appearing in next year's Rio Games as an overage player.
Then he unfolds his long-term game-plan: "Stay 10 years in Europe, make my history here, win titles, stay in the Selecao, then go back to Brazil, play once more for Sao Paulo, and retire."
This season should clarify which path Lucas ends up taking -- whether he will become another Robinho, a great talent who delivered too little, or whether, by the time he retires, those boys now waiting outside his house will be treasuring the autograph of a legend.
Simon Kuper is a contributor to ESPN FC and co-author, with Stefan Szymanski, of Soccernomics.