Newcastle's Aleksandar Mitrovic: part Drogba, part Materazzi, all controversy
Newcastle United fans will be delighted to know that their new striker has always been keen on joining the club. At the beginning of 2013, when still playing in the black-and-white stripes of Partizan Belgrade, Aleksandar Mitrovic told Mozzart Sport: "There is no secret that I support Newcastle and admire Alan Shearer."
The great Geordie is not Mitrovic's role model, though -- that would be Didier Drogba.
"He has all the qualities the striker needs -- speed, power, shot, winning duels. There are just no flaws," said the man who is immensely proud to be nicknamed "the Serbian Drogba" by some. The Ivorian has always been his idol on the pitch but there is another World Cup star to admire -- a much more surprising one. As far as tattoos are concerned, Mitrovic is a fan of Marco Materazzi.
In fact, it would be fair to claim the 20-year-old prodigy is indeed a curious mix of Drogba and Materazzi, certain to make a lot of headlines in the Premier League. His physical presence in the box and aerial prowess can only be matched by his fiery and unpredictable temper.
He is not the one being head-butted like the Italian, however. Rather, Mitrovic is famous for head-butting opponents himself. The infamous incident occurred in May 2014, when the Anderlecht star attacked Club Brugge centre back Bjorn Engels and was duly sent off.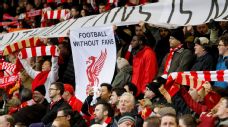 Remarkably, that was Mitrovic's second red card against the same bitter rivals in the same season -- he had to go for an early shower in September 2013 as well, after allegedly spitting in the direction of Brugge fans who constantly insulted him throughout the game.
That was not the first sending off in his career either. A year earlier, Mitrovic was dismissed in Partizan's Europa League fixture against Neftchi Baku after clashing with the opponents' Serbian keeper Sasa Stamenkovic, formerly of Red Star Belgrade. The striker claimed that he was provoked, but Stamenkovic later remarked: "This guy probably has problems in his head."
Last season, under the strict rules of coach Besnik Hasi, Mitrovic tried to be a bit more disciplined -- he was even praised for not retaliating when hit by Kortrijk's keeper Darren Keet -- but that didn't last forever.
The Serbian elbowed an opponent in a game against Westerlo, and was suspended for three games by the FA, even though the referee failed to see the incident.
"We hope that the punishment will be a good lesson for the player," Anderlecht's official statement said at the time, clearly hoping that their striker will finally be more mature.
It is easy to understand why the club became tired with frequent negative headlines. Mitrovic has always been criticised for various reasons and might even have become addicted to such treatment. After arriving in Belgium, he made sure to constantly change hairstyles. He likes to provoke his opponents.
Last summer he returned from the vacation clearly overweight, which brought more criticism in the press. The problem, as his father Ivica hilariously explained, is that his mother Natasa is a great cook and Aleksandar simply can't resist eating a lot of her dishes. Newcastle, clearly, should be careful when letting the striker visit his parents.
Mitrovic found his own way to respond to critics. He likes to celebrate goals by taking out his tongue and "cutting" it out with two fingers, in a gesture that is widely considered obscene. "It is absolutely outrageous. There are other ways to celebrate," legendary Belgian footballer Paul van Himst said.
The striker himself claims that he is just telling everyone to shut up, although one gets the feeling that he would love them to keep on talking.
With all the stories going on, it is easy to forget the most important issue. Mitrovic gets a lot of opportunities to celebrate, because he is scoring a lot of goals. A vastly experienced player for his age, he is a born predator, and his father was the one to spot the talent.
Aleksandar originally aspired to play as a goalkeeper, but Ivica insisted that he must be a striker. By the age of 11 he moved from his hometown of Smeredevo to the Partizan academy, and was considered one of the brightest prospects. In 2011, the Black-and-Whites sent him to the farm club Teleoptik, where Mitrovic blossomed and learned from the coach Vuk Rasovic, for whom he has immense respect.
Upon returning to Partizan in the summer of 2012, Mitrovic was not supposed to be in the first team but the poor form of Marko Scepovic opened the door for him, and he never looked back after scoring on his debut in the Champions League qualifier against Valetta. By the end of the season, he netted 15 times in all competitions and was nicknamed "Mitrogol" by the press and fans. Partizan won the sixth title in a row and few were more delighted than Aleksandar.
Many scouts noticed his abilities even before he went to the U19 European Championships in Lithuania in the summer of 2013. By the time he returned as champion and the tournament's best player, his name was on everyone's lips. Anderlecht acted very quickly to sign the young superstar for the club record of €5 million. Many pundits considered it to be a huge gamble and the pressure was intense. The youngster didn't always handle it well, but overall his two years in Brussels have been superb.
Originally, Mitrovic was supposed to partner Matias Suarez in the attack. Sadly for the Argentinian, his career has so far been devastated by injuries and therefore the Serbian had a big responsibility on his shoulders, especially taking into account how young he was. Mitrovic scored 16 goals, including the very crucial winner against Standard Liege, helping his new team to win the title. Champion of Europe, Serbia and Belgium by the age of 19, he could allow himself some cocky celebrations.
Last season was even better. Overcoming the bizarre weight problems, Mitrovic scored 26 goals in all competitions. His Champions League campaign was fairly impressive, as he rounded up the phenomenal Anderlecht comeback from 3-0 down to 3-3 against Arsenal at the Emirates, and then scored the late equaliser in a 1-1 draw at Borussia Dortmund as well. In Belgium he was unstoppable at times and rumours about his imminent departure started long before the season was over.
Former Chelsea striker Mateja Kezman, who played with Drogba at Stamford Bridge a decade ago, said in February: "Aleksandar is very talented and very strong physically, just like Drogba. If he continues his progress and is spared of injuries, he will be a top player. I think he is better than I was."
In the meantime, Kezman thought that Mitrovic is ready for the Premier League. "Two years in the Belgian league are enough. He must go to England in the summer, but not to a top club."
That is exactly what Mitrovic did. Arsenal, Chelsea, AC Milan and Borussia Monchengladbach -- among others -- showed keen interest in him but he eventually signed for the team that he has always liked.
The Magpies have paid £12m for his services and will be looking for a lot of goals. Mitrovic should deliver just that -- he has done so everywhere he has played but for the national team. Tall, powerful and extremely good in the air, he looks superbly suited for the Premier League.
He is not the quickest of strikers, but his positioning is exceptional and he fits in perfectly in the Newcastle lineup as a lone striker. His dedication to the team should never be questioned, but his explosive character could get him in trouble. Steve McClaren will have to be extremely strict with him.
It will not be a surprise if opposing fans hate the Serbian with a passion, while he will be dearly loved at St James' Park. Supporters should enjoy him while they can. If Mitrovic's meteoric rise continues, he is unlikely to stay for more than two seasons. He will leave a lot of bullet headers, colourful memories and juicy headlines behind him by the time he leaves.
Michael Yokhin is ESPN FC's European football writer. Follow him on Twitter: @Yokhin