Man United's winning run comes with caveats for overconfident supporters
Another weekend approaches and with it yet another opportunity for Manchester United fans to give in to their delusion. Old habits die hard, and after decades of success under Sir Alex Ferguson, they are having trouble coming to terms with the fact that trophies aren't guaranteed.
Since Ferguson's first silverware, the FA Cup, in 1990, the fans didn't have to go longer than two years when waiting to see their team win something. However, the Premier League title that Ferguson and his players lifted almost three years ago is the last achievement the fans have been given to celebrate. There have been quite a few wins against their rivals in that time, particularly under Louis van Gaal, but United fans had become accustomed to much more.
Last Sunday saw United win their fourth game on the trot against Liverpool, their best run against the Merseyside side club since 2008; Van Gaal has beaten Liverpool every time he has faced them as United's manager. In the aftermath of that game, statistics circulated showing that Van Gaal has the best record when facing teams in the big six, with an average of 1.81 points per game against Arsenal, Chelsea, Liverpool, Manchester City and Tottenham Hotspur since his appointment in August 2014.
Van Gaal can also boast a +9 goal difference accumulated along with the 29 points gained from those 16 games. Chelsea's 22 points from 15 games puts them second in the big-game stakes, followed by Arsenal, Liverpool and Man City, although Manuel Pellegrini's men have picked up more points per game than those two.
As has been the case on numerous occasions since Ferguson left, United are now likely in the midst of another false dawn. On the back of a few decent results, the fans start convincing themselves that it will all be all right. Then the delusion sets in even when everything is suggesting to them that the situation is far from all right.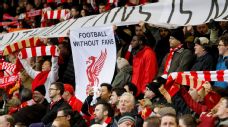 We saw it when David Moyes went on a good run in December 2013, winning six games in a row. Even though it had been obvious from the beginning that he wasn't qualified for the job, the two games prior to that notable run, back-to-back home defeats against Everton and Newcastle, were long forgotten. So desperate are the fans to return to the glory days that selective amnesia can be rife at Old Trafford.
United then went on to lose three games on the bounce, and the fans were brought back to reality. Having finished 2013 just six points behind Chelsea, United were 10 points behind them at the end of January, 15 behind them at the end of February and 18 behind them when Moyes got sacked in April 2014.
After a slow start under Van Gaal, United enjoyed a wonderful period in March 2015, both in terms of the football played and the results. In the space of less than a month, United beat City 4-2, Liverpool 1-0 at Anfield and Spurs 3-0. It was the sort of football the supporters had been expecting all season, following the fantastic displays during the pre-season. The expectation was United would push on to finish as high up the table as possible and second place was a realistic goal, although there was talk of the title.
The bubble soon burst thanks to the three defeats in a row in the closing weeks of the season, and United had to settle for fourth, the minimum requirement of Van Gaal's first year in charge.
Van Gaal's United started his second season the way they had finished his first, playing uninspiring football though the results did improve. They won 10 of their opening 14 games in all competitions, and just two months ago, Bastian Schweinsteiger's injury time effort in the 2-1 win at Watford put United top of the table.
Then came six games without a win in the league, eight games in all competitions, and the supporters' emotions again fell back to earth. There was no way this side with this manager were going to be crowned champions.
Three wins out of four games played in 2016 -- and an unfortunate draw at St James's Park -- has United fans again ready to embrace the delusion, hoping this time will be different.
Two home games are on the horizon against Southampton and Stoke; this should be six points in the bag. Then come the more difficult fixtures against the likes of Chelsea, Arsenal and City, but they'll be fine too, because Van Gaal has the best record in games against those tougher teams. Even Wayne Rooney has scored in every game this year, which surely points to something fairly remarkable taking shape.
It appears as though Van Gaal was a United fan in the 1990s too, if his comments post-Liverpool are anything to go by, claiming the club are back in the title race. Deep down, though, there's a sense of acceptance that the next unacceptable performance or result is just around the corner. The fans will just be hoping this purple patch doesn't end just yet, with a win against Southampton to prolong it.
Scott is one of ESPN FC's Manchester United bloggers. Follow him on Twitter: @R_o_M.