Man City need to refocus or a potentially historic season could become a massive failure
Pep Guardiola resembled a broken man at the end of Manchester City's epic, but draining, Champions League quarter-final exit against Tottenham earlier this week. The image of the City manager on his knees on the touchline, his head in his hands, perfectly summed up the mood of everyone connected with the club.
Spurs had ended City's dream of a Quadruple, with a helping hand from VAR, but Guardiola's anguish was not about missing the chance to create history by winning four trophies -- it was the realisation that another opportunity, perhaps his best yet, to hand owner Sheikh Mansour bin Zayed al Nahyan the Champions League glory that he craves, had slipped through his fingers.
Sheikh Mansour and City's Abu Dhabi hierarchy hired Guardiola in 2016 to turn the team into European champions, but they are still waiting.
Yes, City could end this season by achieving an unprecedented domestic Treble of Premier League, FA Cup and Carabao Cup, but Guardiola and his bosses would happily swap all three for the Champions League. That is not an option, however.
Yet as City return to Premier League action against Spurs at the Etihad on Saturday -- probably the last team they would want to face this weekend -- it is crucial that Guardiola and his players shake off the bitter disappointment of Champions League failure.
Sulking about the rights and wrongs of VAR, bemoaning missed chances or just harbouring a general sense of being hard done-by in the Champions League will not help City in their quest to retain their Premier League crown, but that is the risk they face ahead of a pivotal week in the title race.
Guardiola must now climb off his knees and project a more positive image, otherwise City could spiral into a tailspin of negativity that sees them missing out on the biggest prizes left this season.
How a manager acts on the touchline can have a huge bearing on the mindset of his players and the image of Guardiola on his knees could prove damaging to the mood of the City dressing room.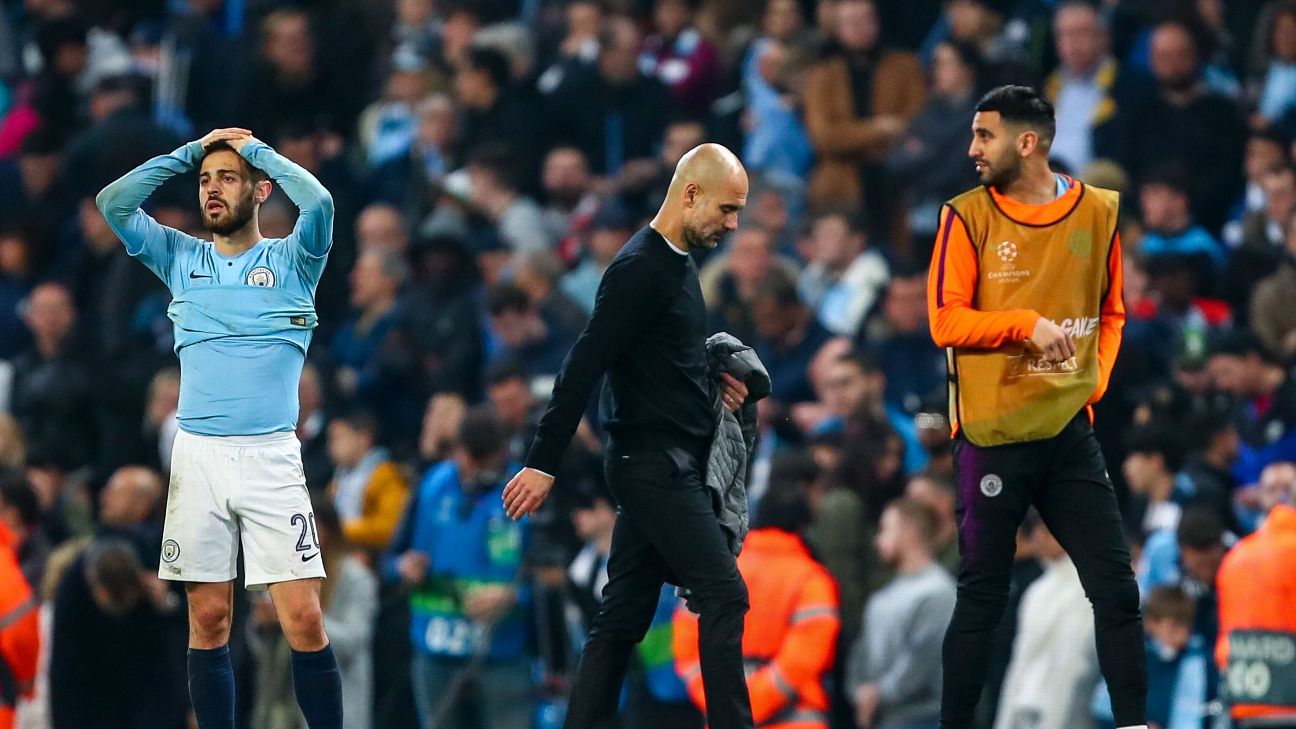 It is difficult to imagine Sir Alex Ferguson reacting in such a way during his time at Manchester United or Zinedine Zidane at Real Madrid. Defiance would likely be the only emotion displayed by either of those serial winners.
Guardiola's reaction hinted at the immense pressure he is under to deliver, both from himself and City's owners, and that could transmit to the players, who already have enough on their plate as they attempt to put their Champions League exit behind them and refocus on beating Liverpool to the league title.
City have a much tougher run-in than Jurgen Klopp's team, with the Spurs game on Saturday followed by a trip to Manchester United next Wednesday.
If they come through those two fixtures with six points, the pendulum will tilt back in their favour, but it is clearly a momentous week ahead for Guardiola's team. They will have to beat the challenges of fatigue, mentally and physically, damaged self-belief, the pressure of catching Liverpool as well as drawing motivation from their manager.
It is all about regrouping without skipping a beat. City certainly have the players to win all five of their remaining league games to win the title. They would also expect to beat Watford in the FA Cup final to achieve their domestic clean sweep -- City also won the Community Shield back in August.
But the question mark hanging over them has nothing to do with the ability within Guardiola's squad because that has already been borne out on countless occasions.
City showed it again against Spurs on Wednesday, when they won 4-3 on the night but only went out on the away goals rule after they lost 1-0 in the first leg.
They came so close to glory in the quarterfinal and could quite easily now be preparing for a semifinal against Ajax. But thinking that and believing that is the last thing that Guardiola and his players should now do. That kind of wistful thinking of what might have been is best left for the supporters.
Instead of contemplating what they missed out on, Guardiola and City must now grasp the challenge of doing what no English team has ever done by winning every domestic trophy available to them.
Six wins from six games will see them enter the history books, but whether that will be enough to make Guardiola and his bosses happy is something that only they will know the answer to.