Man City failing to learn Champions League lessons after Juve loss
Many of the Champions League problems that have become all too familiar to Manchester City fans in the past four years came rushing back to the surface once again after City's opening 2-1 defeat to Juventus on Tuesday.
In a tricky-looking Group D, City have once again started as badly as possible, losing a home game and giving themselves a mountain to climb in the coming weeks. On the surface, little seems to have changed and few lessons appear to have been learned.
On this occasion, injuries to crucial personnel played a part. Sergio Aguero, hurt by a challenge from Scott Dann in City's 1-0 win at Crystal Palace on Saturday, arrived only 83 minutes into the match, with Wilfried Bony failing to impress in Aguero's absence. The rejuvenated Vincent Kompany was substituted for just before Alvaro Morata's winner on 83 minutes, and Nicolas Otamendi, the Belgian's replacement, did not cover himself with glory as City fell behind 2-1.
Certainly, losing at home to the side that got all the way to the final last season should not be seen as a complete disaster, but this game was clearly there for the taking. Juventus, with just a single Serie A point from three games, looked well-aware of the threat from City at the start and equally sure of the importance of what they had achieved by the end.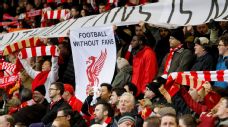 City have now won just five of 15 home games in the Champions League over four years. This is the crux of the problem, although statistics do not tell the full story. City midfielder Raheem Sterling's two opportunities when through one-on-one with keeper Gianluigi Buffon might have led to a completely different story if at least one of them had gone in instead of being parried. It would be crass to blame it all on him, but the England youngster's finishing is clearly not yet on a par with some of his sparkling approach play.
In front of Sterling, the performance of Bony also left something to be desired. Well-shackled by an attentive defence, the Ivorian also made a hash of a presentable chance and spent much of the game looking like a fish out of water alongside his illustrious marker, Giorgio Chiellini. Bony clearly has yet to settle at City and seems overanxious when presented with the goal in his sights.
As a replacement for Aguero, there is little comparison to be made. City look far less potent up front when the Argentinian is injured. His absence was marked and was clearly a contributory factor in the loss to Juventus.
There was a palpable sense once City had taken the lead that Juventus were ripe for the picking, but the game's pace remained sluggish and chances were spurned. What looked at first like a team adapting well to the slower conditions of continental football gradually began to look like a team paying their opponents a touch too much respect.
A feature of past campaigns, however, has been the criticism of City playing too openly and naively in this sophisticated environment, so it is a little tough to complain about this careful approach when many had called for it in the first place.
An uneasy crowd watched as first Kompany hobbled off and then disastrous defending let in Morata for a well-taken winner. Aleksandar Kolarov was caught facing the wrong way, and newly introduced debutant Otamendi was a yard short as Morata let rip.
These are the tiny fractions that make all the difference in the Champions League. A Sterling shot parried by the tip of Buffon's toes and a fresh defender slow in his first few touches of the match can make all the difference. It did for City on Tuesday.
The sight of Paul Pogba lording it in the visitors' engine room must have just rubbed things in for City manager Manuel Pellegrini, who wasted little time in blaming his strikers for the missed opportunity. But City spent heavily in the summer with just this competition in mind, and the likes of Sterling and Kevin De Bruyne are there to try to bridge the gap to this opposition. The club wanted Pogba too, and it's easy to see why after another masterful display.
Pellegrini's assessment after the match, that City can qualify like last season when they lost their first match, smacked a little of the rhetoric we have all heard before.
Juventus' victory may have resembled a smash-and-grab raid, but it has happened before. City are still playing a steep learning game against the cream of Europe and have failed their exams so far.
The next Champions League stop for Pellegrini and his side is at fellow first-day losers Borussia Monchengladbach for what is already a critical match -- a situation not unknown to the Chilean and his smarting staff.
Simon is one of ESPN FC's Manchester City bloggers. Follow him on Twitter @bifana_bifana.