Jack Wilshere ticks all the boxes for Manchester City's midfield reimagining
While the headline-grabbing chase for Raheem Sterling continues with very little in the way of developments, all else seems to be fairly quiet on the Manchester City front. Of course, there are the occasional links to other players that spring up from time to time -- Paul Pogba is the other biggest name, although it looks like Manuel Pellegrini's side may lose out on the Frenchman -- but the big chase has been for the Liverpool forward.
Whatever the cost, it's most probable Sterling will be wearing blue next season, barring any huge developments in another direction.
However, should the aforementioned attempt to lure Pogba from Juventus fail (and with Barcelona reportedly interested, it would be an increasingly difficult chase for City to win), director of football Txiki Begiristain could turn closer to home for a midfield option. With the squad already at breaking point for foreign talent and needing departures before arrivals can happen, there's talk the club could attempt to poach Jack Wilshere from Arsenal.
As soon as the rumours began, there was quite a backlash from a large portion of the City fans. To many, he's seen as a difficult character, with a lot of off-the-field baggage and regularly has his talent called into question. If you listen to Twitter, he's overrated and his injury record is up there with the likes of Owen Hargreaves and Ledley King.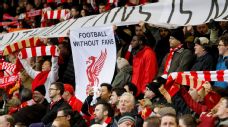 With a fee mooted to be in the region of £40 million, you'd have to question the thinking of the director of football if that deal came to fruition -- and a very good case can already be made for Begiristain's signings not exactly setting East Manchester on fire so far. Even the manager sent a little reminder to his colleague late last season, commenting that he'd not had a "crack" signed for him while his predecessor had.
Yet, a move for Wilshere wouldn't actually be such a terrible decision. He, just like Sterling, would tick the homegrown box, having come through a British academy, while both would also represent an injection of youth into an aging squad. Drop in that it's in central midfield, where the club could do with some strength in depth, and it begins to make more sense; the Fernando move hasn't particularly worked out, while Yaya Toure and Fernandinho are both the wrong side of 30.
Even though it feels like Wilshere has been on the scene for some time, he's still only 23 and not yet playing at his full potential -- that's despite a number of good displays for Arsenal and England. He's had his injury problems and most likely would continue to have them, but that doesn't mean he can't be part of a successful squad. Pellegrini wouldn't intend to be starting him every week.
That's the key stumbling block to the deal, however. While there's a premium placed on him because of his age and homegrown status, City will be very wary of splashing the cash on somebody who they have doubts about keeping fit. While the Jack Rodwell experiment was a less expensive gamble, the club wouldn't want to be in a similar situation again.
Wilshere's biggest crime is that he's not a likeable character. He's not the type of guy that endears himself to opposition fans, with his outspoken and laddish behaviour. The attitude seems to rub people up the wrong way and incidents like anti-Tottenham chants on Arsenal's cup victory parade do little to change that.
But that doesn't make him a bad player. He's still got plenty to offer the centre of City's midfield and should the club decide to make a move for him, he'd not be the type of middle-of-the-road, expensive signing that's been made in the past. He'd be an excellent expensive signing instead.
There was something of a similar reaction when Mark Hughes decided to bring Craig Bellamy into Eastlands from West Ham. It was generally seen as a bad decision, given that the Welshman had always been an obnoxious troublemaker on the pitch. Although despite only playing with City for a season and a half, the vast majority of fans performed a u-turn on their thoughts and he left a man valued for his efforts. Calling him a favourite would go a little too far, but he certainly got a good reception when he returned with Liverpool and Cardiff.
Wilshere could quite easily be a similar type of transfer if it were to go through. Since losing James Milner and Dedryck Boyata, the club desperately need homegrown talent to bolster the ranks. The Arsenal midfielder could well surprise more than a couple of fans as to what value he'd have to the team.
David Mooney is ESPN FC's Manchester City blogger. Twitter: @DavidMooney