Liverpool set for pivotal period as transfer troubles and Hoffenheim loom
Less than a week before the season begins, with five games in 15 days, Liverpool's incomplete transfer business is still the main topic of conversation despite a satisfying preseason tour.
Problems landing their main targets have been written about continuously, but the lack of any alternative plan has unnerved many.
It's beginning to look as though Liverpool decoded numerous refusals from Southampton and Red Bull Leipzig as negotiation tactics and not as reality. There are 25 days to fix it but it looks more like Virgil van Dijk and Naby Keita will not be leaving their respective clubs any time soon.
Social media is awash with cynicism and gallows humour. The words "like a new signing," are often sarcastically used to describe Alberto Moreno playing well or even Daniel Sturridge standing upright. They'll probably be used when Sturridge -- or the freshly injured Adam Lallana -- return to full fitness.
There were media hints in spring that £200 million would be spent in this window, a figure that is now looking more absurd by the day.
Older fans might recall a similar situation in 1994, when Roy Evans appeared to be less than fully supported by chairman David Moores. That all ended reasonably well. Liverpool won their first three games brilliantly, including a five-minute hat trick by new star Robbie Fowler against Arsenal.
Evans then landed two expensive centre-half signings in Wimbledon's John Scales and Coventry's Phil Babb. The season ended with a trophy and fourth place. Fans would settle for all that this season, particularly the way they are feeling right now.
Jurgen Klopp's latest attempt to calm supporters will most likely fall on deaf ears, drowned out by increasingly hysterical panic. He may well be right in describing Moreno as a changed player, but even if he'd improved 100 percent as Klopp claims, that still wouldn't make him good enough.
Klopp also backed his current central defenders, which is already being interpreted as trying to smooth over a complete lack of investment in that area. Others see it all as mere precaution, good management when he has to maintain the confidence of the defenders he has. It may even be an attempt to call out what Liverpool still think is a Southampton bluff.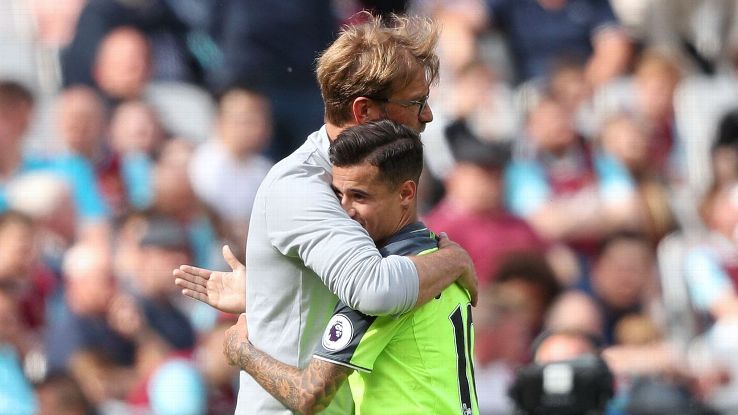 Lashing out publicly at the abilities of the centre-halves already under his command would be anathema to the German coach but he can't surely believe the four he has are good enough? Moving James Milner back into midfield as a result of Moreno's improvement will also get the sarcastic "new player" treatment. That, however, can at least stand up to scrutiny, if fans regard him as an improvement upon Kevin Stewart or Lucas Leiva, who played there too often in recent seasons.
In midfield and attack, Liverpool are at least up to par. If they were to buckle under pressure from Barcelona and sell Philippe Coutinho at such a late stage in the summer, that changes everything.
Klopp's previous pronouncements that the often magical Brazilian wasn't leaving would then lie in ruins. No amount of double talk or back-tracking could save him from severe supporter scrutiny.
In football even the most strenuous denials can look stupid weeks later. It depends on your own nature how such things are interpreted. Liverpool's obstinacy over Coutinho may be real, while Southampton or Leipzig's could well be false. That will be how eternal optimists view the situation, anyway.
It would be easier to tell everyone to wait for Sept. 1 and discuss it calmly and rationally then. There seems little chance of that. With a tricky Champions League qualifier with Hoffenheim and emotive transfer speculation, it is fair to regard this as a pivotal few weeks for Klopp.
It's understandable he still regards his time at Borussia Dortmund as proof you didn't have to spend vast amounts of money to overcome a powerful, wealthier opponent. The key difference here is in the word "opponent" singular. He has four wealthier clubs to deal with in England, and Tottenham being run well with another great young manager and some wonderful players.
Did Klopp honestly believe he would have to do it all the hard way again when joining Liverpool? Perhaps not, but there's always the possibility he believes all he says and regards transfer frenzy with the thinly veiled contempt he currently displays.
Lallana's extended time out has probably dented supporter confidence, in the one part of the squad that did look strong.
With Barcelona newly enriched further by the Neymar sale, common sense says a player like Coutinho -- gifted as he is -- has his price like any other. Liverpool and Klopp would then have to pull several rabbits out of a hat to calm the storm to come and in a much-reduced time frame too.
One thing can always be guaranteed: It is never quiet at Anfield for long.
Steven Kelly is one of ESPN FC's Liverpool bloggers. Follow him on Twitter @SteKelly198586.