Liverpool fans reflect on protest at Anfield amid fury over ticket increases
Both of ESPN FC's Liverpool bloggers, Dave Usher and Steven Kelly, were at Anfield on Saturday and they took part in the mass walk out after 77 minutes.
We asked them what it was all about ...
So, why did you walk out?
Dave Usher: Because Liverpool want to increase gate receipts by £2 million even though Premier League clubs are about to receive a huge windfall from the new TV deal. Ticket prices are already extortionate, and this was an opportunity for the club to reward fan loyalty by lowering prices without being any worse off.
My season ticket for next year has increased by over £100 and has now broken through the £1,000 barrier. My dad has been going to Anfield since the 1950s, but now says he's done with it, while I will probably have to move to a more affordable part of the stadium. We've had those seats for over 20 years, but loyalty counts for nothing in modern football.
If the club weren't prepared to be reasonable on prices this year, when they could, then what hope is there of them ever lowering prices in the future?
Steven Kelly: As a Kopite I'd be spending the same next season and may even save a few pounds.
Some believed that would mean part of the ground showing little solidarity with those adversely affected. That goes to show how little they know about their own supporters.
The Kop was always the place where fans held protests before, whether about ticket prices, the previous owners, Tom Hicks and George Gillett, or the Hillsborough disaster. The idea they wouldn't walk out on 77 minutes because they'd been spared the big increases themselves was preposterous.
I'm also sick of having my intelligence insulted by club representatives, especially the morning of the Sunderland game when Liverpool's usually anodyne Twitter account sought to tweet straight-up propaganda to foil the protest. It was insulting, shameful and unworthy of a great club.
Ayre: "I think we have really taken the opportunity. A lot of clubs don't engage in the dialogue we have engaged in for 13 months."

- Liverpool FC (@LFC) February 6, 2016
Ayre: "More affordable tickets, more tickets for local people and for young people - we have addressed all three of those issues."

- Liverpool FC (@LFC) February 6, 2016
Ayre: "There is a seat for everyone at the right price. Look at the facts before you take that type of action and walk out."

- Liverpool FC (@LFC) February 6, 2016
Those who walked out had already paid for their tickets, though, so the walkout wasn't going to cost the owners anything
DU: It was never about costing them money; it was about making a statement and sending a message that the fans are no longer prepared to be exploited. The walkout was a major PR embarrassment for Fenway Sports Group, and it's not going to end with this. When Liverpool fans get their teeth into something, they can be a right pain -- just ask the previous owners.
SK: For a bunch of businessmen that always pride themselves on getting things right, they will not be pleased with this growing dissent.
There's always chatter about the fans who'll gladly take your place if you don't go. Frankly, adopting customer-speak here, if the "product" is as woeful as it has been in most of the seasons so far this decade, the idea of thousands of fans automatically being replaced is fanciful.
Those supporters who currently make do with television are still watching the same football the people in the ground do. The number of supporters claiming they want a piece of that action must be dwindling, though few will ever admit it.
But doesn't the club need the extra revenue to pay for the new main stand and still be able to compete for players?
DU: No, but that's the line they will push to justify it, and sadly some supporters (mostly ones who have never had to pay these prices, it should be said) have swallowed it hook, line and sinker. It's not about needing more money, it's about spending what you have wisely instead of continually squandering it on disastrous signings.
An extra £100 is a lot to supporters who are already paying far too much anyway, but £2m is nothing to Liverpool. They pay Jose Enrique far more than that per year.
SK: It's felt for a while that big transfers were part of the budget merely to get people excited every summer. Most fans knew Mario Balotelli and Christian Benteke were not remotely Brendan Rodgers-type players, and yet they still arrived, with the largely expected results.
Contrast that with the story about Dele Alli slipping through the club's grasp, despite a Liverpool-supporting manager at MK Dons eager to persuade him to join the Reds. You can't escape the theory he simply wasn't marquee enough in the eyes of the owners to convince fans, sponsors and TV broadcasters that Liverpool again "meant business."
Now, Tottenham have a quality player. That's utter incompetence and the fans feel aggrieved because it seems they are subsidising the club's major mistakes when a lot of them could have been avoided.
What would you say to those who claim you should stay and support the team?
DU: Sometimes you have to look at the bigger picture. Fans need to look after themselves because nobody else will. The team has had plenty of support and will continue to get it, but this is a bunch of underachieving millionaires, most of whom won't lose any sleep about the supporters' plight. If they weren't so overpaid then ticket prices wouldn't be so high.
Disappointingly, some fans who chose not to walk out on 77 minutes then decided to up and leave when Sunderland scored their equaliser in the 89th minute. You won't show solidarity with your fellow fans but you'll storm out in a huff when the team doesn't win? Some others stayed and then booed at full-time, which again, makes a mockery of the "support the team" argument.
SK: It's a bit rich getting lectures off people who will never set foot inside Anfield. The point has been made, correctly, that those who left early would probably still watch Liverpool if they were relegated, while those who get so angry about the very idea of a walkout probably wouldn't.
It was 13 minutes of one game, less than one percent of a long season. Many of those fans who left have travelled all over England and abroad over the years, sometimes when football wasn't the family-friendly sport it is today.
For them to be told how to support their team properly is insulting.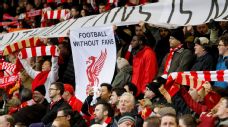 Surely you can't win? The bigger clubs are not going to lower ticket prices because the demand for tickets far outstrips the supply
DU: Time will tell, but sometimes even when you think you can't win you have to fight anyway. The only way we'll get reasonable ticket pricing for all is by standing together.
SK: Probably not. What will happen is the same as in other walks of life; if you don't like it, don't go.
That will be a tough decision. Some of these fans have 40, 50 or even 60 years clocked up. You know other clubs' supporters are just as irate as Liverpool's.
I suspect some compromise will be found in order to make everyone feel good about themselves and not lose face. It still won't alter the fact English football is far too expensive.